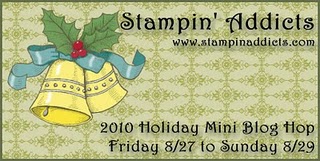 A very warm welcome to stop no. 3 on the Stampin' Addicts Holiday Mini Blog Hop…you have arrived from Holly's Blog where she showed you some spooky ideas using Dark & Dreary…I am continuing the Halloween theme and will be showing you some cute treat ideas using the very kid friendly set Fang-tastic which you can find on pg 10 of the Holiday Mini Catalog set to debut on Monday.
Halloween makes me think of yummy treats and so I have designed some treat holder ideas for grown-ups and kids alike…for some of my items I used Test Tubes which are an extremely affordable way to package treats…the Test Tubes I am using are plastic and have flat bottoms which makes them absolutely PERFECT for kids – and they have screw tops so wont accidentally spill or leak their contents.
First up is my Test Tube Rack…this would be a great treat for adults and kids alike and you could fill the tubes with anything…bath salts…different candies…drink mixes…for all sorts of occasions…
I went looking for ideas to create a Test Tube Rack but could find nothing to fit with what I wanted so I decided to design my own – this box is very easy to make from one sheet of cardstock and I sized it to fit 3 test tubes which I filled with candy corn.  I decorated my box using adorable stamped images from Fang-tastic and a piece of Designer Series Paper which was perfect for creating my fence that the little characters are peering over…
Come back here on Monday and you will find my template and printable tutorial showing you how to make this Rack – you can bookmark me to make it easy to come back!

Then I got to thinking about some Individual Test Tube Treats that would be perfect for my girls to hand out to their classmates…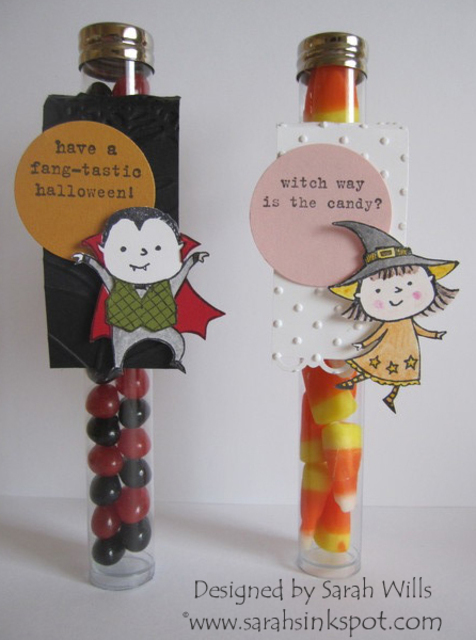 Aren't they cute?  I used the taller 6″ Tubes here so that each kiddo would get a good amount of treats (I used 4″ ones in my rack above) and I designed a collar to fit on them that stays put – I used a new embossing folder called Spider Web for the cute dracula's background and used the characters and wording from Fang-tastic to decorate my collars – don't you love em?
And again, when you return on Monday you will find my Tube Collar Template so that you can recreate these treats very easily…I am going to make lots of these for my girls to hand out in October, they really are that easy to make…
Thinking about school got me thinking about halloween treats for teachers…one of my girl's had a teacher who loved herbal tea and a little while ago my wonderful downline Janet mailed me a card that contained tea bags and so I decided to adapt that design to make a grown up gift…a Tea Bag Holding Card…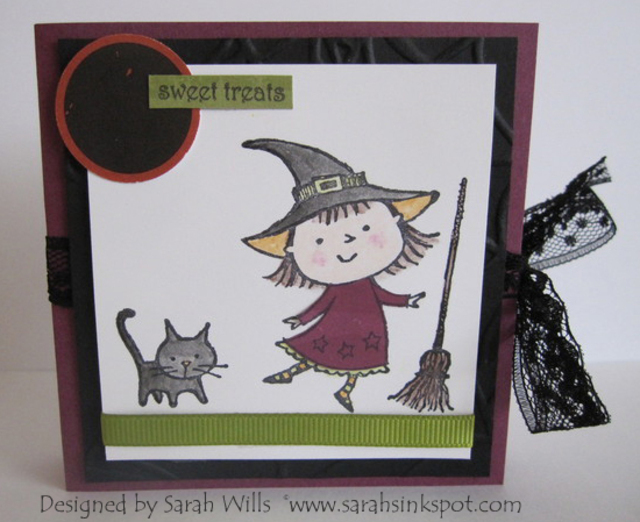 This is the front of my card – isn't it sweet?  I can't show you photos of the inside of it until Monday but I can tell you about it a little…inside there is a folder made of Designer Series Papers that holds 2 tea bags – the papers I used to make my folder are from Island Oasis which is featured in the Summer Mini Catalog – believe it or not, that pack of papers has a couple of designs that work well for halloween…but if you want some of that paper you need to order it fast as on Sunday it retires when the Summer Mini Catalog ends…

And notice the lace I used to tie my tea bag card – isn't it beautiful?  It is called Raven Lace Trim and you can find it on pg 8 of the Holiday Mini Catalog – you can order if from Monday…I just LOVE it…
And again, when you come back on Monday you will find the Tea Bag Card template and printable tutorial showing you how easy it is to make along with photos & details of the inside…

My final project features Test Tubes again!  Can you tell I love em?!  But this time I am using them a bit differently – I am incorporating one of the smaller Tubes into a card to create a cute gift without candy…you could easily adapt it for kids, tweens, teens…and this idea would make great party favors or sleepover gifts for girls…so here is my Lip Balm Card…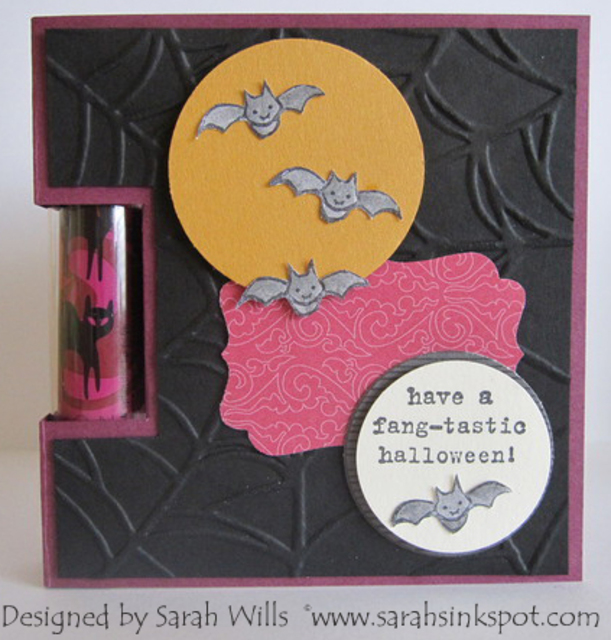 I adapted my tutorial for a lip balm holder to create this card – the background is made using that very cool Spider Web embossing folder and I embellished my card front using punches and Designer Series Papers…notice the center punched shape?  I made it using the brand new Decorative Label Punch that you can find on pg 25 in the Holiday Mini and it is just GORGEOUS…
In the spine of my card is a halloween themed lip balm that is contained in a Test Tube along with a couple of other goodies…come back to find out lots more details about it including photos of what it looks like inside and…
On Monday you will find my template, tutorial and photo of the inside of my card showing you how to make it  :-)

Speaking of Monday…it reminds me I haven't yet mentioned my Blog Candy…leave me a comment to let me know which project you like the most and you will be entered into a drawing to win a set of 3 test tubes just waiting to be filled with your own goodies as well as a little treat from me!
I hope you enjoyed your visit – you are now leaving to visit the very talented Rhonda and see what she has come up with using the very cool Candy Wrapper Die  on her blog by clicking HERE – enjoy!
Welcome to the Stampin' Addicts Holiday Mini Blog Hop!