Wow these weeks are just flying by – it is now only 14 weeks until Christmas Eve!!!  This week I am showing you a cute non-candy Winter treat to give to kids which would be perfect for Holiday class gifts or party favors – I know that lots of schools are moving towards non-candy treats and this one is cute and very affordable – it is a pair of gloves packaged with a cute Glove Topper…

I came up with the idea earlier this year when my girls had an ice skating party and this was one of the party favors that they gave to their friends who came to the rink – you can find knitted gloves in kid sizes for just $1 a pair and I found mine in Target – Walmart and dollar stores also carry similar…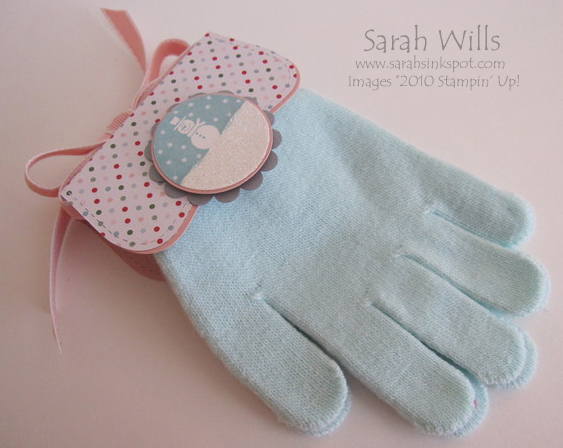 I designed the base of my Glove Topper using the Top Note Bigz Die, Blushing Bride cardstock and Designer Series Papers from the brand new Candy Cane Specialty pack featured on pg 33 of the Holiday Mini Catalog – this paper has adorable images and some sheets are also glittered too…
To view any of my photos close-up for more detail, simply click on them and a larger version will appear…
To tie my gloves to the Topper I used Blushing Bride 1/2″  Stitched Poly Ribbon which is just perfect for this kind of gift as it is very thick and sturdy enough to hold the gloves in place and can hold up nicely with little people tugging on it!  You simply sandwich your gloves between the topper – make sure you leave the plastic store tag that holds the gloves together in place – and thread your ribbon between the gloves beneath that plastic tag  and tie a bow or knot on top – your gloves are tied securely to the topper…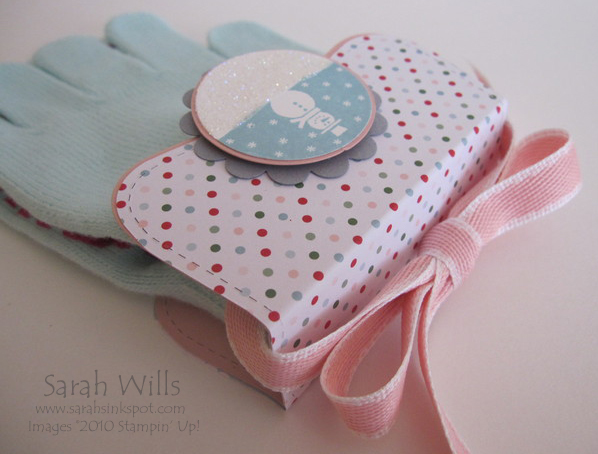 The Snowman scene image is from one of my favorite new sets, Tags Til Christmas that can be found on pg 24 of the Holiday Mini Catalog – I stamped it using Baha Breeze ink and cut it out using my 1 1/2″ Circle Punch…I put glue onto the lower part and sprinkled on Dazzling Diamonds Glitter to create the sparkly snow…I then mounted it onto a circle of Blushing Bride cardstock that I cut out using my Circle Scissors Plus and finally attached it with Dimensionals onto a piece of Brushed Silver cardstock that I punched out using my Scallop Circle Punch…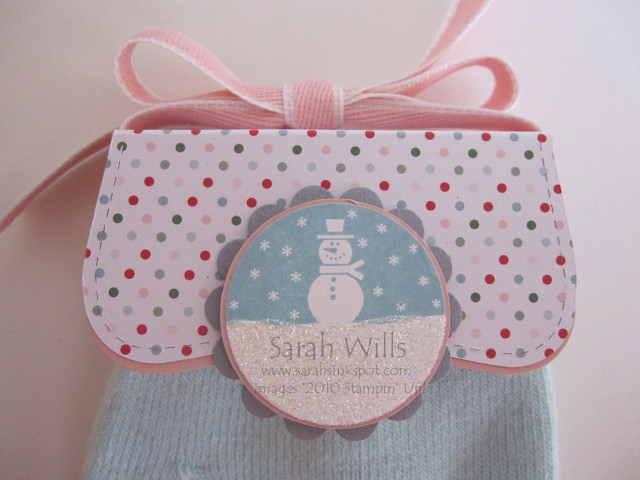 Didn't it turn out CUTE?!!!  You could make these for a camp trip, halloween trick or treat gifts, christmas, thanksgiving, fall, winter…just by changing your papers and stamps they are perfect for any chilly occasion…
WANT THE TUTORIAL SO YOU CAN MAKE YOUR OWN?  Click HERE to find it in my Project Tutorials and of course you will also find a printable version and the template too!
Supplies used:
113463  Top Note Bigz Die  $21.95
120847  Tags til Christmas Stamp Set  $30.95 – Holiday Mini
120809  Candy Cane Specialty DSP  $11.95 – Holiday Mini
119267  Blushing Bride 1/2″ Stitched Poly Ribbon  $8.95
102023  Dazzling Diamonds Glitter  $4.50
119854  Scallop Circle 1 3/4″ Punch  $16.95
100712  Brushed Silver cardstock  $7.95
119796  Blushing Bride cardstock  $6.95
100730  Whisper White cardstock  $8.50
104430  Stampin Dimensionals  $3.95
Check out my FREE Make n Take – click HERE for details – place an order with me during September and I will mail this make n take card plus some samples out to you too!
Would you like to order anything? You an order directly online by clicking HERE – and then click on 'shop now' on the page that link takes you to – you can shop, securely checkout and have your new goodies delivered to your door in a few easy steps!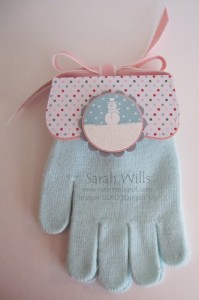 Be sure to return for more festive ideas next Festive Friday…
Festive Friday is here again!