I love the new Greenhouse Gala Designer Series Papers that you can find on pg 173 of the Catalog – check out this beautiful card made by Linda Pitman featuring these gorgeous papers…
I was lucky enough to receive it in a card swap with her…isn't it stunning?  It is a card that has two pockets on the front – one pull out piece for your message and into the bottom pocket fits a gift card…what a great way to package a gift card…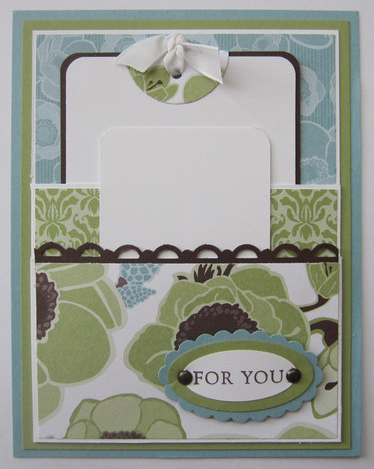 On Tuesday and I will show you how to make this type of card and give you a free printable version of my tutorial – Tutorial Tuesday's are going to begin next week on the 21st so be sure to come back and visit me!
And the best bit is that Stampin' Up! have made a Craft Tote using patterns from Greenhouse Gala DSP…this tote was only available for demonstrators to purchase for a very limited time BUT when you join Stampin' Up! during September you will receive one of these beautiful Craft Totes from Stampin' Up! for FREE!
Check it out below – the photo shows it filled with items that are included in the Starter Kit…and you get to customise all inks, stamp sets, markers, ribbons etc in it so you get what you want…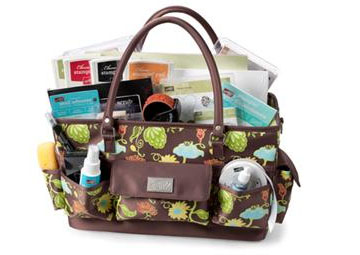 It is just GORGEOUS and BIG and FREE!!! It is large enough to carry 12″ x 12″ cardstock and a paper cutter as well as punches, ink pads, and accessories – it's spec's are as follows:
* Retail Value $39.95
* Dimensions: 15-3/4″  x  7-5/8″  x  8-7/8″
* Includes attachable shoulder strap for easy transport
* Center section fits 12″ x 12″ cardstock, Craft Keepers, and Paper Cutter
* Outside pockets fit extra-large punches perfectly
* Outside flap pockets offer secure spot for accessories
* Back zipper pocket holds up to seven Stampin' Pads
The Starter Kits and the Craft Tote all ship for free from Stampin' Up! and you get a choice of TWO STARTER KITS – the Standard and Digital+ – you can customise all inks, stamp sets, wheel, markers, ribbons etc in those kits – they are a bargain for the products that you get in them PLUS you get this $39.95 tote for free too…   You can join online and become a Demonstrator instantly and be able to place orders the same day!
Find out more about the Starter Kits and benefits of  joining Stampin' Up! by clicking HERE – this TOTE-ALLY AWESOME DEAL is only available whilst stocks of the Totes last, so if you want one of these Craft Totes don't delay – join today!

There is even a video you can watch showing you details about this fabulous tote – click HERE to view it!