One of my favorite packs of Designer Series Papers in the catalog is Newsprint which you can find on pg 175 – when you combine it with other vintage products you can get a fabulous shabby chic look very easily for your scrapbook projects and cards…

My card below uses this paper along with the beautiful stamp set Vintage Vogue (pg 126), an embossing folder and the gorgeous Crochet Trim along with a few other cool items…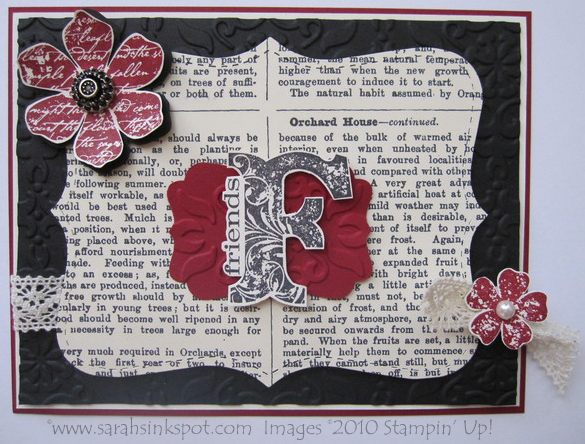 My card base is Cherry Cobbler onto which I layered Very Vanilla and then a piece of Basic Black that I embossed using the Vintage Wallpaper Embossing Folder (pg 214).  I wrapped around a piece of Victoria Crochet Trim (pg 190) and tied a knot to one side.
I used my Top Note Bigz Die (pg 207) to die cut a piece of Newsprint paper and layered it on top using Dimensionals.  I took a piece of Cherry Cobbler cardstock and punched out the center shape using my brand new Decorative Label Punch that you can find on pg 25 of the Holiday Mini Catalog and I then texturized it using the same embossing folder.
I took my Vintage Vogue stamp set and stamped the flowers in Cherry Cobbler ink and the Friends sentiment in Basic Black and cut them out using Paper Snips.
I took my large flower and using a glue dot in the center, adhered it to a piece of black cardstock – I then trimmed around the petals to create a shadow-effect.  To make the petals appear that they are lifting off of the card, simply grasp the flower by the center and using your other hand pinch a petal between your thumb and forefinger and pull your thumb nail along it – this will curve the petal upwards…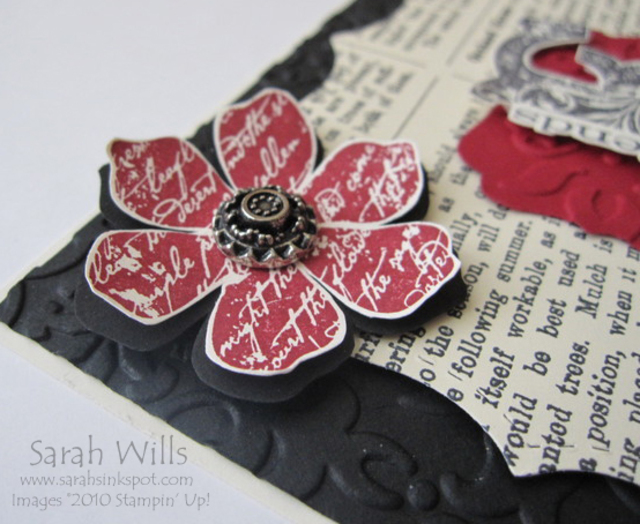 I pushed through a beautiful brad from Antique Brads (pg 187) and attached it to my card base – check out the detail on the brad – isn't it gorgeous?  You can take a close look by clicking on my photo above…I attached my small flower to the knot and put a Basic Pearl (pg 188) in the center…and placed my Friends sentiment onto the center punched image using Dimensionals.
Black, vanilla and red are a perfect combo for the papers in Newsprint…combine them with other vintage products in the catalog and it is very easy to get a cool and shabby chic look…I hope my friend likes the card…
I am starting Tutorial Tuesday's TOMORROW so be sure to come back and visit me then when I will be offering Blog Candy to celebrate the very first one!