With the Holiday Mini here, it got me to thinking about Christmas…so I decided to check the calendar today to see how many weeks we have until Christmas…ummm…let's just say it is way less than I thought…it is JUST 16 WEEKS to the day until Christmas Eve!!!
With that in mind it is definitely not too early to start on holiday cards and projects and so I invite you to join me each week for FESTIVE FRIDAY so that we can get ahead and make those cards and gift holders early and feel good about ourselves!
Every Friday I will be featuring a special item here at Sarah's Ink Spot to give you ideas for those projects and every Friday I will also be posting the instructions & template – along with a printable version – and close-up photos & supply list of what I used so that you can make them yourself very easily.
To kick off Festive Friday I decided to show you a Gift Card Holder – it is the perfect way to package gift cards and is so easy to make and at the end of this post you will find a link to the tutorial and template – in the tutorial you will find a link for a .pdf version to save or print out or you can bookmark it so you find it again easily.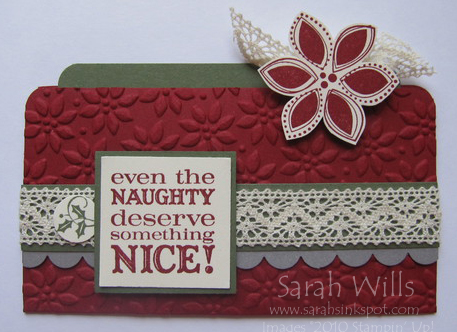 This gift card holder features a sleeve with a pull-out part that you attach your gift card to – I decided to use festive colors and chose Cherry Cobbler and Always Artichoke as they work SO well together.
For my background I used the Petals-a-Plenty Embossing Folder because the flowers look like poinsettias and are perfect for holiday projects – and then I realised that I had a flower stamp that would match perfectly with it – it is from the set Season of Joy – isn't it cute?
What else did I use?  I cut a strip of Brushed Silver cardstock and edged it using my Scallop Edge Punch…I used Victoria Crochet Trim for the band along the front and also took a small piece of that trim and tied a knot into it and mounted my stamped flower on top.  The sentiment is from the new set Tags til Christmas featured in the Holiday Mini – I punched it out using a Square Punch and see that little circle of holly?  Another stamp from Tags til Christmas and I punched the image out using my 3/4″ Circle Punch…I also used that punch to create the thumb notch…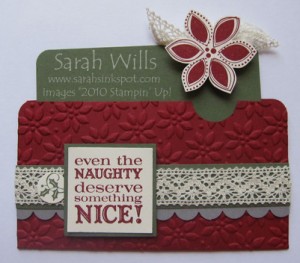 You simply adhere your gift card to the pull out bit and there you have a beautiful gift card holder…
It was my friend Jennie's birthday this past week and so I used this template to make a birthday themed one too…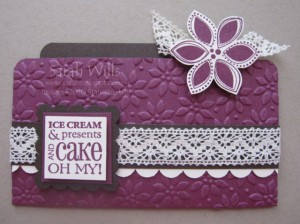 I used the colors Rich Razzleberry, Early Espresso and Very Vanilla and a stamp from the set Birthday Bliss along with my Scallop Square Punch but used the same embossing folder and flower stamp because I love that look and I love how it turned out…
WANT THE TUTORIAL SO YOU CAN MAKE YOUR OWN?  Click HERE to find it where of course you will also find a printable version and the template too!
Supplies used:
118481   Victoria Crochet Trim  $6.95  pg 190
116824   Petals-a-Plenty Embossing Folder  $7.95  pg 214
110384   Season of Joy Stamp Set  $26.95  pg 33
120847   Tags til Christmas Stamp Set  $30.95  pg 24 – HOLIDAY MINI
119873   3/4″ Circle Punch  $10.95  pg 202
119865   1 1/4″ Square Punch  $15.95  pg 202
119882   Scallop Edge Punch  $15.95  pg 200
100712   Brushed Silver Cardstock  $7.95  pg 170
105119   Always Artichoke Cardstock  $6.95  pg 168
119685   Cherry Cobbler Cardstock  $6.95  pg 168
119669   Cherry Cobbler Ink  $5.95  pg 168
101650  Very Vanilla Cardstock  $8.50  pg 169
Would you like to order anything? You an order directly online by cicking HERE – and then click on 'shop now' on the page that link takes you to – you can shop, securely checkout and have your new goodies delivered to your door in a few easy steps!
Check out my FREE Make n Take – click HERE for details – if you have placed an order with me this year, you will be receiving this along with the Holiday Mini and some samples from it in your mailbox very shortly – if you are a new customer or an existing customer who hasn't ordered yet this year but does so with me during September, I will mail this package out to you too!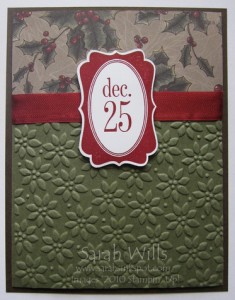 Introducing Festive Fridays!