A cute Santa gift bag that can hold lots of treats!  Isn't he cute?  And what a fun way to package Holiday treats…simply open the flap and inside you will find a bag with plenty of room to stash lots of goodies…

He was very fun and easy to make and is a great way to package gifts for kids, teachers, neighbors, friends…as you can see from the photo below you can fit lots of treats in there – it easily holds the peppermint sticks, plus Holiday themed hand lotion and hand sanitizer that I found at Bath & Body Works…please read on for details on how to make him along with a link to the printable tutorial plus find out who won Tuesday's blog candy…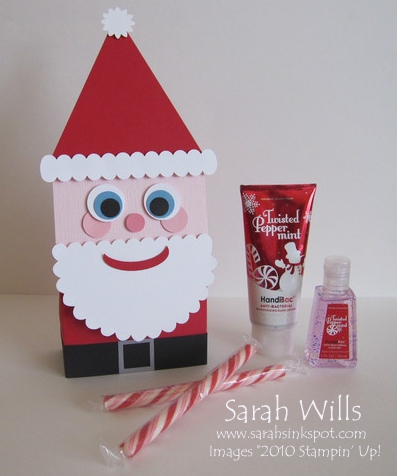 I just love how he turned out and he was so fun and easy to make – he is based on the monster bags that I made a few weeks ago and the the basic gift bag is made from one sheet of 12×12 cardstock plus a co-ordinating color for the flap part – I used Real Red as my base color plus Textured Pink Pirouette for the flap to give his face a jolly look…please click on any of the photos if you would like a closer look…
His beard is made by die cutting a piece of Textured Whisper White with the Bigz Scallop Circle Die – I cut this down to the size I wanted and used my Scallop Edge Border Punch to create the top part and adhered in place using Dimensionals…
His hat trim was made again using the Scallop Edge Border Punch and the pom pom at the very top was made using the Boho Blossoms Punch…
His eyes, cheeks, nose and mouth were made using various Oval and Circle Punches and I made the belt buckle using Square Punches to create a frame in Brushed Silver cardstock – I have detailed the list of punches that I used to make him at the very end of this post so that you can easily see what they are and where to find them..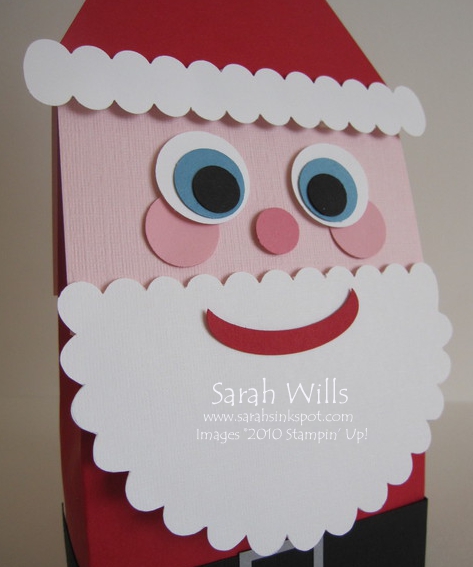 I wanted to give dimension to his face so I used Dimensionals to attach his beard, eyes and hat – they are a great and easy way to give your projects that extra wow look – and I used Mini Glue Dots to adhere the other punched images – I love these and use them on almost everything I make as they are so strong and quick to use.
Just a quick note about Reds – are you planning to use any red cardstocks in your Holiday card making?  Reds often go on backorder later in November (especially Real Red) due to high demand – if you are planning to use any reds in your holiday projects I urge you to order now to ensure you get the reds that you want – I would hate for your holiday project making to be held up – so please calculate what cardstocks you need for those projects and order now to be sure you get what you need.
Want the tutorial so that you can make your own cute Santa Treat Bags?  Click HERE to find it in my Project Tutorials section plus in that tutorial you will find a printable version too!
And lastly announcing the winner of my Blog Candy from this week's Tutorial Tuesday…the lucky winner will be receiving a Medium Ribbon Keeper plus a roll of Holiday Ribbon…and the lucky winner is comment no. 12 –  Catherine – who said…
"Oh my gosh! This is absolutely adorable. I have been wanting to make some place cards for Thanksgiving. These are perfect! Thanks for sharing" – congrats Catherine – please email me with your mailing address and your goodies will be on their way to you soon…
Have a wonderful weekend and please come back to visit me for Tutorial Tuesday!

TO ORDER STAMPIN' UP! SUPPLIES ONLINE CLICK HERE!
Supplies I used:
Die Cutting – 113468 Bigz Scallop Circle Die pg 207, 113439 Big Shot
Punches – 119858 Boho Blossoms Punch, 119882 Scallop Edge Border Punch, 119869 1/2″ Circle, 119873 3/4″ Circle, 119868 1″ Circle, 119855 1 3/4″ x 7/8″ Large Oval, 119865 1 1/4″ Square, 119877 1 3/8″ Square – pgs 200-202
Cardstocks – 119940 Real Red, 100712 Brushed Silver, 105130 Regal Rose, 100459 Pretty in Pink, 119937 Pink Pirouette, 119682 Marina Mist, 100730 Whisper White, 121045 Basic Black – pgs 166-170
Accessories – 104430 Dimensionals, 103683 Mini Glue Dots, 104294 Sticky Strip – pg 197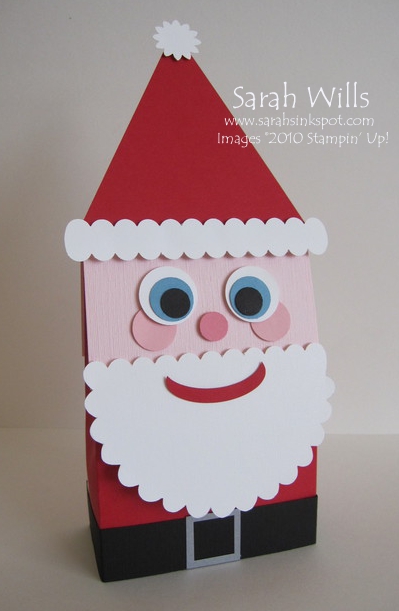 PS – Bath & Body Works have their holiday Hand Lotions on sale this week for $2.50 each and the Hand Sanitizers for just $1 each making them a great price for projects like this – you can find them in stores and online here