Some chocolate in a cute little Matchbook holder that would be a perfect sweet treat to set at each place setting on your Thanksgiving table.
You can theme it for any occasion making it perfect for Thanksgiving, Christmas and even weddings and showers…you open the front cover to reveal a pocket inside that is perfectly sized to hold an individually wrapped Ghirardelli chocolate square – if you prefer you could put in a snack sized Hershey bar or similar…and under that there is room for a sentiment too…
Please read on for more details, the link to the printable tutorial showing you how to make this and details of this week's Blog Candy…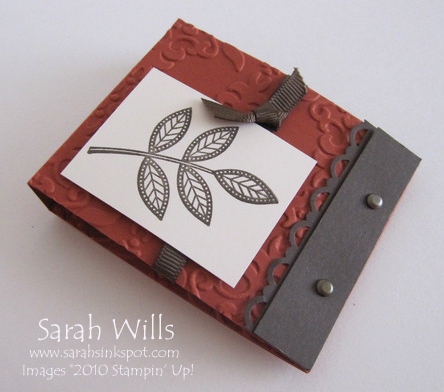 I themed my Matchbook for Thanksgiving and wanted it to match my card that I made yesterday and plan to make one of both for each place setting on our table – inside mine I put a Ghirardelli Pecan Pie chocolate square – they have some delicious seasonal flavors right now including this and Eggnog and Peppermint Bark – yum!!!
For my base I used Cajun Craze and textured my front cover using the Vintage Wallpaper Embossing Folder – I added a Scallop Trim Border using Early Espresso and trimmed it with Early Espresso Grosgrain Ribbon.
I stamped my leaves using a stamp from the set Day of Gratitude that you can find in the Holiday Mini Catalog and layered it on my cover using Dimensionals.  The front cover slips just inside the bottom flap – open it up and this is what is inside…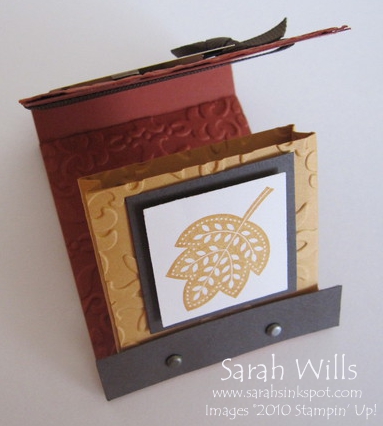 A pocket to hold your chocolate!  I made mine using More Mustard cardstock and again textured it using that embossing folder.  I stamped my leaf again using a stamp from Day of Gratitude and layered it on – and as you can see, a Ghirardelli chocolate square fits perfectly in that pocket…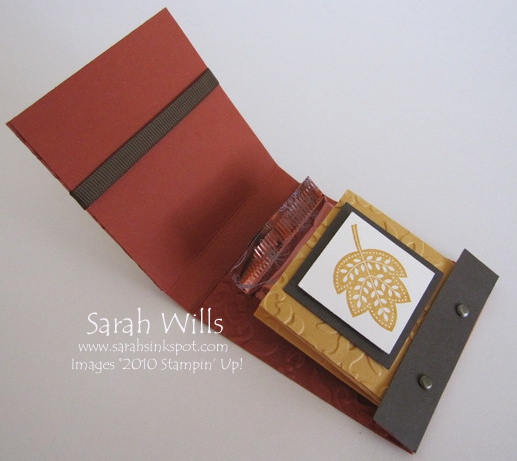 The pocket is not attached to the back cover and only attached to the little flap at the front, meaning that you can use it just like a card – to write or stamp a sentiment…and this is what I did using that beautiful sentiment from Day of Gratitude – I stamped it onto Very Vanilla and punched it out using my large Oval Punch adding it to yet another embossing layer…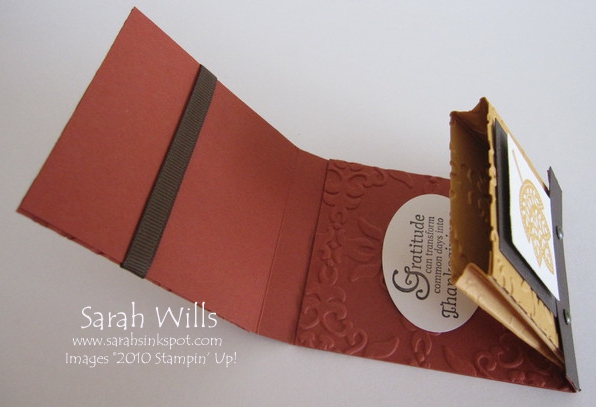 I just love this stamp set – I didnt receive it until last Friday and now I can't stop using it – the designs are just gorgeous!  And it's not too late to order this set to get it in time for Thanksgiving projects…I promise you will love it!
WANT THIS TUTORIAL SHOWING YOU HOW TO MAKE THIS MATCHBOOK CHOCOLATE HOLDER?  Click HERE to find my Project Tutorials where it is at the top of the list – in that tutorial you will find a printable version too!
Onto this week's delicious Blog Candy…leave me a comment to let me know what you think and you will be entered into a drawing where one lucky winner will be drawn this Friday morning – that lucky winner will receive a bag of Ghirardelli chocolate squares PLUS a kit containing all consumable supplies needed to make their own matchbook like this one – yum!
So come back and visit me on Friday to see if you won and to check out my Festive Friday item for this week!
TO ORDER STAMPIN' UP! SUPPLIES ONLINE CLICK HERE!