Tom Turkey!  Isn't he cute?  He is so much fun to create and is made completely out of Punches…
He would be perfect for Thanksgiving decorations, holiday ornaments, cards and place settings…and what a great activity to get the kids involved in too…my girls are going to love making these when I get them to help by making more place settings later…
This punch art turkey was featured a year or so ago in the demonstrator only magazine and I have been wanting to make him ever since but never got around to it, so I decided to make him today and produce an easy to follow tutorial as I did it.  Please read on for more details, the link to the printable tutorial showing you how to make him plus details of this week's Blog Candy…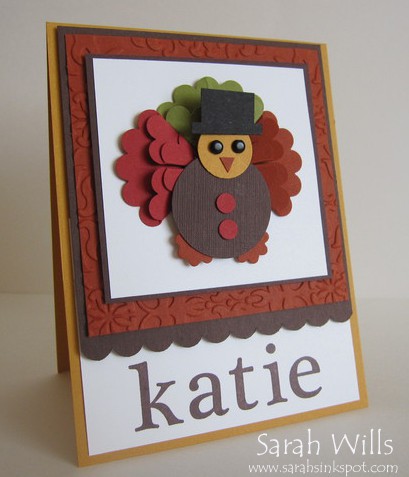 My place card above uses a base of More Mustard and is matted with Chocolate Chip – I edged the border using my Scallop Edge Punch and used Dimensionals to add it to my base to give some definition.  I stamped my place card name using stamps from Defining Alphabet (pg 161) – I love this stamp set since you get both the upper and lower case letters meaning you literally get two alphabet sets for the price of one making it fabulous value for money…
I then textured a layer of Cajun Craze by using my Big Shot and the Vintage Wallpaper Embossing Folder (pg 214) and added Tom Turkey on the top.
How to make Tom? You simply need several punches and pieces of fall colored cardstock – the feathers are made using a Scallop Circle Punch and the colors Riding Hood Red, Old Olive, Cajun Craze; his body uses Chocolate Chip and his head uses More Mustard and both are punched out using Circle Punches, as are the buttons.  His feet?  They are made using the Boho Blossoms Punch and Cajun Craze and his hat is made using a Square Punch and Basic Black.
For his eyes I used Black Brads (pg 187) but you could use a small circle punch to make them too.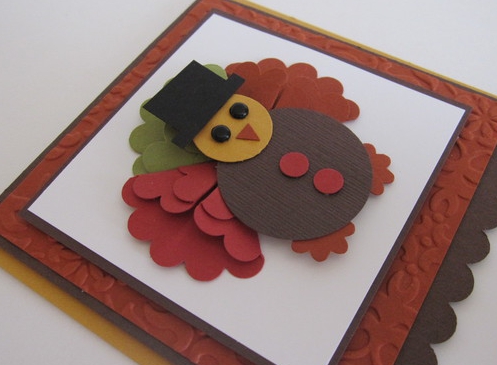 You could also make him for Christmas projects…how cute would that be?
WANT THIS TUTORIAL SHOWING YOU HOW TO MAKE TOM TURKEY?  Click HERE to find my Project Tutorials where it is at the top of the list – in that tutorial you will also find a printable version too!
Leave me a comment to let me know what you think and you will be entered into my Blog Candy drawing where one lucky winner will be drawn this Friday morning – that lucky winner will win a brand new Medium Ribbon Keeper along with a roll of Holiday themed Ribbon!
Come back and visit Friday to see if you won and to check out my Festive Friday item for this week!
TO ORDER STAMPIN' UP! SUPPLIES ONLINE CLICK HERE!
Supplies used and where to find them in the Catalog:
119854  1 3/4″ Scallop Circle Punch  pg 200
119850  1 3/4″ Circle Punch  pg 202
119873  3/4″ Circle Punch  pg 202
119861  1 1/4″ Square Punch  pg 202
119858  Boho Blossoms Punch  pg 200
119736  Neutrals Brads  pg 187
114952  Defining Alphabet Stamp Set  pg 161
120175  Vintage Wallpaper Embossing Folder  pg 214
119882  Scallop Edge Border Punch  pg 200