I hope you enjoyed this weekend's blog hop – I know I did and I was blown away by the creativity of my fellow stampers…I hope you came away with lots of ideas for the amazing array of new goodies in the Occasions Mini Catalog that goes live for ordering on Tuesday January 4th…
I worked with the set XOXO that is a set of 4 featuring a background stamp, a heart, a circle of love and hugs & kisses – you can find my original blog hop post directly below and in it I promised you more details and photos of my projects so here goes…at the bottom of this post you will see a picture of the stamps included in XOXO…it is available in wood mount, clear mount and even as a Digital Download for My Digital Studio…
THE NEW PRODUCTS I USED FROM THE NEW OCCASIONS MINI CATALOG are highlighted in blue below – when you click on those blue words you will be taken to that item in the online store where you can see just what it looks like…
First was my bold card featuring a bright and cheerful flower and which showcased some new treats from the Occasions Mini…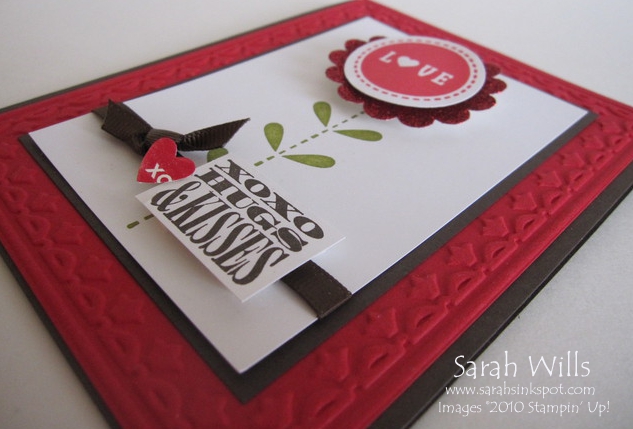 This photo shows you some dimension that is on that card to really make the flower, sentiment and heart pop off of the card base.  And check out that frame – such an easy look to create using the brand new embossing folder called Framed Tulips – LOVE it…
Notice my glittery Scallop Circle flower?  SO easy to make using the beautiful and sparkly new Red Glimmer Paper which is a pleasure to work with since no glitter leaves the paper at all – no mess, easy cutting, fantastic new product – one of my new favs…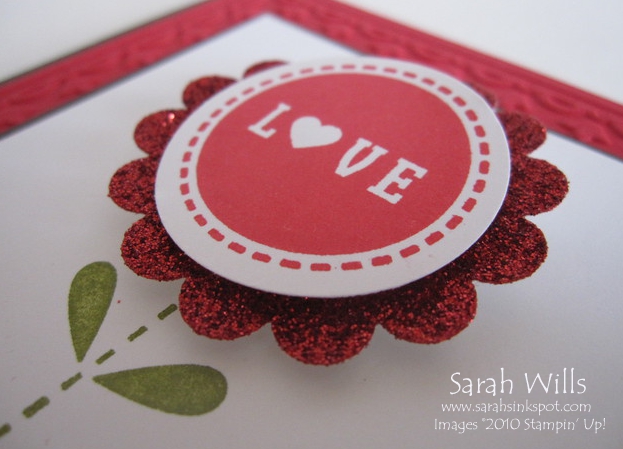 And that solid 'love' circular stamp above was SO easy to use – it stamps so perfectly every time making it really easy to get a very professional look to your projects…and my stem?  Stamped using a stamp from another new set – Bold Blossom – also in the new mini…
And then we move onto my elegant black and white card…well, technically it is Very Vanilla and Basic Black – I used vanilla as I wanted a give a softer look to my card…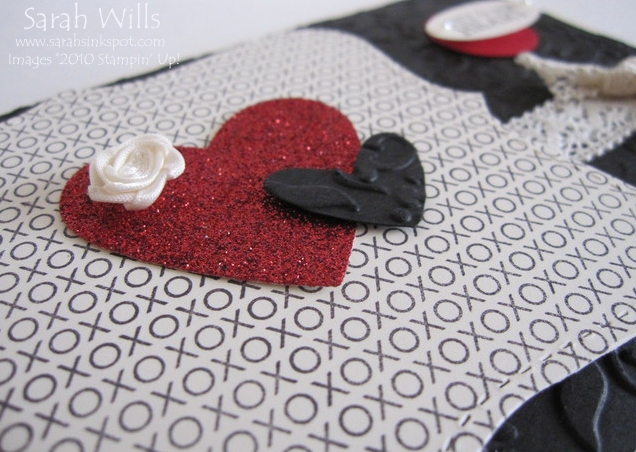 See those beautiful little details? Again, I used that Red Glimmer Paper and my Full Heart Punch to make my focal point really stand out – I layered on a smaller heart that I punched out using my Heart-to-Heart Punch and a piece of Black cardstock that I textured using the Vintage Wallpaper Embossing Folder…
See that GORGEOUS vanilla flower? Wow are they beautiful – click on the photo above to get a larger view where you will be able to see the texture of it – these flowers are new, come in 3 sizes and are featured in the Occasions Mini Catalog – they are called Vanilla Ribbon Rosettes and are a beautiful way to add a touch of class to any project…
The Key? Yet ANOTHER fabulous new product in this Mini Catalog called Trinket Keys – you can add them to your paper crafting projects or to Simply Adorned jewelry – also available are Trinket Crowns which are simply stunning, so be sure to check them out…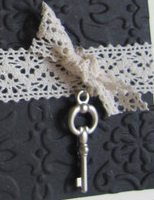 Like my XOXO background? I created this simply using a background stamp from XOXO that I stamped 4 times onto a piece of vanilla cardstock – using my Stamp-a-majig made this a very easy thing to do…and then I simply used my Big Shot and Top Note Die to cut out that shape to create this mat…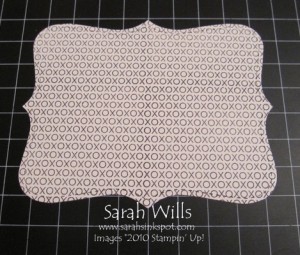 Not used a Stamp-a-majig (SAMJ) before and are wondering what it is? Click HERE for my tutorial on how to use this amazing must-have tool!
Onto my Cookie Mix Jar & Spoon…this makes a great little gift and is so easy and fun to make…my lid was made using a piece of fabric from the new assortment Springtime Vintage Designer Fabric…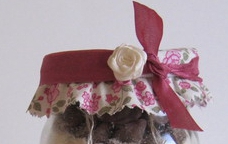 I used pinking shears to trim the edge and it is held onto my jar lid using a rubber band – to hide this, I tied around a piece of Rose Red Seam Binding and adding one of those cute Vanilla Rosettes for a vintage chic look.
My tags? Made by simply stamping my sentiment stamps from XOXO onto cardstock and punching them out using Circle Punches…I made that XOXO background to the love tag by stamping my background stamp in Rose Red Ink onto Pretty in Pink cardstock…I tied my tags on using Linen Thread and added a little Pearl to each to continue my vintage look…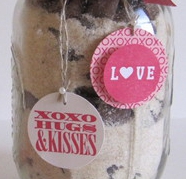 And finally my last item…the candy free Valentine treat containing a pencil and 4 erasers…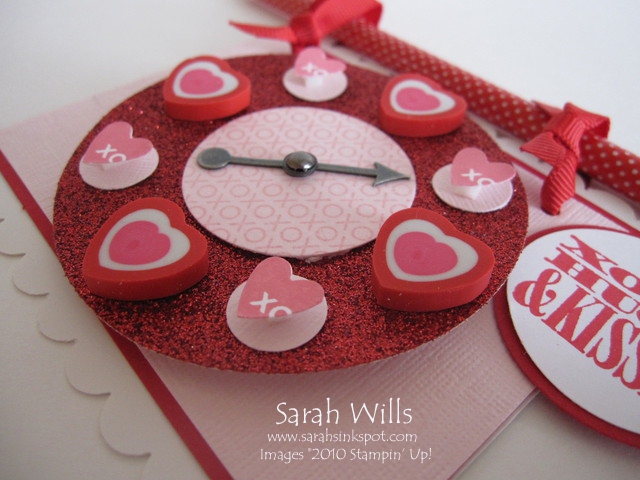 Now you can really see that Red Glimmer Paper shimmer there – it is just GORGEOUS!  The pencil and erasers came from Target – I found them in the dollar spot in packages and they are very affordable little treats to give to kids classmates…I interspersed them with little hearts that I stamped and punched out using my Heart-to-Heart Punch and adhered using Dimensionals…
The center circle?  Again, I used that background stamp featured in XOXO and stamped it using using Pretty in Pink ink onto a piece of Pink Pirouette cardstock that I punched out using a Circle Punch.

The Spinner? Yet another new product – Game Spinner Hands – and there is even a new stamp set called Take a Spin to use with them for very easy card making – I love 'em – and YES, they really DO spin around!
I used 1/4″ Real Red Grosgrain Ribbon and Mini Glue Dots to hold my pencil in place – to be safe, you can leave the pencils unsharpened for giving out…

PHEW…what a long post that was!!!  Well, onto the winner of my Blog Candy…drawn using random.org…comment no. 41:
HELEN L – who said:
"Very cute ideas!! I love the first card especially, but I also like the cookie mix gift set just about as much!! Thanks for the inspiration!!"
Congrats Helen – drop me an email with your mailing address and I'll get your goodies on their way to you!
CLICK HERE TO VIEW THE OCCASIONS MINI CATALOG ONLINE!
Want a paper copy? If you plan to place an order with me and would like a copy of this fabulous new Mini Catalog simply Contact Me with your mailing address and I'll get one out in the mail to you!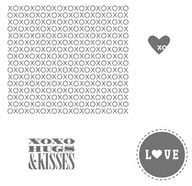 TO ORDER YOUR STAMPIN' UP! SUPPLIES CLICK HERE!
Occasions Mini Blog Hop Details…