One of the fabulous new products in the Occasions Mini Catalog are Beveled Windowpanes – these little gems highlight images beautifully and give them a glassy look…
You can find Beveled Windowpanes on pg 28 and they come in 3 different sizes in a pack of 12 – they have ribbon slides on two sides so that you can anchor them to your project.
I decided to use one on my card today to highlight a beautiful butterfly that sits on top of my Top Note quilt…and being Friday please read on for the winner of this week's Blog Candy…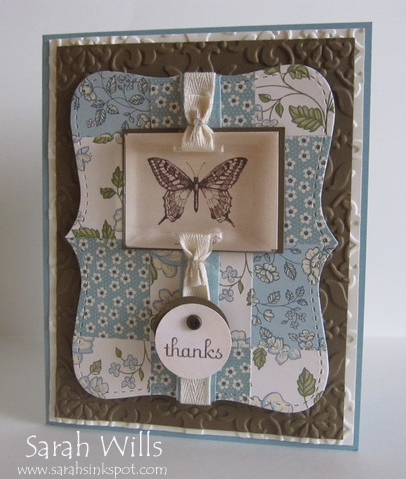 I don't like to waste anything and making a 'quilted' mat like this is a great way to use up those scraps of patterned papers you end up with…my pretty papers are from Springtime Vintage DSP that you can find on pg 15 of the Occasions Mini…
Not sure how to go about making a quilted Top Note mat? I have a step by step tutorial which you can find by clicking HERE – at the end of that tutorial you will see a link for a printable version too!
My card base is Baja Breeze and onto it I matted Very Vanilla and Soft Suede, both of which I textured by running them through my Big Shot using the Vintage Wallpaper Embossing Folder
And now onto my embellishments – I was seeking out an image to go beneath my windowpane and realised I had the perfect one in Botanical Gazette DSP that you can find on pg 26 of the Occasions Mini – there is a sheet of beautiful butterflies and I cut one of these beauties out to fit beneath my windowpane…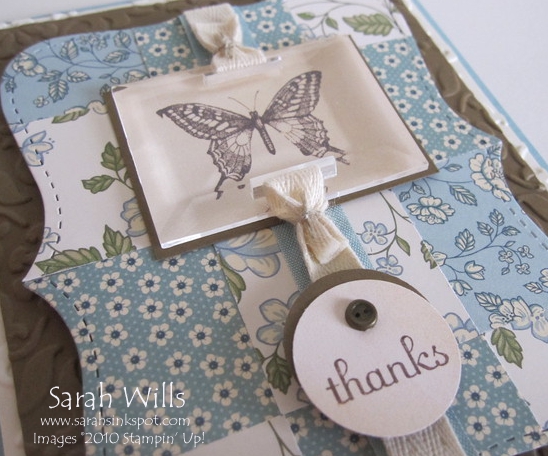 I threaded Twill Tape through the top and bottom slits of my Beveled Windowpane and tied them off using Linen Thread – I then lay this onto my quilted layer on top of a piece of Baja Breeze Seam Binding – it looks gorgeous!
Finally I stamped a sentiment using a stamp from Fabulous Phrases and punched it out with my 1″ Circle Punch – like that little Button Brad at the top?  It is from Vintage Trinkets (pg 187) and is the perfect finishing touch…
Here is a close-up of my butterfly covered by that Beveled Windowpane…click on the photo below for a closer look…doesn't it highlight my butterfly beautifully?  You can put patterned papers, stamps, sentiments…anything you like beneath these gems…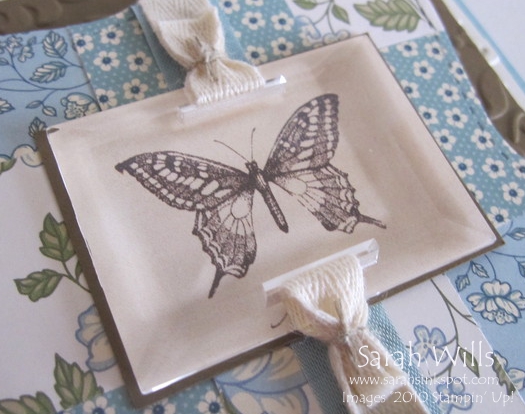 I love playing with the new items featured in the Occasions Mini Catalog…especially the new papers and embellishments!

You can also view the Occasions Mini online by clicking HERE – you can find the Beveled Windowpanes are on pg 28…they come in a pack of 12, 4 of each size – 1″ x 1″, 1″ x 1 1/4″ and 1 1/2″ x 2″…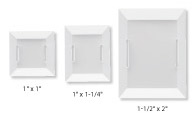 AND ONTO THE WINNER OF THIS WEEK'S TUTORIAL TUESDAY BLOG CANDY…drawn by random.org…and the winner is comment no. 10 by Jen who said:
"It turned out so pretty and I really like the colors"…
A BIG congrats Jen – please email me your mailing address and I will get your goodies out in the mail to you!
Have a wonderful weekend…come back and see me soon!
Butterfly through Beveled Windowpane…