Well today it is COLD here in Texas…Monday we had a high of 80 degrees…today we woke up and the mercury was at 17 degrees…for Texas, positively freezing!!!
And of course that put me in the mood to make a card with a frosty theme…which led me on to wanting to use the colors silver, white and blue…and so my card was born…
And apologies for those of you who have lived with snow for the last few months and probably don't want to see another snowflake ever again, even on a card…but here in Texas it's such a novelty to have this kind of weather that it is just irresistable…
I used the colors Whisper White, Marina Mist, Early Espresso and Soft Suede…like the tree?  It's from the stamp set Season of Friendship that you can find on pg 120 and it is a fun set to use…
My snowflake stamp is also from that set and I decided I wanted to make my snowflakes sparkle to give that frosty look…and so decided to use blue & silver Glitter.  I used my Stamp-a-majig to position the snowflakes around my tree and used Versamark Ink to stamp each one – I then used Heat & Stick Powder to adhere my Glitter to the snowflakes and let me tell you they really sparkle!  Click on the photo below for a closer look…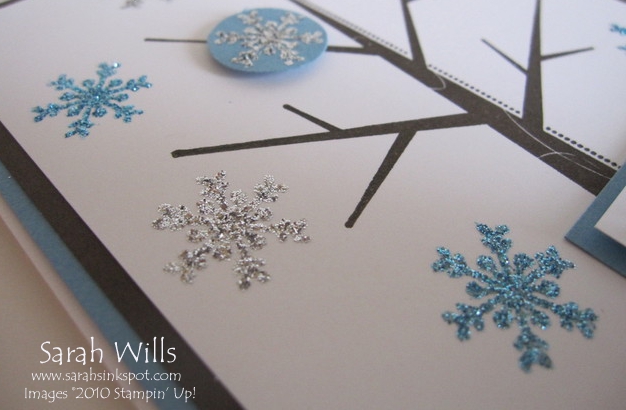 Not sure how to apply Glitter to stamped images using Heat & Stick Powder? It's fun & easy – click HERE for my free tutorial!
Not sure how to use a Stamp-a-majig? Click HERE for my free printable tutorial!
My birds?  Stamped using Soft Suede ink and stamps from the cute set Aviary that you can find on pg 121…
My sentiment?  Stamped using a stamp from the new set Bold Blossom that you can find on pg 31 of the Occasions Mini Catalog.  I added two sparkly Rhinestones to tie it into my frosty theme…
I love how my card turned out…it's supposed to be cold again tomorrow but I promise no more snowflake cards…a nice bright spring themed one is on the way!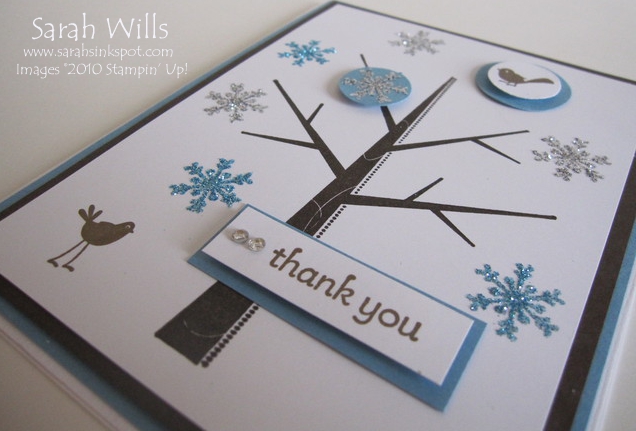 Would you like a FREE printed copy of the new Occasions Mini Catalog? Simply click here to email me your US mailing address and I will get one out to you FAST…
PLUS I'll include a free Sale-a-bration Catalog too!
DON'T FORGET THAT IT'S SALE-A-BRATION! For EVERY $50 you spend on Stampin' Up! products you get ONE ITEM OF YOUR CHOICE FOR FREE!   ASK ME ABOUT IT BY CLICKING HERE!
TO ORDER YOUR STAMPIN' UP! SUPPLIES ONLINE CLICK HERE!