Firstly, apologies that Tutorial Tuesday slipped into Wednesday…sorting out a few new things this week has made my schedule slide!
So here we are with Easter only a month away and when I realised that, I figured I should start thinking about treats that the girls can give to their friends & classmates…
I played with paper for a while and came up with a cute Bunny holding a tube of Jelly Beans…isn't he adorable?  That Tube is the perfect size to hold Jelly Beans or M&Ms.  Wouldn't he also be great for baby shower favors?
Please read on for details on how to make him plus a link to my free printable tutorial and as always, this week's blog candy…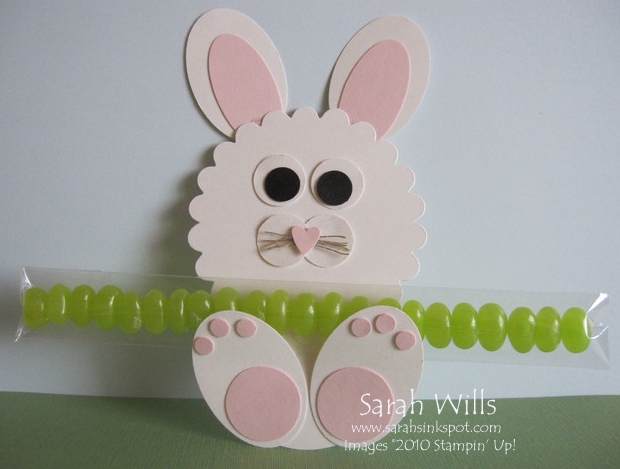 Now with this Bunny I have a bit of a dilemma – the one above has no paws…but I'm not sure if I prefer him or the Bunny below with those cute paws holding onto the Tube…what do you think?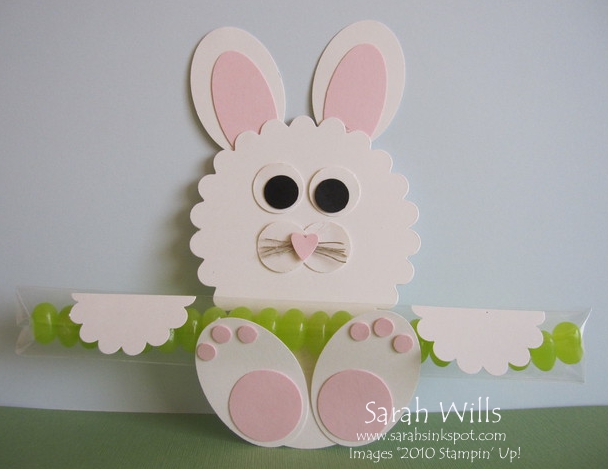 Tough, eh?  How did I make him?  By using punched and die cut shapes – I made his head using my Big Shot and the Scallop Circle #2 Die, his paws using the 1 3/4″ Scallop Circle Die and everything else using a selection of Oval and Circle Punches…
I have a full list of the Dies & Punches along with how many shapes of each are needed to make him on my printable tutorial.
What colors did I use? I used Whisper White, Pink Pirouette and Basic Black to make him.  Like that nose?  Made using the Heart to Heart Punch and some strands of Linen Thread.
Is there anything on the back of my Bunny? Oh yes…one very cute finishing touch…check out this tail…love it!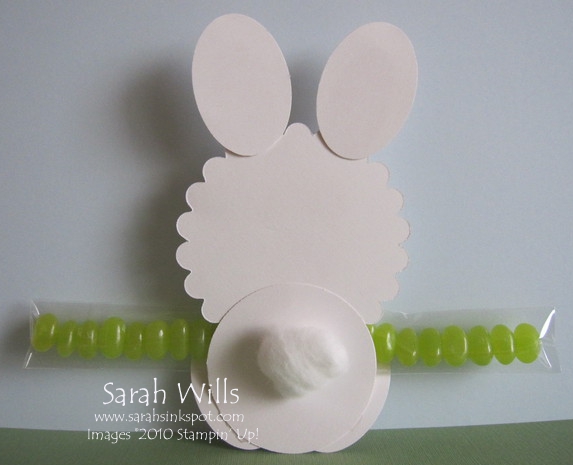 The Tube? It's a cello tube filled with Jelly Beans and is sized perfectly to hold these and M&Ms – there is a peel off sealing strip on one end that holds the goodies firmly inside and is almost invisible to see when sealed.
You can use multicolored candies or keep them all one color for different looks – here are some filled tubes to give you an idea of the effects you can create…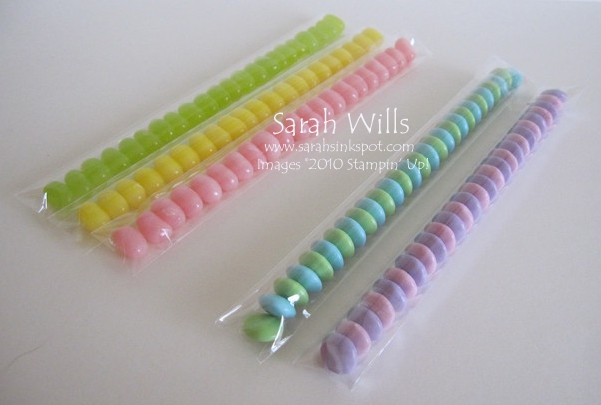 Want some of these Tubes? I have them…read on for details!
WANT MY FREE TUTORIAL SO THAT YOU CAN MAKE YOUR OWN CUTE BUNNY? Click HERE to find it in my Project Tutorials section where you will find a printable version too!
Now to make it super simple for you to make your own bunch of Bunnies…
HERE IS MY MAKE-A-BUNNY KIT!
What is in a Kit?  ALL the consumables you need to make 10 Bunnies:
240 die cut and punched out pieces of cardstock
45″ Linen Thread
10 Cotton Wool Balls
10 Cello Tubes
The Make-a-Bunny Kit price includes shipping – please note that you will need to supply adhesives and the candies to put into your cello bags
How do you purchase my Make-a-Bunny Kit?
By clicking on my Buy Now link below – I ship to US mailing addresses only.  There are two kits to make 10 or 20 Bunnies – or email me if you want more kits!
Just want the Cello Tubes?
They are available in packages of 20 or 50…or email me if you want more!  Please note that shipping is to US mailing addresses only.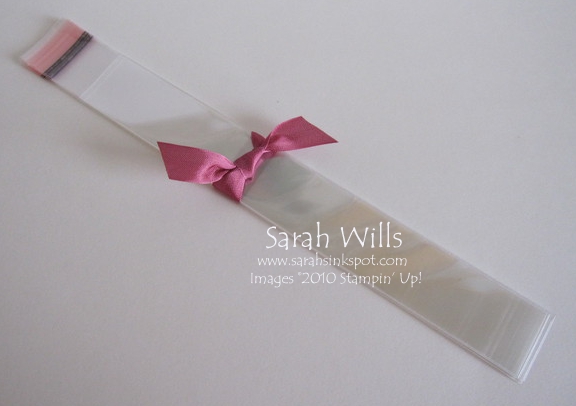 And lastly onto this week's Blog Candy…leave me a comment to let me know if you prefer my Bunny with or without the paws and you will be entered into a drawing where one lucky winner will be drawn on Friday…
That lucky winner will receive a kit to make a Bunny plus a bag of Jelly Beans – so be sure to come back Friday and see if you are the winner!
Don't forget that there is just ONE WEEK OF SALE-A-BRATION LEFT – HURRY and get your order in before it's too late!
CLICK HERE TO ORDER YOUR STAMPIN' UP! CARDSTOCKS, PUNCHES & DIES!
Tutorial Tuesday does some cute hopping!