Recently have found myself making a lot of black and white cards…there is simply something so elegant about that color combo which is perfect for any occasion.
I wanted to make some generic note cards today and looked through my stamps to find a set that hasn't been used for a while and I happened across the sweet set C is for Cat…
Now what could be better than a black and white card featuring a beautiful black cat?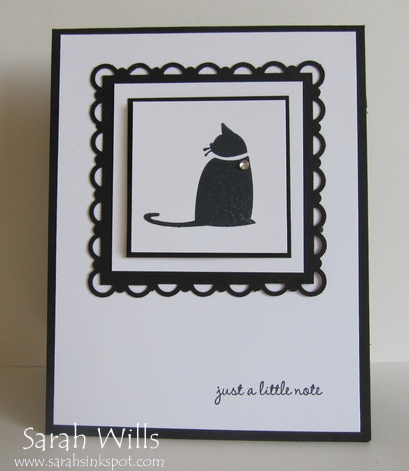 I made my card using Whisper White and Basic Black card stocks and I think that the result is clean, simple and striking.
I stamped my cat with Stazon Jet Black Ink – I love this ink for producing a crisp black image – and layered him onto a mat using Dimensionals to create a real picture frame effect.
That beautiful scalloped frame? Fun and easy to create using the Scallop Trim Border and Corner Punches that you can find on pg 200 of the Catalog.
If you've not made a frame like this before I have a free & printable tutorial showing you how to do it in easy steps – you can find that tutorial by clicking HERE
I added my 'just a note' sentiment using a stamp from the Hostess set Apple Blossoms (pg 12) and as a cute & elegant finishing touch added a Rhinestone Jewel to his collar…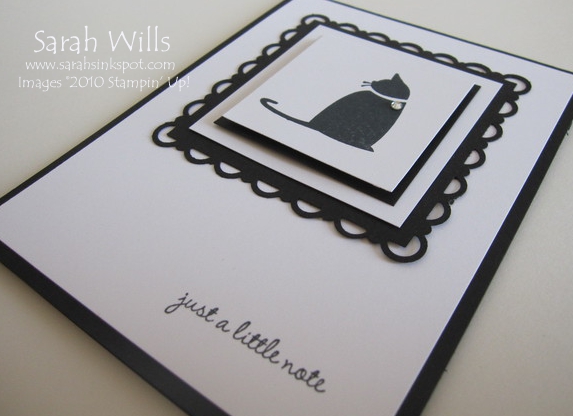 You can find the stamp set C is for Cat on pg 74 – but if dogs are more your thing, you can also find D is for Dog on that page too!
You can create some fun looks using this cat stamp – you can leave him plain like I did above, add stripes with a Marker or for a very interesting look you can even make a two-color cat…
To do this you use two colors of ink such as black and brown and use sponge daubers to dab the ink onto your stamp – then stamp onto your cardstock – to see a card made using this technique click HERE
What is today's card offering?
Want to purchase a pack of 10 of today's "Black Cat" cards & envelopes, handmade by me as shown above?
They are beautiful and what a great pack to have on hand for when you need them.  Inside each card is a white cardstock mat for you to write on.
Your cards will be packaged in a clear box and in accordance with Stampin' Up!'s angel policy, each card will have a copyright stamp on the back.
I have a choice of sentiments for you to choose for your cards, so take a peek below and select the one you would like – if you would like a selection of sentiments in your pack such as 5 Happy Birthday and 5 Thank You's, click on 'customise' and drop me an email to let me know which you would like.
And then to check out, click 'buy now'…
And finally onto my Tutorial Tuesday Blog Candy Winner…with paws or without paws, that was my question – and funnily enough opinions were pretty divided between the two – some like with and some like without!  I'm none the wiser but I think I'm steering towards with out!
And the winner is…comment no. 25…
Karen Rose on March 24, 2011 at 7:17 am who said:
I like the one without paws the best!   They are both adorable though!!! Great idea and thanks for sharing with us, I am sure I will be making them for my kiddos too! TOO CUTE!!!
Congrats Karen – contact me with your mailing address and I'll get your goodies out in the mail to you.
CLICK HERE TO ORDER YOUR STAMPIN' UP! SUPPLIES ONLINE – INCLUDING THAT CUTE CAT & DOG STAMP SET!