Today I am showing you a great little coffee themed gift set featuring a card shaped like a Coffee Travel Cup and a Coffee Folder that pops open to reveal sachets of coffee inside.

You could add a stick or two of Biscotti, chocolate coated stirring sticks or squares and there is one sweet little treat to make for a teacher, friend or co-worker – it would also be perfect for Mother's Day and for Teacher Appreciation gifts – the end of the school year is fast approaching…yikes!
Please read on for details on how to make both the card and the folder – and to find the link to my free printable tutorial and as always, this week's blog candy…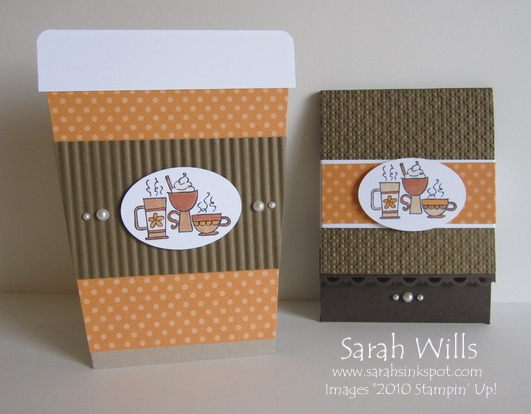 Don't you just LOVE that stamped image? SUPER CUTE!  It is from the Hostess set A Slice of Life that you can find on pg 4 of the Occasions Mini Catalog that features beautiful images – BUT it is only available for another 4 days because it retires on Saturday along with that Mini Catalog – so if you want it, be sure to place your order before then!
Firstly that Coffee Folder…
It is made using Early Espresso cardstock (it had to be really, didn't it?!) and onto it I added a layer of Soft Suede that I textured using my Big Shot and Square Lattice Embossing Folder.
I trimmed it with a border that I made using the Scallop Trim Border Punch and added some cute Pearls.  My Belly Band is decorated using a piece of polka dotted paper from In Color Patterns Designer Series Paper Stack – cute!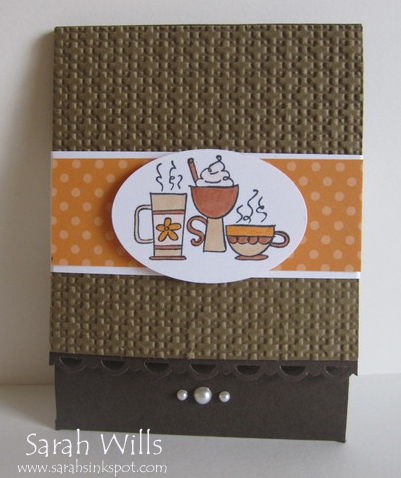 The white Belly Band slides off of that folder and the lid pops open to reveal three sachets of coffee along with a space to write a note – this folder is designed to hold Starbucks Via sachets that you can find in most grocery and big box stores…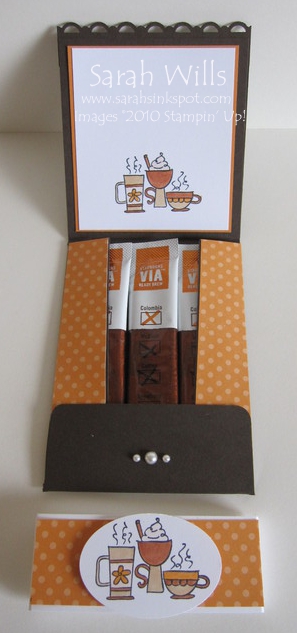 And now onto that ADORABLE co-ordinating Coffee Travel Cup Card for which I give all credit to a wonderful stamping friend of mine – Deb Bryson – who mailed a card just like it to me this week…
We are in a monthly swap group at Stampin' Addicts and when it arrived I just knew I had to use that design to create a card to go with my coffee folder which had been in the works for a few weeks…THANK YOU DEB!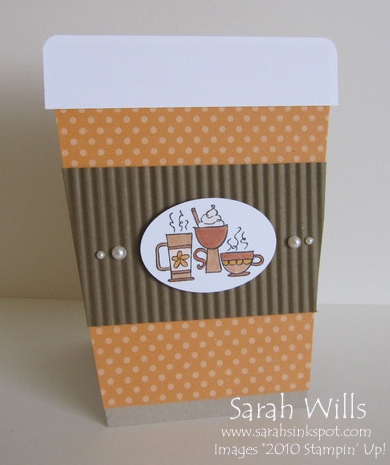 Isn't it cool?  My card base using Crumb Cake and I added a layer of that polka dotted paper to tie it into my Coffee Folder.
The coffee sleeve is created using Soft Suede cardstock that I ran through my Crimping Tool which you can find on pg 198 of the Catalog – LOVE the effect you can create with that tool…
I added that same stamped image and some cute Pearls to finish it off and just love how it turned out…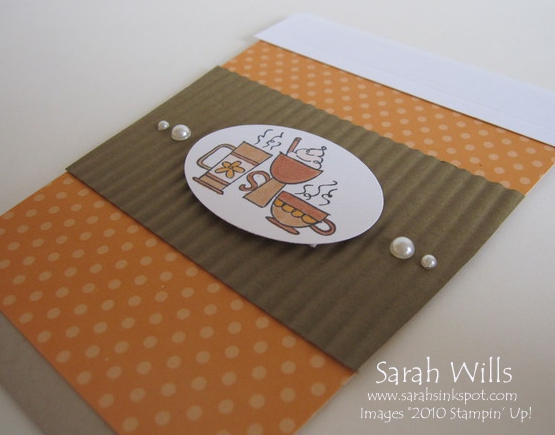 WANT MY FREE TUTORIAL SO THAT YOU CAN MAKE YOUR OWN COFFEE TRAVEL CUP CARD & COFFEE SACHET FOLDER? Click HERE to find it in my Project Tutorials section where you will find a printable version too!
Here is that fabulous card that arrived in the mail from Deb – she used the stamp Tiny Teacup (pg 20) on hers – there is another perfect stamp set called Morning Cup (pg 60) that also has images just perfect for this theme…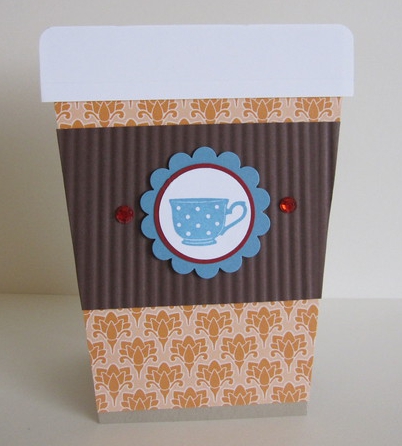 That lucky winner will receive a kit containing all supplies to make one of these, including the coffee sachets – so be sure to come back Friday and see if you are the winner!
Now to make it super simple for you to make your own…
HERE IS MY COFFEE THEMED CARD & FOLDER GIFT SET KIT!
What is in a Kit? ALL the consumables you need to make 1 Coffee Folder & 1 Coffee Travel Cup Card as shown above – included in your kit will be:
Pre-cut and scored cardstocks & patterned papers to make the Card
Pre-cut, scored and trimmed cardstocks & patterned paper to make the Folder
Punched shapes & Pearls to decorate
Printed tutorial
You have a choice of two kits:
Kit 1 contains the supplies as specified above
Kit 2 contains the supplies above PLUS 3 sachets of coffee too!
PLEASE NOTE – you will need to supply adhesives to assemble them and the stamp & ink to stamp the images – in accordance with Stampin' Up!'s policy I am not able to stamp the images for you.
The color and pattern of cardstock & papers that you receive may vary from what is shown above but rest assured it will all co-ordinate beautifully!
How do you purchase my Kit?
By clicking on the Buy Now link below & select how many kits you would like – please note that I ship to US mailing addresses only.
I am taking orders for these from now through Tuesday May 3rd.
WANT IT SUPER EASY AND FOR ME TO MAKE THIS GIFT SET FOR YOU?
I would be very happy to!  I am a perfectionist so rest assured your gift ensemble will be perfectly stamped and precisely made.
Included will be:
One Coffee Travel Cup card
One Coffee Folder containing three sachets of Starbucks Via coffee
All packaged in a clear plastic box just ready for gift giving!
Again, the color and pattern of cardstock & papers that you receive may vary from what is shown above but rest assured it will all co-ordinate beautifully.  If you have a preference for color just email me to let me know.
In accordance with Stampin' Up!'s angel policy, each item will have a copyright stamp on the back.
Click on the buy now link to purchase – shipping is included in the price you see below.
Tutorial Tuesday gets caffeinated…