Wow I can hardly believe that we are at the end of May already and that my girls will be out of school for summer in just 1 week – yikes!
And in the Stampin' Up! world this upcoming week is SO exciting – from June 1st we can order and get those brand new 2011-2012 Catalogs & demonstrators also get to order some items from that Catalog too – yay!!!
Check out my card made in honor of Memorial Day – I also decided to celebrate the start of Summer and incorporated a beautiful flower into it too…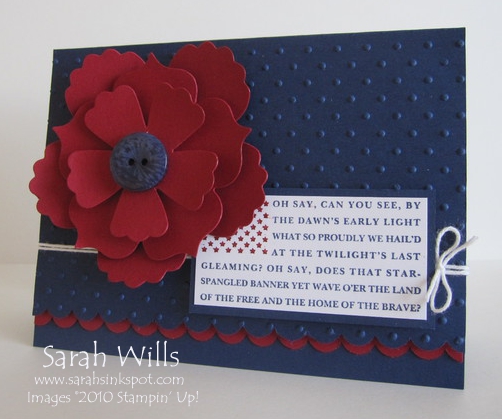 I absolutely LOVE how regal this color combo is – Night of Navy and Cherry Cobbler – with a splash of Whisper White…very striking…
That GORGEOUS flower? Made using my favorite die – Fun Flowers – it features three beautiful flowers that you can layer together as I did above or use individually – I use Dimensionals to layer them to give a real 3-d look and added a big button from Regals Designer Buttons in the center…
That stamp? It is a single stamp called Land of the Free that you can find on pg 18 of the Summer Mini Catalog and is so easy to work with – I simply colored the words with Night of Navy and the stars with Cherry Cobbler Markers and stamped onto Whisper White – how perfect will this be for July 4th?
My finishing touch to my top layer is that a piece of White Bakers Twine that you can also find on the Summer Mini on pg 10 – I love it as you can use your ink refills to die it to be whatever color you choose.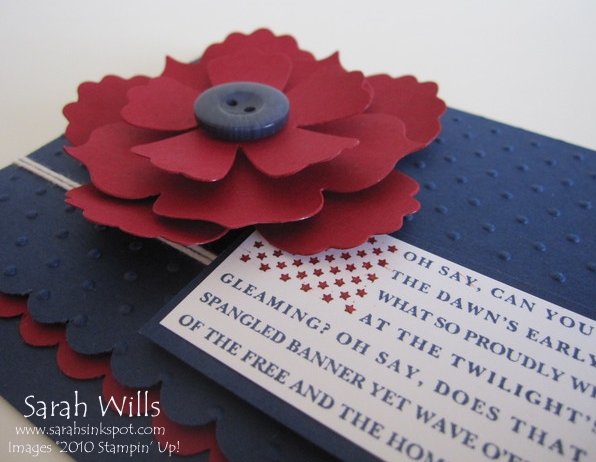 Other touches…I used my Big Shot & Perfect Polka Dots Embossing Folder to texture the background and used my Scallop Edge Border Punch to trim the edges.
Now on another note…you might be wondering where Sarah has been this last week and a few other times during May…I apologise for my absence as I have been a bit on the distracted side!!!   We have been busy fixing up our house to prepare it for putting it on the market to sell it and so that has taken rather a lot of my time – we have had contractors in and out but all is nearly done and I am beginning to feel like we are getting back to normal.  But fear not – we are not headed back to England – just about 6 miles up the road to a small place called Volente…
That coupled with the fact that my crazy hubby went on a two week trip to Baja Mexico to race in an offroad race on his motorcycle in May also added to the craziness – I am looking foward to some down time in the Summer!
Happy Memorial Day Weekend!