Well it's camping time of year and one thing that my girls look forward to most of all when we camp is Smores…they love 'em!
And so I decided to make some little Smores Kits containing all those goodies needed to make these yummy treats for them to take camping…and what a great little treat this will make for their Girl Scout friends too!
I found the PERFECT stamps in the set Under the Stars to embellish my tin – you can find that set on pg 94 of the Catalog and in there is even a Smores stamp – how cool is that?!
That tin comfortably holds Graham Crackers, Hershey Bars and Marshmallows and I love that the lid is clear so you can see the contents inside…
I decided to make a Belly Band to go around my tin so that it can easily slide off to access the goodies – how did I make it?
To make the Belly Band…
Take a piece of cardstock sized 11″ x 3″ – I used the color Early Espresso – and tear down the length* on both sides to get a rustic look
Place it into a score tool (or paper trimmer with score blade inserted) with the long side along the top edge and score it at 3 1/8″, 4 1/8″, 7 3/4″ and 8 3/4″
Fold along the score lines and wrap around your tin – ensure there is a snug fit but you can still slide it off and use Sticky Strip to adhere the ends together
Embellish as wished!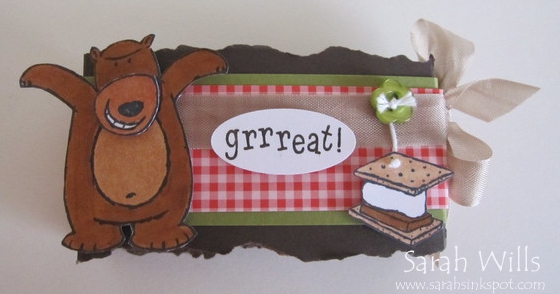 I added a band of Old Olive to mine and onto this – check out that paper – isn't it perfect for a camp theme?  We have a camp tablecloth just like it!  I found this paper in Pawsitively Prints II DSP that you can find on pg175…
I then wrapped around a piece of Crumb Cake Seam Binding and tied it in a bow on the side…I stamped and colored in my bear and added him using Dimensionals so he pops off the tin…I then decided to stamp his nose bit again and cut it out and added it using a Dimensional for a more realistic look.
Finally I stamped, colored and cut out my Smore and threaded it onto a piece of Bakers Twine that you can find on pg 10 of the Summer Mini Catalog – I added a button from Brights Designer Buttons at the other end and adhered it to my tin.
What do you think?  I think it is one cute yummy & treat – I hope the kids like 'em!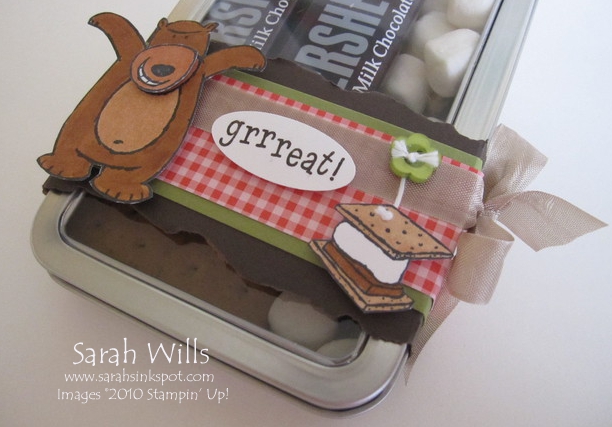 * Not happy with tearing your papers and cardstocks by hand? Then there is the perfect tool for you!  It is called the Tearing Edge and you can find it on pg 198 of the Catalog or online by clicking HERE – it makes tearing a breeze!
Here are the images in that stamp set Under the Stars…cute, eh?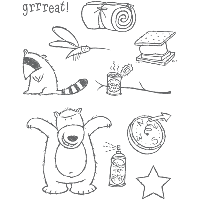 Order this stamp set Under the Stars through me from now through May 31st 2011 and I will be mailing you TWO FREEBIES as a thank you!
What are those two freebies?  You will receive…
a package of Bakers Twine in the color of your choice

AND one of the clear lidded Tins like I used above
Use the link below or contact me to place your order!
CLICK HERE TO ORDER THIS STAMP SET AND YOUR OTHER STAMPIN' UP! SUPPLIES ONLINE!
Now to make it super simple for you to make your own…
HERE IS MY SMORES TIN KIT!
What is in a Kit? ALL the consumables you need to make the Tin as shown above – included in your kit will be:
Pre-cut and scored cardstocks & patterned paper to make the Belly Band
18″ Crumb Cake Seam Binding
One Designer Button – style & color may vary from that shown
6″ Bakers Twine
Blank sentiment punched shape
Printed tutorial
PLEASE NOTE – you will need to supply adhesives to assemble this kit and the stamps & ink to stamp the images – in accordance with Stampin' Up!'s policy I am not able to stamp the images for you BUT you can take advantage of my great offer to purchase the stamps as detailed above!
You will also need to provide the contents of the tin – they are not provided in this kit – those are chocolate bars, graham crackers and marshmall0ws – I am not able to mail them to you since it's already hot in Texas and they would be a melted mess once they arrived to you!
The color and pattern of Designer Series Paper that you receive may vary from what is shown above but rest assured it will all co-ordinate beautifully!
How do you purchase my Kit?
By clicking on the Buy Now link below & select how many kits you would like – please note that I ship to US mailing addresses only.
I am taking orders for these Kits from now through May 31st.
Want even more Kits?
Want a big bundle of kits?