Can you believe that it's time to start thinking about and planning those Holiday cards and projects?!
And why am I feeling festive in very hot Texas in August?!  Because the Holiday Mini Catalog goes live for customer order on September 1st…
But Demonstrators can order from it NOW!!! a In fact all through August – which means that I already have my copy of that Mini Catalog and my hands on goodies from that fabulous mini to play with in my craft room right now…hehehehe!!!
And you could order them now too – when you join as a Demonstrator you can order those new Holiday Catalog items the same day as you join – and WHEN YOU JOIN MY TEAM IN AUGUST I will also give you a stamp set of your choice of any value AND a cute DSP & Ribbon covered Book – click HERE to find out more!
SO just like last year, every Friday from now until the week before Christmas I will be showcasing Festive Friday…I will feature a Holiday item or two every Friday and a free tutorial with it…and of course Festive Friday means blog candy…
Sooo without further a-do, Festive Friday Kicks-Off with Santa and some very sparkly glitter…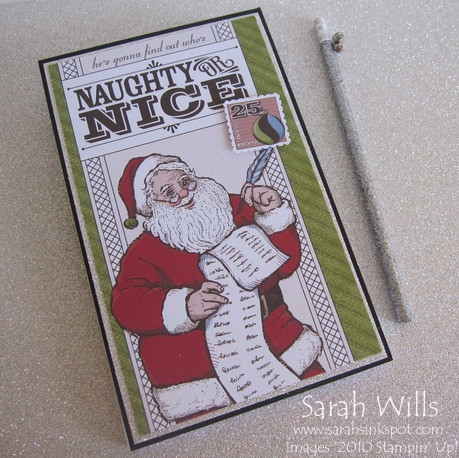 Cute eh?  I just had to kick off Festive Friday with Santa and today's item features a beautiful covered Holiday Notepad that is so quick & easy to make – it is very economical and is just a perfect little gift for kids and grown-ups alike…
My girls have already started writing their wish lists for Santa – LOL – and that is what gave me the idea for making these cute notepads – I have made them one each and there are plenty of papers in there for them to constantly update their lists – which they will be doing almost daily I imagine!
Underneath that top cover is a Junior Legal Pad – and the thing I love about those is that the pages can easily be torn out or folded over – making it easy to use.
And for grown-ups? These would make fabulous pads for holiday planning – shopping lists, wish lists, need to do lists…fab little gifts to make for friends, family, teachers & co-workers.
What makes it economical? To make one you need:
a Junior Legal Pad – I found a pack of 5 for $3 in Target
one sheet of cardstock
a piece of thick card – such as the backing sheet you get in a package of DSP
patterned papers to decorate
And what makes it easy?
You can find Letters for Santa DSP on pg 186 of the Catalog or online by clicking HERE – that pack contains 12 sheets of papers – 2 sheets of 6 double-sided designs.
That pack of papers makes covering a notepad like this fun, quick and SUPER easy…
That whole front panel? It is one of the designs in that pack – I simply cut it out from a piece of 12×12 DSP and adhered onto my cover – that simple!
That postage stamp on the cover? Yep, in that pack of papers are 2 sheets covered with beautiful holiday themed postage stamps – and there are some like the one below that are perfectly sized to punch out using that fun new Postage Stamp Punch that you can find on pg 212 – I simply punched it out and added it using Dimensionals…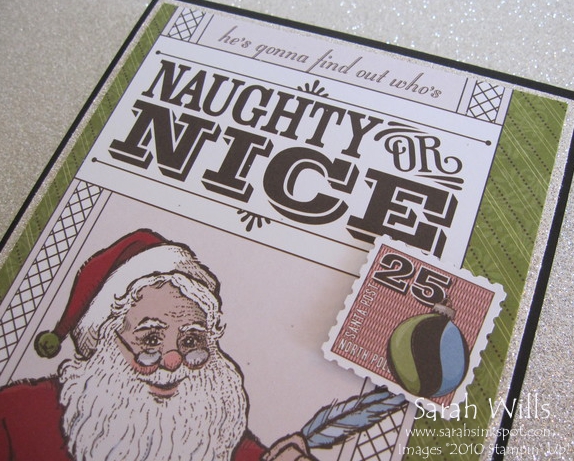 See that glittery silver sparkly layer underneath my Santa paper? Hehehehe…say hello to the brand new beautiful Silver Glimmer Paper!!!  Yes, another GORGEOUS item debuting in the Holiday Mini Catalog in September – it is so sparkly…
And so easy to cut – unlike other papers like this I have used in the past, this paper loses NO glitter when you cut it – NONE – I love it!
Sarah's Tip – when I cut glitter papers in my Paper Trimmer I keep a blade specially for just this – I have found that glitter papers dull blades very quickly and so now I just keep one in a little pot for just this purpose – when I want to cut glitter papers I simply pop it into my trimmer and doing this avoids dulling a decent sharp blade that I might have had in there.
And finally my Pencil...I find these glittery pencils in the dollar spot in Target periodically and LOVE them – as do my girls – and I found a silver glittered one in my closet which would go perfectly with this notepad…
To jazz it up a little I tied on 3 cute little Jingle Bells with some silver elastic cord…Jingle Bells I hear you ask? Yes!  Yet another cute beautiful new addition coming in the Holiday Mini Catalog – and they really do jingle!!!  AND you get 48 of them for just $2.95!!!  Bet you can't wait for September 1st now…

For 'planning your order' purposes if you wanted to make notepads like I did with that santa on the front, you would get 2 sheets of 'santa paper' per pack…also in that pack are 2 sheets of a similar style with ornaments down the side – perfect for kids a bit older & grown ups too – you can see a piccy of other papers in that pack including those ornaments at the end of my post…
So what's inside? Open up that cover and inside is the legal pad – I covered the top of it using some DSP and added Silver Glimmer Paper to the inside of the cover – well, a girl just can't have too much glitter, can she?!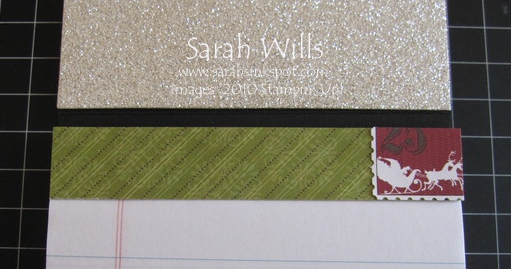 You can view the papers in Letters to Santa online by clicking HERE – simply click on 'more images' and you can view all the papers included in that pack…
As well as the paper featuring Santa, here are bits of some of my favorite sheets included in Letters to Santa – check out those Bingo boards – you get 4 on a 12×12 sheet – 2 sheets per pack – meaning you get 8 bingo boards in total in one pack – TOO CUTE!
And those ornaments – just beautiful…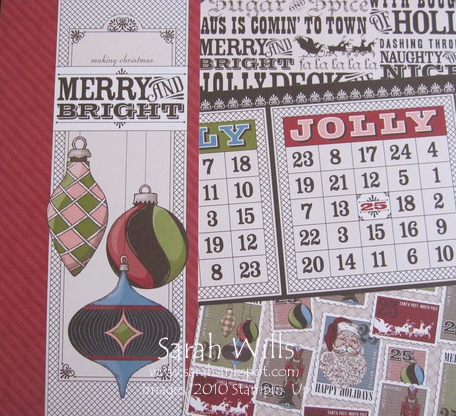 WANT MY FREE TUTORIAL SO THAT YOU CAN MAKE YOUR OWN HOLIDAY NOTEPADS? Click HERE to find it in my Project Tutorials section where you will find a printable version too!
Now finally onto my Festive Friday Blog Candy…leave me a comment to let me know what you think of my Santa Notepad and you will be entered into a prize draw…
The winner will be chosen by random.org on Monday and one lucky winner will win a pot of the new cute Jingle Bells AND one of my Holiday themed Notepads & Pencil!
And remember that during August when you Buy 3 packs of Designer Series Papers you get to choose 1 for FREE – this is a fabulous deal and you can find out all about it by clicking HERE – buy your Letters for Santa DSP now & get freebies!
CLICK HERE TO ORDER YOUR STAMPIN' UP! SUPPLIES & DESIGNER SERIES PAPERS ONLINE!
Festive Friday Kick-off is here!!!