I giggled after I had typed in that title…it all sounds very food based, doesn't it?!   Must be time for dinner!  Today I made a card with a bit of an autumn feel to it…
Yes, after today being the 57th day over 100 degrees here in Austin Texas, I am most definitely craving some crisp fall weather!   Only 13 more days to go before we break the record set back in 1925 of 69 days – it's been a LONG hot summer!
So, back to my card with that autumn theme…when I saw one of the hostess stamp sets – Faith in Nature – I just knew I had to have it – it features 3 beautiful images, a quotation and a simple sentiment and you can make some quick & easy but very beautiful cards using it…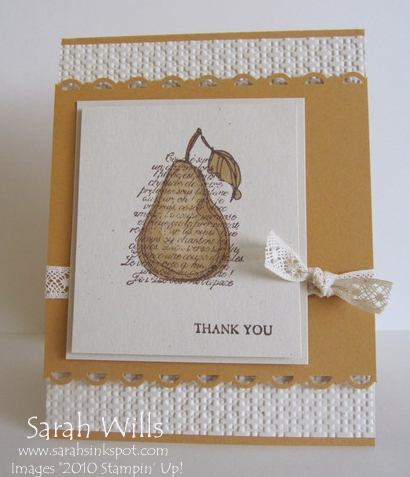 It simply uses the colors Very Vanilla, Ivory and More Mustard – and I love how that color combo works together.
So my base is simply More Mustard onto which I layered a piece of Naturals Ivory that I textured using my Big Shot and Square Lattice Embossing Folder…simple but gives it a bit of a rustic look…
I then cut a piece of More Mustard cardstock to be 4 1/2″ x 4 1/4″ and gave it a beautiful edging both top & bottom using my Scallop Trim Border Punch – I then decided to pretty it up a little and added a piece of the beautiful Chantilly Crochet Trim (pg 194) and then added it to my card base using Dimensionals.
I stamped my pear onto another piece of Naturals Ivory and very lightly colored it using Ink Pads & Blender Pen because I wanted to create a soft and subtle look to it.  I added that 'thank you' sentiment straight below it to keep a simple look to that central panel…
I then trimmed my cardstock to size – 2 3/4″ x 3 1/4″ – and matted it using Dimensionals onto another piece cut slightly larger – 3″ x 3 1/2″ – click on the photo below for a closer look…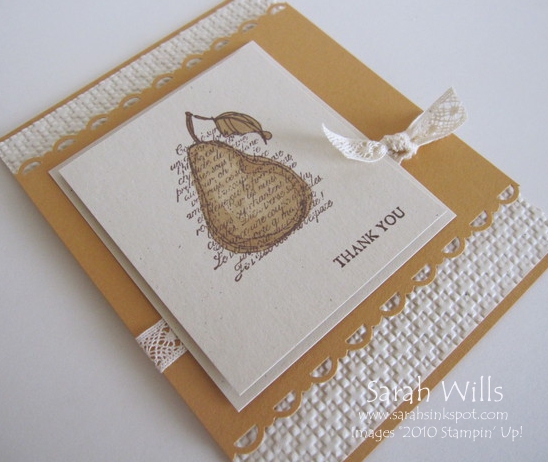 And there is one simple but beautiful card that would be perfect for Thanksgiving or simply Fall thank you cards – and it reminds me of fresh chilly mornings…ahhhh…I can hardly wait!
Here are the images featured in that set Faith in Nature – it's available as an item you can spend your Hostess $$$ on as part of your Hostess benefits when you place an order of $150+ and it comes in both wood & clear mount versions – it is just beautiful.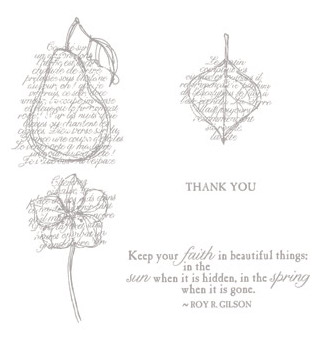 Wondering what Hostess $$$ are and want to know more about the new Hostess Benefits?  Click HERE for the details!
CLICK HERE TO ORDER YOUR STAMPIN' UP! SUPPLIES ONLINE!
Now don't laugh…I know it's still the summer – but tomorrow sees the start of Festive Friday!!!

Every Friday on the run up to the Holidays I will feature a holiday themed item and if it's a 3'd item, a free tutorial too – and also give away some blog candy each week as well…
So be sure to come back and visit me tomorrow for my 'Festive Friday Kick-off'!
A Pear with Vanilla and Mustard…