I just LOVE the Spice Cake Product Suite that is featured on pgs 16-18 of the Holiday Mini Catalog and can't stop using it…the patterns on the Designer Series Papers are just so beautiful and  irresistable to me…
And sadly I came to the end of my second pack and had lots & lots of scraps left over (don't worry – I have a new pack arriving tomorrow…tee hee!!!) and so decided to use them up by making a bunch of cards.
I love using scraps up in this way – rather than waste them you can incorporate them into a simple but effective card just by using your Punches…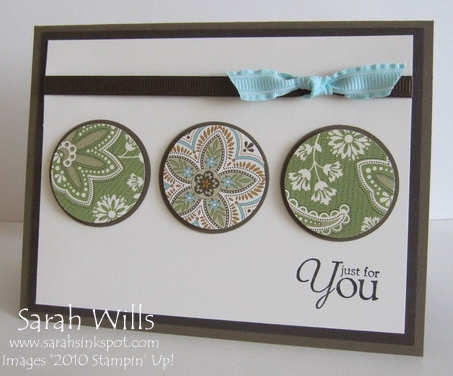 My card base is Soft Suede cardstock onto which I layered a piece of Early Espresso.  I then cut a piece of Very Vanilla cardstock and wrapped a piece of 1/4″ Early Espresso Grosgrain Ribbon (pg 195) around it and then adhered it to my card base layers.
I wanted to add a splash of color to my ribbon and decided to tie on a little piece of Pool Party Ruffled Ribbon (pg 194) – that gives it a dramatic look…
Now onto my circles…I punched out circles from Soft Suede cardstock with my 1 3/8″ Circle Punch and onto them layered pieces of Spice Cake DSP that I punched out using my 1 1/4″ Circle Punch – you can find both of these punches on pg 212 of the Catalog…I used Dimensionals to adhere the DSP to give it a bit more of a feature…
Prefer squares? If you prefer squares you could punch out 1 3/8″ card stock squares and then layer on 1 1/4″ squares of DSP.
And then finally I stamped my sentiment using a stamp from the beautiful Hostess set Precious Butterflies (pg 15) – you could of course adapt this card to be a thank you, birthday or any occasion card simply by changing the sentiment.
And there is one very simple card that uses up all those bits of lovely patterned papers you have left over.
And so it turned out that I had so many bits of patterned paper scraps left over from the two packs of Spice Cake DSP that I have used that I could make lots of this design of card…
And so I used them to put together Card Kits for my Welcome Packs for my new Team Members as detailed in my post below – and I made a few extra ones for new team members that might come along this month…
Check out how cute the kits turned out all wrapped up in cello bags and with a cute piece of Spice Cake Fabric tied around them…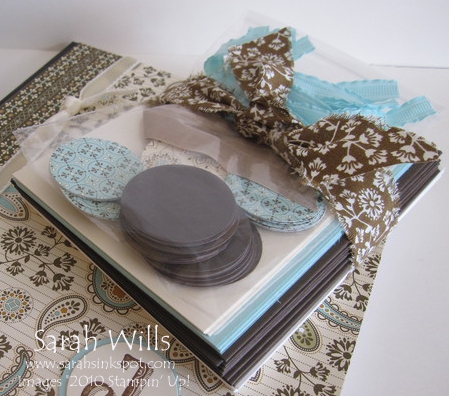 Underneath you can see another cute notebook I covered using more of my favorite Spice Cake patterns…I hope my new Team Members enjoy putting those cards together – they are CUTE!
CLICK HERE TO ORDER YOUR STAMPIN' UP! SUPPLIES ONLINE!