Join Stampin' Up! as a Demonstrator during October and they will GIVE YOU a FREE BIG SHOT OR $100 IN PRODUCTS OF YOUR CHOICE – how AMAZING is that???
I was astounded when I read about this BIG giveaway – if you LOVE Stampin' Up!'s products, it is a fabulous way to get a whole lot of them for FREE!!!
AND this offer of a free Big Shot or $100 in product APPLIES to everyone – if you are a former Demonstrator YOU CAN RE-JOIN and get these freebies too!!!
And it gets even better if you can believe it – when you Join my Team you will ALSO get my personal welcome gift of a FREE Stamp Set of your choice valued up to $21.95 AND a Welcome Pack from me which includes a Card Kit of 10 cards, a handmade Card and a hand-covered Journal using beautiful Designer Series Papers! Here is an example of what you will receive in that Welcome Pack…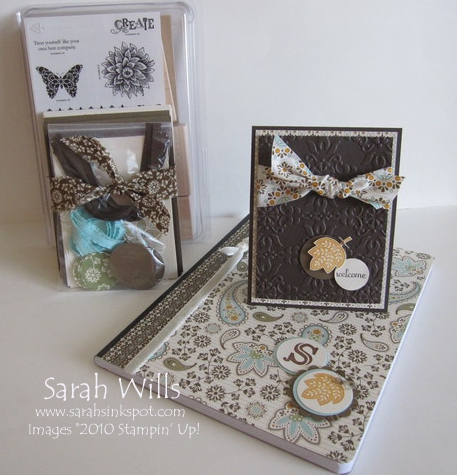 How do you join Stampin' Up?
you can join online right now and become a Demonstrator instantly!
To join online click HERE – and Join Now – and fill out the forms!
You will then select your Starter Kit – you have the choice of the Standard Kit or the Digital+ Kit
Both kits are customizable – YOU get to choose what stamps, cardstocks, ribbons, inks etc are in your Kit – how cool is that?
To customize your Starter Kit simply click 'edit' next to each item you wish to change
The Starter Kits cost JUST $175 and ship to you for FREE – they contain $445 worth of products – what a bargain!
Once you have completed your paperwork you will receive a welcome email from Stampin Up
You will be able to log into the website straight away and order your Free Big Shot or products within an hour!
When you have joined my Team I will automatically receive an email from Stampin' Up! to let me know – I will then email you my welcome email with lots of information about navigating the demonstrator website and how to place your first order…
I will get your Welcome Pack into the mail to you THE SAME DAY – all you need to do is email me to let me know what FREE stamp set you would like as your gift from me – I will get that ordered and on it's way to you asap!

Click HERE to see what is included in each Starter Kit – remember you get to customize most of it!
Sarah's note – why not give it a go??? I mean if you can get a kit for $175 that is worth $445 PLUS you get a Big Shot or products worth $100 bumping that value up to a $545 – for which you are paying JUST $175 – you have NOTHING to lose!
I hope you'll think about it even just to buy the kit and do nothing else – YES that's OK – you do not have ANY obligation to purchase anything ever again and you get to keep EVERYTHING in this deal – there are no penalties for deciding not to continue – I promise!
Commonly asked Questions & their Answers:
Q – how much do I have to buy/sell to remain a demonstrator?
A – you have to buy/sell $300 worth of products each quarter
Q – what are Stampin' Up!'s quarters?
A – they run Jan-Feb, Mar-Jun, July-Sept, Oct-Dec – and the quarter that you sign up in is waived, for example if you sign up in October – NOW – then you do not have to meet your quarterly minimum of $300 until March 31st 2012 (end of the 1st quarter of next year) – you have SIX MONTHS to do so
Q – do my own orders count towards the $300 quarterly minimums?
A – yes – and because of your discount when you spend $300 in merchandise it will actually only cost you $240 per quarter to be a demonstrator – got to love demo math!
Q – do my own orders qualify for hostess benefits?
A – yes – all of your own orders over $150 qualify for hostess benefits
Q – what is my discount?
A – you get 20% off of all merchandise – AND you get a special extra 10% off of one order of $150+ when you join – meaning you get 30% off of your first order of $150+ placed within your first 45 days – and yes, you will get all hostess benefits on that order too!
Q – can I earn more income?
A – yes, if you decide to sell to others then you also receive Volume Rebates based on your quarterly sales
Q – what if I decide to not continue as a demonstrator – are there any penalties?
A – NO penalties at all!  If after purchasing your starter kit you do not want to order anything, you do not have to – you keep everything in your kit – and when you do not meet your quarterly minimum you simply 'drop' – simple as that!  You are not obligated to purchase anything.
Q – will I be pressured to sell anything?
A – absolutely not – Stampin' Up! does not put any pressure on any demonstrator to do anything ever – it is a wonderful company to be a part of – you can join simply to get a fabulous discount on your favorite crafting supplies
What other benefits are there to becoming a demonstrator?
You get the opportunity to go to Regional Seminars and the annual Convention along with thousands of other demos – its fun!
You can work towards the fabulous Incentive Trips – the next ones are to Fiji & Hilton Head Island!
Great Rewards is a program where you earn points for your sales and promotions and can use them to choose free product and/or gift cards.
In your first 6 months you have the opportunity to earn free stamp sets through the Stampin' Start program – this is very possible – I did it!
There are special demonstrator only incentives such as extra discount promotions, pre-ordering and bulk buying opportunities.
You get to pre-order select Hostess sets and brand new, never before seen sets a full month before a new main or mini catalog release
You get to know about all the new catalogs and mini catalogs a month or so ahead of everyone else and you automatically receive a complimentary copy of each newly released Catalog – and a copy of each Mini Catalog as it is released.
You get a free monthly magazine called Stampin Success & access to the demonstrator only forum Stampin' Connection
You can find more information in my Join my Team tab at the very top of this page.
READY TO JOIN?  Again, you can do so online right now and become a Demonstrator instantly!
Simply click HERE – and then Join Now!

Got Questions? I have the answers!  Email your questions to me by clicking here and I will be very happy to help.

Want a FREE BIG SHOT or $100 SHOPPING SPREE FOR FREE???