I love the Designer Fabrics that Stampin' Up! produces, especially that gorgeous Spice Cake Designer Fabric that is featured on pg 18 of the Holiday Mini Catalog…
And I love that those Fabrics co-ordinate PERFECTLY with their matching packs of Designer Series Papers…such as Spice Cake DSP on pg 17…
Now why do I love that they co-ordinate so much?  Because I am hopeless at sewing…but I love these fabrics so much that I keep buying them…so how to use them when you just can't sew?!
Like this!!!  You can create a very neat feature on your cards by using these fabrics with matching patterned papers…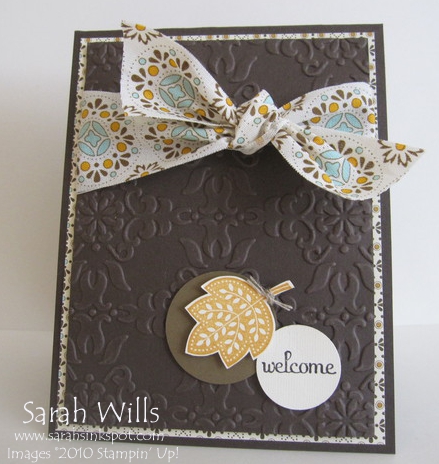 My card base is Early Espresso cardstock onto which I added a layer of beautiful patterned paper from Spice Cake DSP.
I then cut another piece of Early Espresso to be 3 3/4″ x 5″ and textured it using my Big Shot and Vintage Wallpaper Embossing Folder…
And just look at that fabric band – I simply took a piece of fabric from Spice Cake Designer Fabric, cut a strip and wrapped it around my cardstock – I then tied a knot in front and trimmed the ends on an angle – and it's as easy as that to get a big WOW feature on your cards and paper crafting projects!
The sentiment? It is from the set Fabulous Phrases (pg 163) – I choose the 'welcome' sentiment as I am making these cards to send as part of a Welcome Pack to my two new team members who have joined in the last month – there is more about that pack below…
Like that leaf? It is from one of my favorite sets, Day of Gratitude (pg 28) – I simply stamped it using More Mustard ink and trimmed it out using my Paper Snips – I then poked a small hole in the top using my Paper Piercing Tool and threaded through some Linen Thread to tie around the stem…
I punched circles out using my 1″ & 1 3/8″ Circle Punches and layered them onto my card…and I just LOVE how this card turned out…what a great mix of fabric and paper!
So, onto my Welcome Pack…
Two new ladies have joined as Demonstrators on my Team in the last couple of weeks – Karen & Soozie – and they are going to receive my Welcome Pack that I just mailed out to them…included in their packs are items to get them off to a great start:
my Welcome Card
a pack of 10 Envelopes, Card Bases & supplies to make 10 cards
a beautifully decorated Notebook…
AND  the FREE stamp set of their choice that they receive for Joining my Team!
Here is what those lucky ladies are going to get in the mail this week (not shown are their stamp sets)…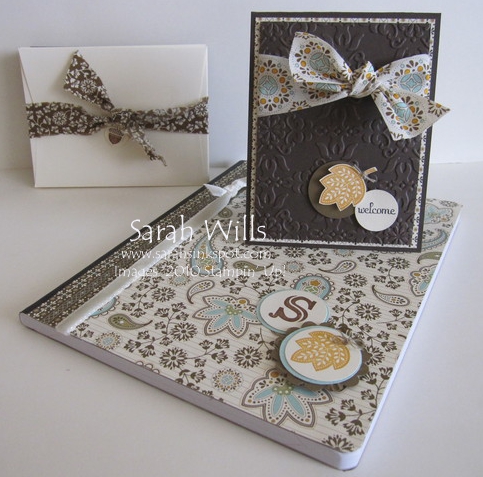 I love that Notebook – I made one for each of them by covering a book using papers from Spice Cake DSP (pg 17) with a piece of GORGEOUS Vanilla Velvet Stitched Ribbon tied around it.
I then stamped that leaf and matted it onto circles of Pool Party & Soft Suede cardstocks…and to make it personal, I stamped each her initial and added that to the front too…here is Soozie's…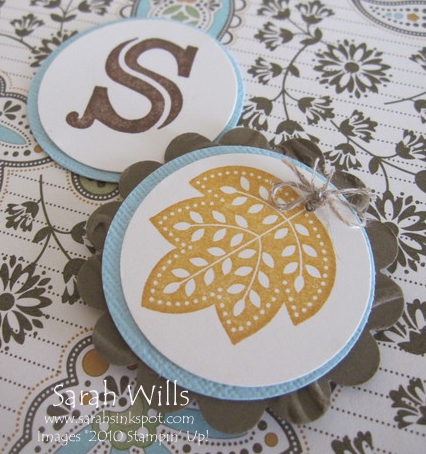 Look carefully at those layers under my stamped leaf – I embossed the suede cardstock using the Elegant Lines Embossing Folder before punching my scallop shape out…and I used Textured Pool Party for another cute touch…
Want to get a beautiful Welcome Pack like this too?  You can!!!  When you Join my Team from now through October 31st I will mail one out to you too – the same day as you join!
How do you find out more about becoming a Demonstrator and Joining my Team? Simply click HERE for lots of details about all the benefits & for information about the bargain priced Starter Kits.
Want to join right away? You can do that and become a Demonstrator instantly!  Click HERE to visit my site where you can join – once there, simply click Join Now on the left side of the page.
You will need my Recruiter Authorisation Password which is: sarahsinkspot
Got questions? Click HERE to contact me and I will be very happy to help
CLICK HERE TO ORDER YOUR STAMPIN' UP! SUPPLIES ONLINE!
So, where can you find those beautifully patterned Designer Fabrics & Designer Series Papers that I used on my Card & Notebook?
Spice Cake Designer Fabric…check out those beautiful patterns…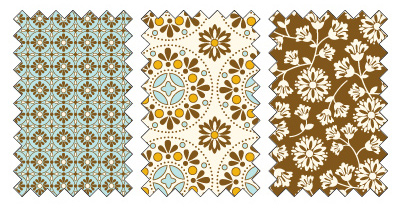 You can find this pack of fabric on pg 18 of the Holiday Mini Catalog and you can view it in the online store by clicking HERE – the fabric is 100% cotton and you get one piece of each design above – each piece measures 27″ x 18″ – 3 pieces that size are in a pack – just imagine what beautiful Fall & Thanksgiving creations you can make!
Spice Cake Designer Series Paper…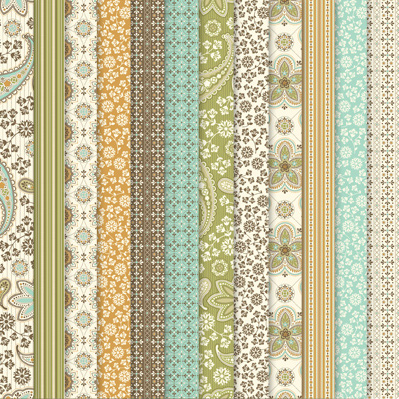 You can find this pack of papers on pg 17 of the Holiday Mini Catalog and you can view it in the online store by clicking HERE – you get 12 double sided sheets that measure 12″ x 12″ in one pack – they are all so beautiful it's hard to cut into them!!!