Well let me tell you I got SO MANY FABULOUS swaps from Founders Circle – I think 123 in total – and are they stunning!
And so today I just couldn't resist showing you one of my absolute favorites – I don't have this stamp set yet, but it's on my next order…it is the stamp set Merry & Type that you can find on pg 31 of the main Catalog…
This card is made by the talented Lynsay Mahon who is a top Canadian demonstrator and I just love what she did with this stamp set…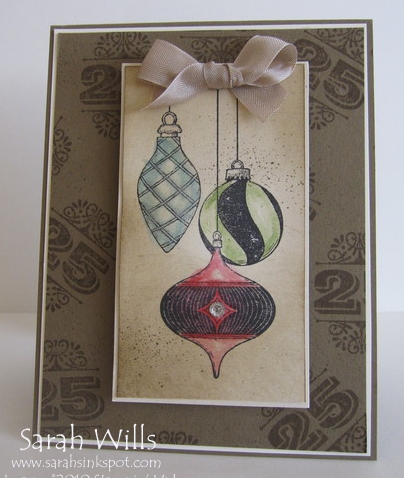 So how could you make a card like this? The  cardstock colors Soft Suede and Very Vanilla are the base colors – and Naturals Ivory forms the center panel.
Simply stamp that flourished '25' stamp using Soft Suede ink (or a darker color such as Early Espresso Ink if you prefer) all over your piece of Soft Suede cardstock – then take a Stampin Write Marker and secure it in the Color Spritzer Tool (pg 203) and puff to spritz drops of ink all over it – this gives a nice aged look…
To age around those ornaments, take the piece of Naturals Ivory that you are going to use for the center panel & use a Sponge Dauber (pg 203) to apply ink and then use a dark Stampin Write Marker in your Color Spritzer Tool to add more dots…
And then stamp those 3 GORGEOUS ornaments from Merry & Type onto the piece of Naturals Ivory cardstock using waterproof black ink – StazOn Black Ink (pg 203) – and then color them in using Pool Party, Wild Wasabi and Cherry Cobbler inks…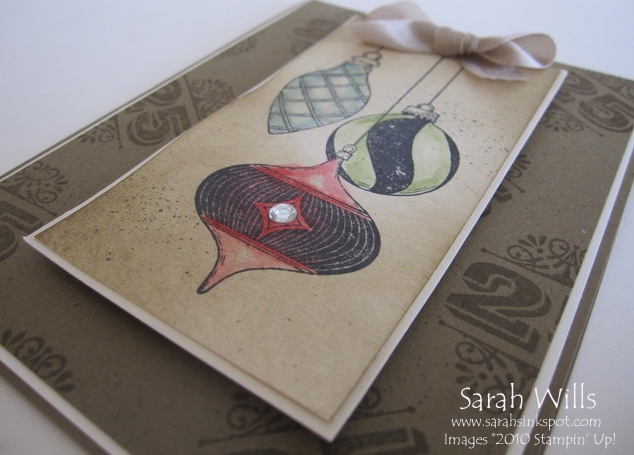 For cute finishing touches Lynsay added a piece of Crumb Cake Seam Binding (pg 195) in a bow at the very top of those ornaments and a sparkly Rhinestone to the bottom ornament – it gives this card the perfect amount of glitz.
Thank you for a fabulous card Lynsay – I know I am going to be making some like this for the holidays!
And here are the images in that set Merry & Type – it is available to you in both wood and clear mount versions and also available for My Digital Studio – click on the picture below to view it in the online store: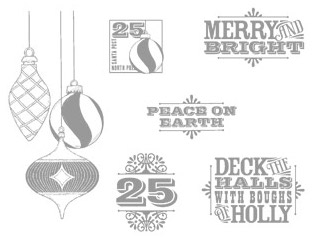 CLICK HERE TO ORDER YOUR STAMPIN' UP! SUPPLIES ONLINE!
And just a little something to make you smile…whilst I was away at Founders Circle my little furry friend apparently missed me alot…he was very naughty and was taking it all out on my poor hubby…
So since I've been home and working in my craft room this week, check out where he has been…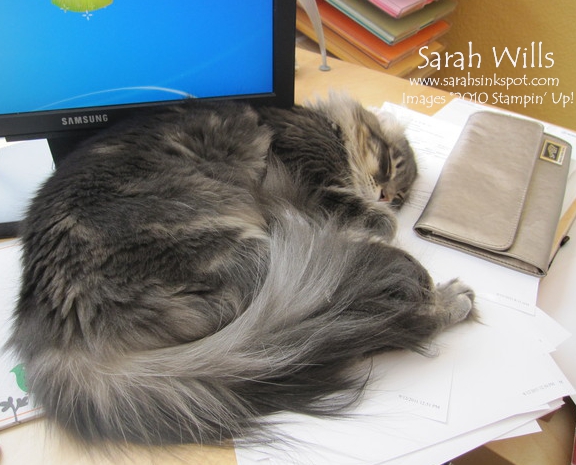 As close to me as he can get LOL!!!  Ahhh…isn't that just the face of an angel?  You wouldn't believe he was capable of such naughtiness, would you?
Let me tell you, he is one bad kitty…last evening I caught him running off through the playroom with a pork chop in his mouth that he stole from the counter!!!!!!
What a character…I could write a blog just about his daily antics!!!
Festive Friday goes Merry & Type…