We got back to the hotel and said our goodbyes…sniff…it has been a WONDERFUL event…a BIG thank you to Stampin' Up! for making it so…
What a huge privilege and honor to spend time with so many wonderful demonstrators and staff – if you are a demonstrator, work hard and you can get here too – it is achievable and SO worth working for…
Back to my room and this is what was waiting for me on my bed…a final pillow gift…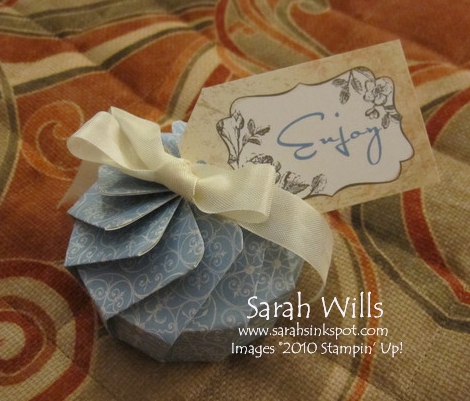 Isn't that box just GORGEOUS?  Wow…what a beautiful way to package a gift…and did you know that there is a Die available to make these boxes?
It is called the Blossom Box Bigz L Die and you can find it on pg 221 of the Catalog – I have just ordered mine so that I can make some cool Holiday gift boxes – it would also be perfect for making boxes to house Thanksgiving & Christmas place setting treats too!
It was made using DSP from Beau Chateau and a piece of beautiful Satin Vanilla Ribbon on the top…LOVE how elegant it looks…
So I opened it up and check out what was inside…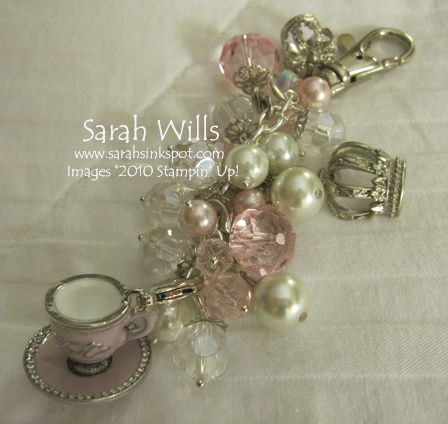 A GORGEOUS bag charm…WOW!!! It is chock full of beautiful Simply Adorned Pink, Clear & Vanilla Pearl Baubles along with Trinket Crowns and a BEAUTIFUL pink personalised tea cup & saucer at the end…
I know that a few ladies are planning to turn theirs into bracelets so that they can wear them often, but I think I'm going to keep mine as a cool bag charm…

You can find those Simply Adorned items on pg 200 and you can make beautiful gifts using them…I must admit I had never thought to put this many together on a chain and what a WOW gift it makes!!!

That's all from Founders Circle 2011 – it has been an amazing time and it was wonderful catching up with old friends and making new friends…now it's time to go home and give everyone hugs and get back to the real world…like laundry, grocery shopping and cooking dinner!  Ah well…the memories live on…THANK YOU STAMPIN" UP!

Goodbye, Founders Circle 2011…