Until Halloween and the excitement is building for the little people in the Wills' household…
They can hardly wait to run out to go trick or treating – although it really doesn't feel like the end of October with the next few days forecast to be highs of 90 degrees here in Central Texas!!!
Finally I got my Halloween cards made and ready to mail – I made lots & lots of these to mail to EVERY customer who has placed an order with me this year – AND they will also get a cute Reindeer Make 'n Take in their envelope too…I will post more about that later this week.
So here is my card…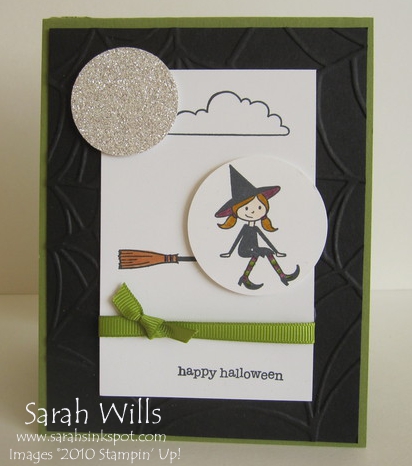 I used three colors of cardstock – Old Olive, Basic Black & Whisper White…
My black layer is textured using my Big Shot & the FABULOUS Spider Web Embossing Folder (pg 218) – I love how that backdrop fits perfectly with my witchy theme – here is that textured web pattern that you get when you use it: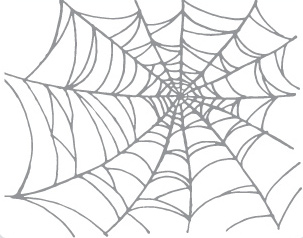 See that gorgeous glitter moon? SO simple to make using Silver Glimmer Paper (pg 41 Holiday Mini Catalog) and the 1 3/8″ Circle Punch – I added it using Dimensionals to layer it over my cloud…
Those images? Stamped with stamps from the beautiful halloween set Out on a Limb that you can find on pg 12 of the Holiday Mini Catalog – it is a set of 10 and comes in both Clear Mount & Wood Mount versions…
The Clear Mount version costs just $16.95 which is great value for money…AND using Clear Mount stamps makes stamping a scene like mine above super easy because you can put more than one stamp on your acrylic block at a time – this is what I mean…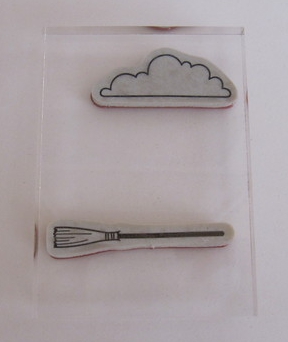 I put both the cloud stamp and the broom stamp on the same acrylic block – I inked them up & stamped them just like they are one big stamp – it works beautifully and it makes stamping a scene fast!
If you were using a clear mount sentiment you could have added that too making this card very quick to put together.
I then stamped my cute witch and punched her out using my 1 3/4″ Circle Punch and colored her and the broom in using Markers…I then added her to the scene using Dimensionals so that she is hovering over the broom…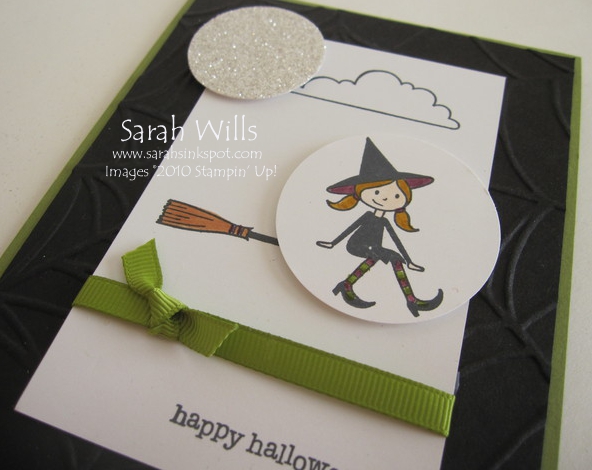 For a finishing touch I stamped my sentiment using a stamp from Teeny Tiny Wishes (one of my favorite GO TO sets) and added a piece of Old Olive 1/4″ Grosgrain Ribbon…
Isn't it cute?  I love this card – and the stamp set Out on a Limb is adorable featuring this cute witch, a cat, an owl, jack-o-lanterns, bats, spiders…in fact EVERYTHING you need for a Halloween projects!
Here are the images in Out on a Limb – click HERE to view this set in the online store…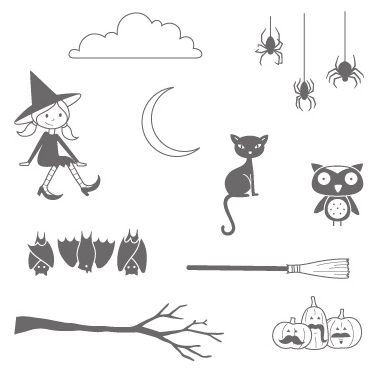 IT'S NOT TOO LATE TO GET THIS SET BEFORE HALLOWEEN!!!  Order yours now!
And it's not too late for YOU to get one of my Halloween Cards – place an order with me this week and I will mail one out to you along with a cute Reindeer Make & Take too!
CLICK HERE TO ORDER YOUR STAMPIN' UP! SUPPLIES WITH ME ONLINE!