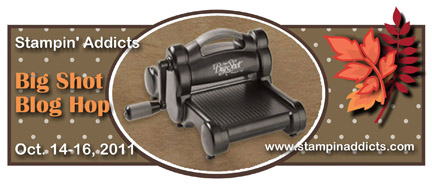 A very warm welcome to Stop no. 3 on the Stampin' Addicts Big Shot Blog Hop – you just arrived from Holly at Rubber Redneck where she showed you some beautiful items using the Leaves No. 2 Die…I love how she used that DSP & Fabric with those leaves…

Every stop on this hop is showcasing a Big Shot Die and today I am going to show you things that I made using the cool Fancy Favor Bigz XL Die that you can find on pg 221 of the Catalog.
Please read on to see my projects and for details of my Bigtastic Blog Candy…and to get a better look, you can click on each photo for a closer view…
Now because Halloween is just a couple of weeks away I just had to use this die to make some spooky treats…so I made one for the kids and one for the grown ups…
For the kids…meet my FrankenMonster Bag…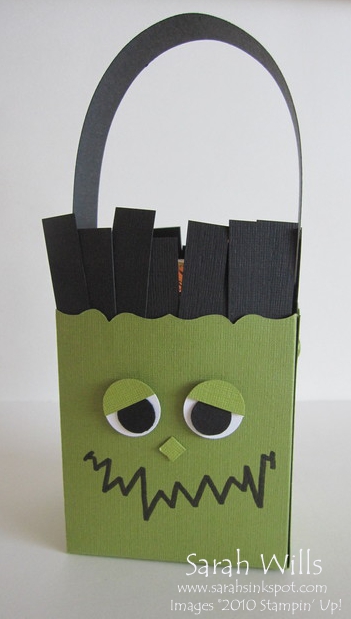 Isn't he CUTE?  I just love how he turned out – so here you can really see the shape of that Fancy Favor Die, especially that beautiful scalloped top edge.
The Fancy Favor die is long so you will need to use half a sheet of 12×12 cardstock with it – I decided to use Textured cardstock to give his face more definition and chose the color Lucky Limeade…
He is so easy and fun to make – I decided to add a handle so that he is easy for the kids to hold- each side it is held in place with a Glitter Brad that looks just fabulous…and I filled him with mini candies that I know the kids will love!
And my girls LOVE him so much that they have commissioned me to make one for each of their class mates…hmmm…guess what I am going to be doing next week?!  Just have to make the 48 of them!!!
On Monday I will have more details about how I made him along with a free printable tutorial so be sure to come back and see me…
And for the grown-ups…here is my elegant Witches Boot Treat…it actually incorporates two dies – the Fancy Favor die AND the Holiday Stocking Die…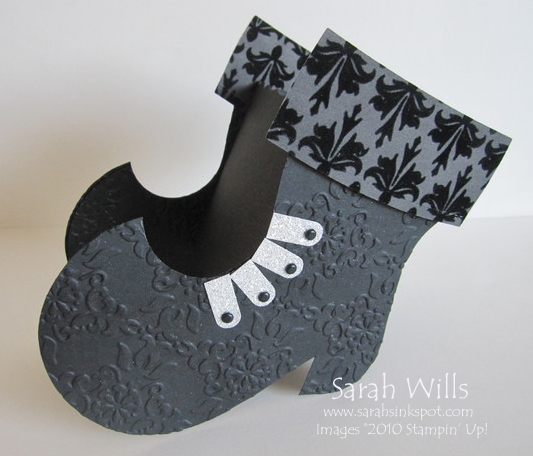 At Founders Circle some lucky ladies stamped at Susan Adams house – she is a very talented stamper and she came up with the idea of using the Holiday Stocking Bigz Die featured on pg 24 of the Holiday Mini Catalog to create a Witches Boot – isn't that amazing?  I saw one and was awe-struck…
And so I decided to make two of them and place them each side of a Fancy Favor Box to create a halloween treat holder – and it worked out great!
I gave my boots texture with an embossing folder, added an elegant top to them with DSP and added sparkle using Shimmer Paint…
Want to know how to make this Witches Boot Treat?  Come back on Monday and I will have a FREE printable step-by-step tutorial here for you & more photographs!

I had lots more halloween ideas for this box but decided to make something different…
For an out of the box thing, I wanted to work with a different material and went looking through my drawers…and came across my Thick Window Sheets…
Ding!!!  Use them with the Fancy Favor Die and Embossing Folders and check out the FABULOUS look you get…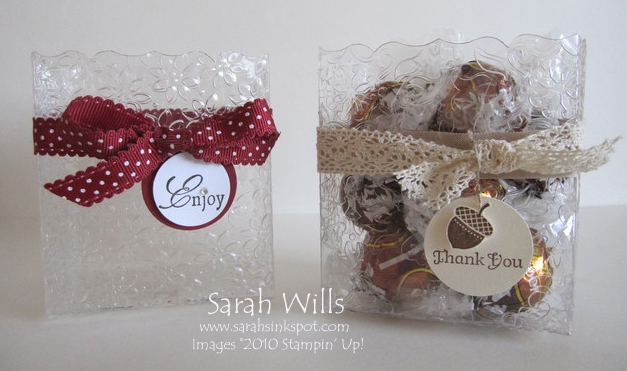 These treat holders look just like GLASS!!!  They are just BEAUTIFUL!!!  And look at how you can make them for different occasions…above I decided to show you an empty one and a full one so you can see how they look – click on the photo for a larger view…
I used the Pretty Petals Embossing Folder for the one on the left and tied around a piece of red ribbon for a Christmassy look – you could fill it with peppermint candies or red wrapped chocolates…
And I used the Vintage Wallpaper Embossing Folder for the second one and gave it a Fall feel by using vanilla & brown embellishments…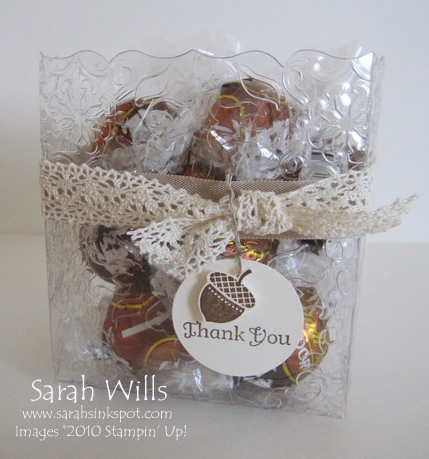 Wouldn't these look BEAUTIFUL on your Thanksgiving table – one at each place setting?  That's what I am making this year for our table…
And you could theme them for weddings, birthdays, thank you's etc just by changing the ribbons & tags…I will show you exactly how I made these on Monday, again with a free printable tutorial!
I just LOVE this die – you can use it for so many occasions – I even devised a card holder using it that I will feature at a future point…my brain got into high gear using this die and the Big Shot makes it SO easy to create projects like this quickly & easily..
AND DON'T FORGET THAT WHEN YOU JOIN STAMPIN' UP DURING OCTOBER YOU CAN GET A BIG SHOT FOR FREE!!!  How cool is that?!

Well, don't forget to come back and visit me on Monday for more details, photos and tutorials about my projects…and of course to find out the winner of my Blog Candy…speaking of which…
Leave me a comment to let me know which item is your favorite and you will be entered into a prize draw – the winner will be chosen by random.org on Monday and one lucky winner will win a kit to make one of those Witches Boot treats!

Thank you for visiting – now you're off to visit Yapha at Rubber Stamping & Card Making with Yapha where she will show you some cute things that you can make using the Matchbox Die…enjoy!
Welcome to the Stampin' Addicts Big Shot Blog Hop!