Happy Valentine's Day y'all!
Looking for a last minute, quick & easy Valentine's treat?  Here is a great idea for you that costs very little to make in terms of both time & money…

My girls are HIGHLY excited today and ran into school to deliver all of their goodies – including a few that I made last night in minutes in my kitchen…
Remember that I told you yesterday I would show you a sweet treat made using the fabulous Mixed Bunch stamp set and co-ordinating Blossom Punch?  Well here it is…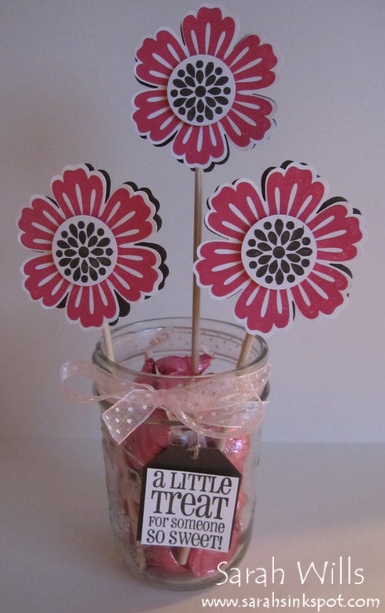 I think it turned out CUTE!!!  I made 4 of them for the girls to take in to their teachers and they were delighted with them…please excuse the bad light in my photos – I took them whilst the sun was still coming up this morning & the light was not good!
The other day I had no idea what I was going to make for their teachers so whilst grocery shopping decided to pick up 2 bags of Hershey's Kisses anyway – then yesterday whilst working on my card that uses those Mixed Bunch flowers the lightbulb in my head went off, and my idea was born…
The 4 vases took me about an hour to make – from start to finish – and what I loved about them is that I had the preserving jars & wooden skewers in my kitchen – so all I needed to do was fill the jars & play with my stamps!
The Flowers? I made the flowers in the same way that I did for yesterday's card – I stamped that beautiful bold flower using a stamp from Mixed Bunch & Melon Mambo Ink – then I punched it out using the Blossom Punch – I then punched out another flower from Early Espresso cardstock…
For each jar I used 2 wooden skewers – I cut one in half using my wire cutters and trimmed about 3″ off of the other one because I wanted one longer stem in the center…I used tape to secure each skewer to an Early Espresso flower and then I added a Dimensional to the center and attached my Melon Mambo stamped flower ontop – the skewer is sandwiched between both layers to give a neat finish…
I stamped my flower centers and attached them using another Dimensional – using these gives your flowers a real 3-D look.
The Jars? I then filled my jars with Kisses – these are the smaller sized preserving jars and you will need 1/2 a bag of Kisses to fill each…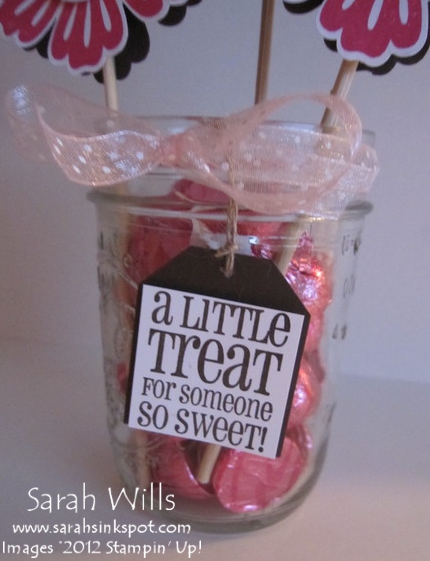 I then simply gently pushed my skewers down between the kisses which hold them nicely in place – and tied a ribbon around the top of the jar…
The tag? I used my Large Tag punch to punch out my basic shape and then layered on a stamped sentiment from the set Got Treats (pg 65) – I punched a small hole in the top using my Paper Piercing Tool and tied it onto my ribbon using a piece of Linen Thread…
Here are 2 of them together…aren't they sweet?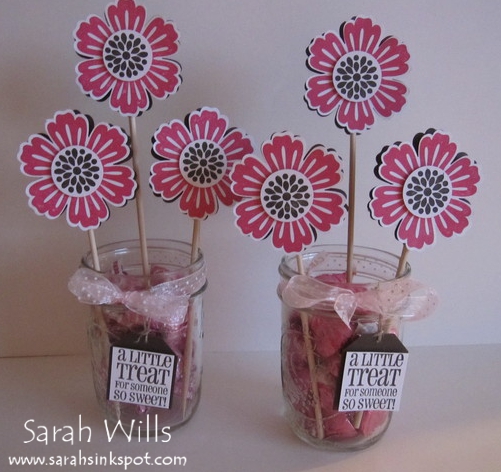 These will be great to make for lots of other occasions too – Mother's Day, Teacher Appreciation Gifts, Thank You's…very versatile, very fun to make & very inexpensive…
Where can you find the stamps & punch I used to make them? Both are featured in the Occasions Mini Catalog – click on the blue words below to find them in the online store:
125537  Mixed Bunch Clear Mount (set of 6)  $21.95  pg 17
125535  Mixed Bunch Wood Mount (set of 6)  $27.95  pg 17
125603  Blossom Punch $16.95  pg 17
And here are those images: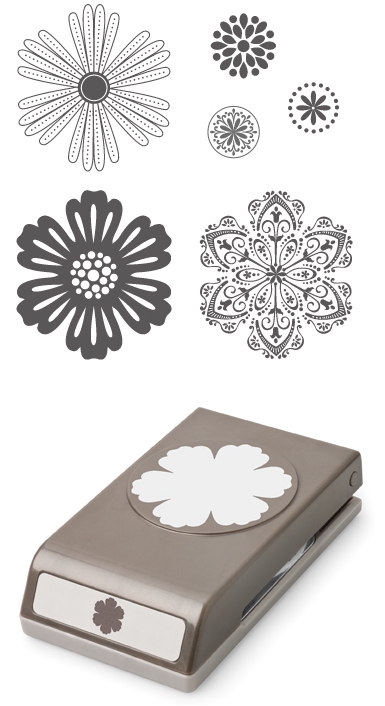 CLICK HERE TO ORDER YOUR STAMPIN' UP! SUPPLIES ONLINE!
Jar of Valentine's Flowers…