Today I was playing with two of my favorite items from the Occasions Mini Catalog to create chocolatey Easter treats and came up with a super cute & fun idea that I wanted to share with you…
It is a beautiful free-standing Butterfly complete with a Hersheys Chocolate Egg and she is made using the Mixed Bunch stamp set and the co-ordinating Blossom Punch, both of which you can find on pg 17 of the Occasions Mini Catalog…
I just knew that I would get emails asking me how I made her, so I have put together a free printable tutorial for you which you can find a link to below PLUS I have some yummy Blog Candy up for grabs, so please read on for the details…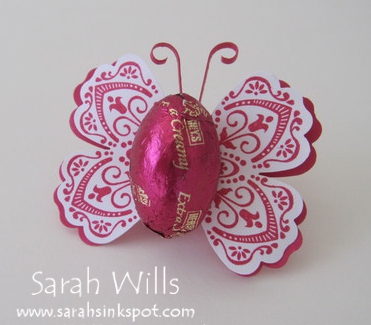 Isn't she beautiful?  And she has some friends as well…I found that there are 3 colors in this years pack of Hersheys Eggs and so I decided to match them to my ink & cardstock colors and I found 3 perfect matches – for the pink I used Melon Mambo, the blue I used Island Indigo and the green I used Garden Green…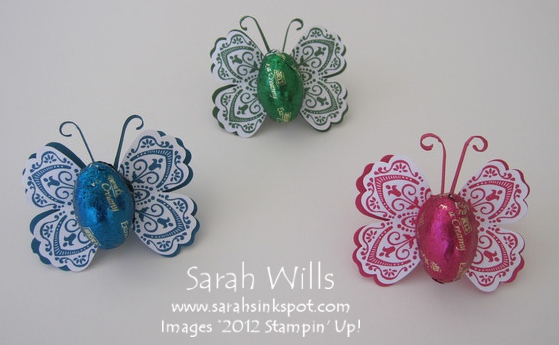 And these beautiful Butterflies could not be more fun & cost-effective to make – each is made using just 1 stamped image using a stamp from the set Mixed Bunch which you can find on pg 17 of the Occasions Mini Catalog…
You then punch out that image using the Blossom Punch (also on pg 17) which co-ordinates perfectly with 3 of the flower stamps in this set – and then you punch out another piece from a sheet of solid cardstock for the backing…
This is what they look like before the Chocolate Egg is added – if you add that egg using removable adhesive, then they will not be damaged when the egg is removed so that your lucky recipient can keep them…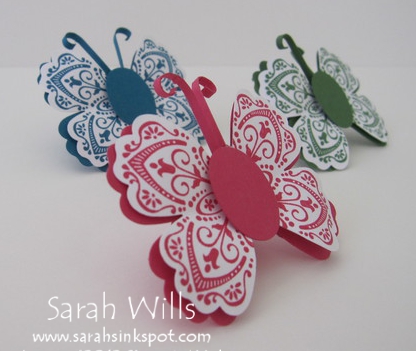 This photo also shows you what they look like from the side – they are supported by their very own built in stands which are made by making cuts into the back piece of cardstock – no fiddly bits to add – it is all in one and easy to do – and your butterflies will remain freestanding even when you add the weight of an egg!
So what supplies will you need to make your very own Butterflies?
The Mixed Bunch Stamp Set & the co-ordinating Blossom Punch – here are the images for both – if you dont have them but want to get them, HURRY – these items are currently only available through April 30th!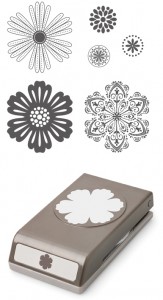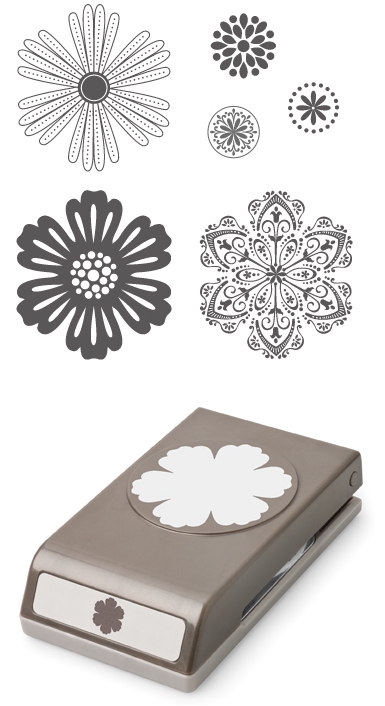 Click on the blue highlighted words below to view each in the online store…
125537  Mixed Bunch Clear Mount Stamp Set – $21.95
125535  Mixed Bunch Wood Mount Stamp Set – $27.95
125603  Blossom Punch – $16.95
WANT MY FREE STEP-BY-STEP PRINTABLE TUTORIAL showing you how to make your very own Mixed Bunch & Blossom Punch Chocolate Butterflies? Click HERE to find it!
I hope you enjoy making them as much as I enjoy designing them – and if you have any questions just email them to me and I will be very happy to help.
Did I say BLOG CANDY?  I sure did!  Leave me a comment to let me know what you think of my Butterflies and which is your favorite color and you will be entered into a draw…
The winner will be chosen by random.org on Friday and TWO lucky winners will each win a kit to make 5 of these Butterfly Treats including the chocolate eggs!
CLICK HERE TO PLACE YOUR STAMPIN' UP! ORDER ONLINE!
AND DON'T FORGET that you get Sale-a-bration freebies on your orders!

Mixed Bunch & Blossom Punch Chocolate Butterflies…