Oh my I just cant stop playing with flowers at the moment!  I suppose it is because spring really has sprung here in Central Texas…
And I really cant stop playing with my Mixed Bunch stamps and the Blossom Punch from the Occasions Mini Catalog – they just work SO well together and make it SO easy to create cute things…
Speaking of cute things, have you seen those flowers that have yummy chocolate & caramel Rolos as their centers?  These are not my idea because I've seen them on many sites but just had to make some for myself which you can see below…
On a side note – apologies for not posting the winners of this week's Blog Candy until now – lots has been happening again this week and I just realised that I had not done so – please read on to find out if you were a lucky winner!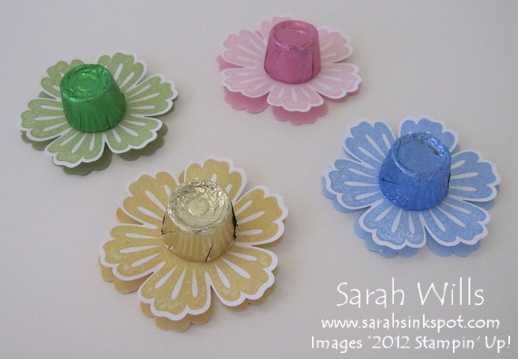 Aren't they cute? And they make perfect & very affordable Easter treats…
To make these Rolo Flowers you will need that Mixed Bunch stamp set & the co-ordinating Blossom Punch – you can find both on pg 17 of the Occasions Mini Catalog -if you don't have those two items yet, you really really NEED them because you can make so many cute things with em!!!
You simply use one of the flower stamps from Mixed Bunch to stamp your flower image and then punch it out with the perfectly co-ordinating Blossom Punch – you then punch out a flower to go beneath your stamped image from the same color solid cardstock…
What colors of ink & cardstock did I use? Stampin Up makes it SO easy to match your colors because they have inks & cardstocks in the exact same colors – I used:
For Yellow – So Saffron
For Pink – Pretty in Pink
For Green – Certainly Celery
For Blue – Bashful Blue
And all those colors are from the Subtles color family…
I then took my solid cardstock flower base and added a Dimensional to the center of it – I then carefully positioned my stamped flower on the top and pressed down to adhere it to the base – this is what the flowers look like without a Rolo center…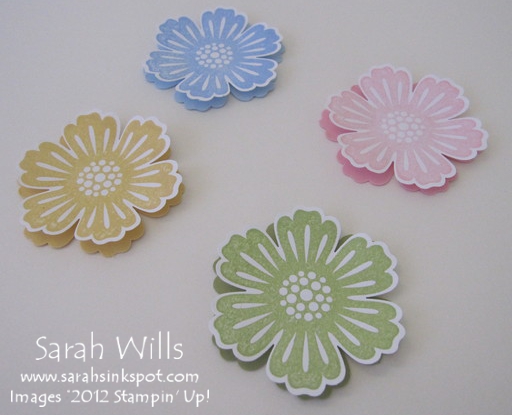 You then simply add a Rolo to the center of each flower (if you use removable adhesive tape then the recipient will not destroy the flower when they remove the Rolo) and they are ready for giving!
Right now you can get fun Easter colored foil wrapped packs of Rolos to make your flowers colorful – I chose to use the same colored wrapper on the same colored flower – but you can mix it up and use different color Rolos for a different look – here is my finished yellow one – isn't it cute?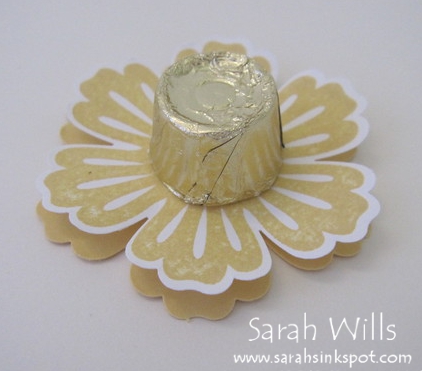 Chuckle…if you dont already have them, do you need any more convincing that you just 'need' to have this Stamp Set & Punch? I just love using them and can see many uses for them in the months ahead…
Just think of the cute things you can make using them for your summer events using fun summer colors – I will show you some more ideas this coming week…
Where can you find them? The Mixed Bunch Stamp Set & the co-ordinating Blossom Punch are on pg 17 of the Occasions Mini Catalog – here are the images for both – if you dont have them but want to get them, HURRY – these items are currently only available through April 30th!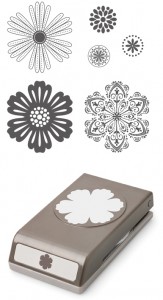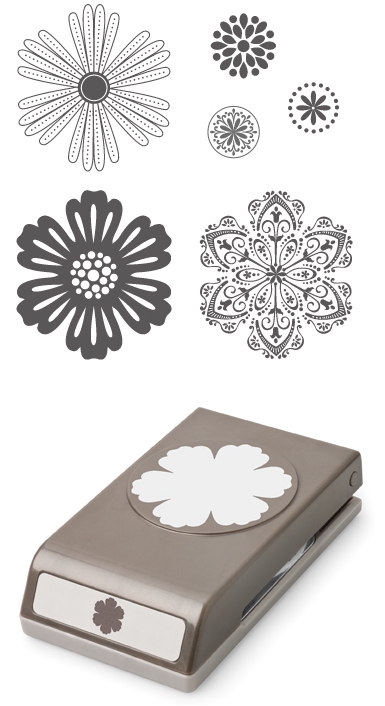 Click on the blue highlighted words below to view each in the online store…
125537  Mixed Bunch Clear Mount Stamp Set – $21.95
125535  Mixed Bunch Wood Mount Stamp Set – $27.95
125603  Blossom Punch – $16.95
And finally onto the two winners of my Blog Candy who each win a kit to make 5 of those cute Butterfly treats that you can find in my post below…drawn using random.org the winning comments are:
no. 41 by Susan B. – March 22, 2012 at 3:40 pm who said:

'I LOVE this idea,I made a few and can't wait to put them on our Easter table as a little decoration at each setting! Can't choose a color there ALL so cute.TYFS.'
AND no. 10 by Kathy – March 20, 2012 at 8:33 pm  who said:

'Super cute! Love the melon mambo. I think they shall adorn my Easter table.'
A BIG congrats ladies – drop me an email with your mailing addresses and your goodies will be on their way to you!
CLICK HERE TO PLACE YOUR STAMPIN' UP! ORDER ONLINE!
Fun Springtime Rolo Blossoms…