That you make using the brand new Petite Purse Bigz L Die  are just GORGEOUS!!!
I didnt realise how much I would love them until I made a couple of them – and now I can see that the possibilities for using them are endless…
The Petite Purse Bigz L Die is part of the Summer Smooches Promotion and you use it to make cute gift holders that you can theme for absolutely any occasion simply by changing the papers & sentiments that you use…
Here are the first two that I made below…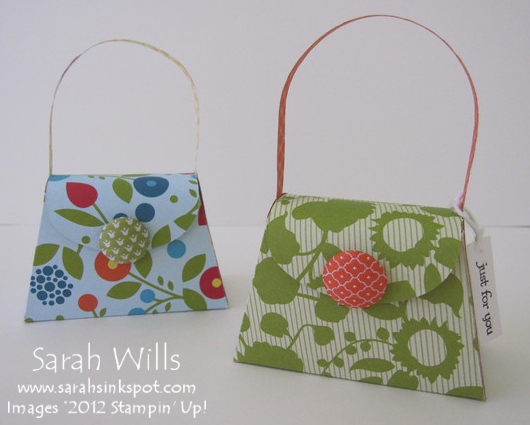 These cute Purses are SO quick & easy to make – you simply take the patterned paper of your choice, lay it on the Die, run it through your die cutting machine and ta-dah – all pieces are ready for assembly!
Those Patterned Papers? I used papers from the brand new sneak peak Summer Smooches Designer Series Paper pack that you can find by clicking HERE – that pack of papers is available through April 30th and features beautiful summer themed patterns & colors…it will be featured in the big new annual catalog that debuts in June but if want to get your hands on it early, April is your chance to do so…
I assembled my Purses simply by using 2 strips of Sticky Strip – added the handle – and the Purse is done – you can literally do this in a few minutes.
Those Brads? To give my Purses some feature I decided to add a Summer Smooches Designer Fabric Brad to the front of each – again, these brads are part of the Summer Smooches promotion and you can find them by clicking HERE
BUT if you want some of them, hurry – those Brads WILL NOT BE FEATURED IN THE NEW ANNUAL CATALOG & WILL NOT BE AVAILABLE after April 30th so you need to order yours soon to make sure you get em!
Here is a closer look at my green bag…can you see the inside of that handle?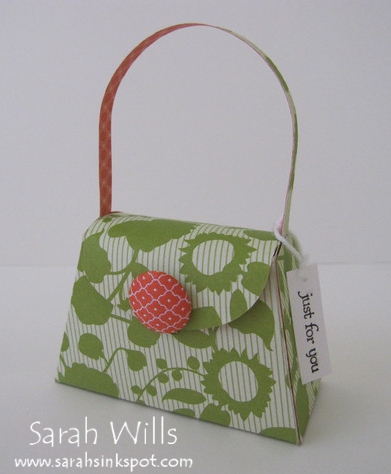 The pattern on the paper & color co-ordinates PERFECTLY with that Brad on the front – and that is what I LOVE about Stampin' Up!'s products – they make is SUPER easy to produce perfectly co-ordinating cards & items…
The tag? Again, quick & easy to make – I stamped a sentiment from Teeny Tiny Wishes and punched it out using my Word Window Punch – I trimmed each end to square it up, poked a hole in one end, threaded through a piece of White Bakers Twine & tied it to the handle…
How can you use them? I can already see that by using this die my treat bags & favors for the next few months are covered…Easter…Teacher Appreciation…End of School…summer Luau's & parties…and imagine what you can do for Fall & Christmas, birthdays, thank you's…the possibilities are endless!
And when you use this Die with the Summer Smooches Brads & Papers then it becomes super easy to create some beautiful & co-ordinating summer themed treats…
FIND OUT MORE ABOUT THE FABULOUS SUMMER SMOOCHES PROMOTION BY CLICKING HERE!
The products you will need to make the cute Petite Purses like mine are listed below:
Click on the blue highlighted words below to view each in the online store…
125606 Petite Purse Bigz L Die $32.95
125409 Summer Smooches Designer Series Paper $10.95
125589 Summer Smooches Fabric Designer Brads $6.95
104294 Sticky Strip Adhesive Tape $6.95
WANT SOMETHING FOR FREE FROM ME?
How about a FREE 2012-2013 CATALOG?
Yep, that's right – I want to give you a FREE COPY of the brand new, upcoming 2012-2013 annual Catalog – and to make it even better, I will MAIL IT TO YOU FOR FREE as well!

Click HERE to find out how to secure your FREE copy today!