Have you checked out the items in the brand new Summer Smooches suite of products?
I just LOVE them – especially those cute stamps called Bright Blossoms – add some paper from Summer Smooches DSP and together they make it super easy to create fast clean & simple cards for any occasion…
Now thinking about summer got me thinking about summer colors – and blue reminds me of clear hot summer skies and swimming so I just had to incorporate that color in my card today…summer is coming FAST here in Central Texas and the pools will soon be open!!!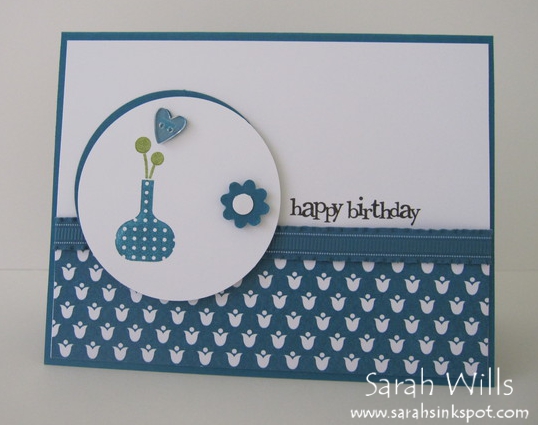 The blue that my card uses is Island Indigo – one of the 2011-2013 In Colors that you can find on pg 176…and I paired it with Whisper White to give a clean & simple look…
That cute paper? Is a sheet from Summer Smooches DSP that you can find by clicking HERE – it features lots of beautiful summer designs in summer colors – and adding a strip of it to your cards gives a fab look.
The Ribbon? A strip of Island Indigo 3/8″ Ruffled Ribbon (pg 194) – it is so feminine and co-ordinates beautifully with the cardstock & paper…
Those Stamps? That vase is from the new set Bright Blossoms that you can find by clicking HERE – this is a set of 8 stamps available in both wood & clear mount versions and they make it easy to create quick cards – I colored my stamp with Island Indigo & Lucky Limeade Markers and stamped straight onto white cardstock…
I punched out my stamped image using the 2 1/2″ Circle Punch – I punched another same-size circle out of Island Indigo cardstock and layered it underneath using Dimensionals for a fun effect…
The Happy Birthday sentiment is taken from the set Party this Way (pg 67) and I stamped it using Early Espresso Ink…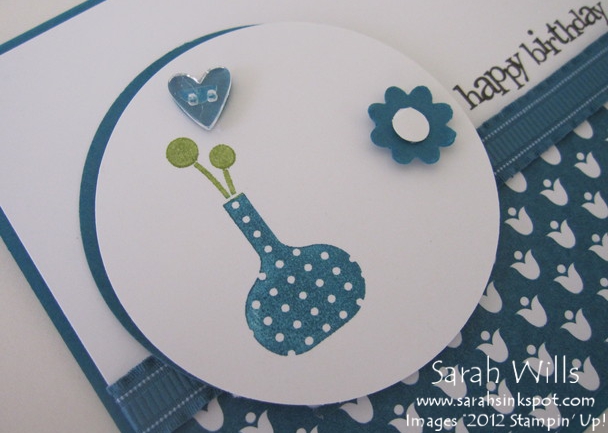 Other bits & pieces…I punched out a heart using my Heart to Heart Punch and layered a heart shaped button from Itty Bitty Buttons onto it…I then punched out a flower using my Boho Blossoms Punch and added a 1/4″ white Circle to it's center – I think those two elements finish it off nicely…
FIND OUT MORE ABOUT THE FABULOUS SUMMER SMOOCHES PROMOTION BY CLICKING HERE!
Here are the images in the Bright Blossoms Stamp Set: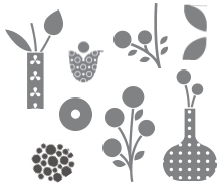 WANT SOMETHING FOR FREE FROM ME?
How about a FREE 2012-2013 CATALOG?
Yep, that's right – I want to give you a FREE COPY of the brand new, upcoming 2012-2013 annual Catalog – and to make it even better, I will MAIL IT TO YOU FOR FREE as well!

Click HERE to find out how to secure your FREE copy today!