The stamp set Pony Party is another one that is going to be retired on Thursday 31st and you can use it to make BEAUTIFUL cards & favor decorations…

I haven't gotten it out for a while, but when I was sorting out my retiring stamp sets and came across it, I was struck by how much it looks like those My Little Ponies…
My girls were into them several years ago and then they went to one side…but since sorting out toys before we moved house, we came across them and of course they have been out to play again…the girls also got into watching the new style pony tv episodes – and wow do those new style ponies look like this stamp.
SOOO if you have a little girl or grand-daughter who loves My Little Pony, you might want to snap up this stamp set before it goes away for good on Thursday…here is the card that I made using stamps from that set…click on any photo below for a closer look…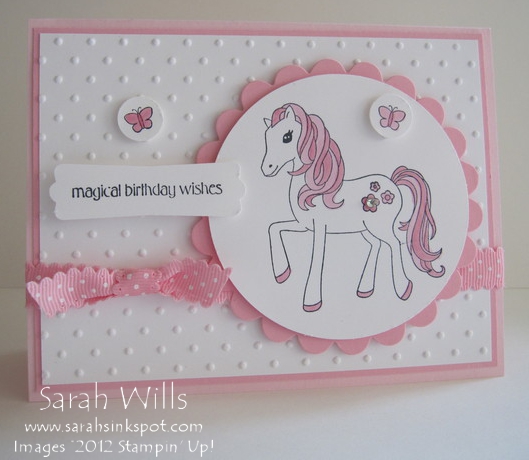 Isn't it cute???  I just love how it turned out – I made my with a pink theme but you can easily use purples, yellows, blues…whatever that favorite color is.
With the use of some layers & texture you can create an easy to do but impressive looking background for your card – my card base is Pink Pirouette onto which I added a layer of Pretty in Pink – I then added a layer of Whisper White which I textured using my Big Shot and Perfect Polka Dots Embossing Folder – I think that polka dots go so well into a girly theme…
And what did I find in my ribbon stash? Pretty in Pink Scallop Polka Dotted Ribbon that fits right in and so I wrapped it around my card and tied with a knot in front – and there you have your card base.
For the Pony…I cut out a circle using my Big Shot & 3″ Circle Die (pg 220) and stamped my pony onto it – I then used my Pink Pirouette & Pretty in Pink Markers to color in bits of here, alternating the colors for a cute look.
For her 'cutie' mark as my girls call it…I used a small flower stamp also in that set and stamped it onto her flank – I colored it in and then added a small Rhinestone to give her some bling.
That scallop circle mat? So simple to do – I cut this shape using my Big Shot & Scallop Circle #2 Die (pg 222) BUT – sniff – that Scallop Circle #2 Die die is going to be RETIRED on Thursday – so if you want it, click HERE to order yours before it's gone for good…
I then added my pony to that scallop background using Dimensionals for more of a framed look…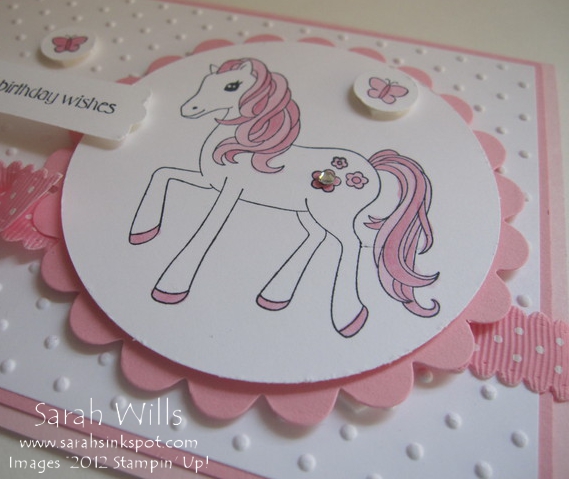 That Sentiment? Stamped using another stamp from Pony Party and shaped using the Modern Label Punch (pg 209).
Those cute Butterflies? Just to finish it off, I added some stamped butterflies, again using a stamp from Pony Party – I colored them in and punched them out using my 1/2″ Circle Punch (pg 212) – and added them to my base…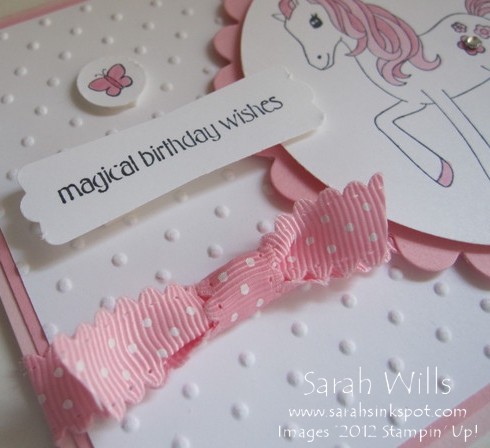 I think that is one SUPER CUTE card that any little girl would absolutely love – you could make them as birthday cards or thank you's or party invites…I know I am going to be making a bunch more in lots of different colors and this set is not going to be leaving my collection…its a keeper…
Here are the images included in the Retiring stamp set Pony Party – click HERE to find it in the online store…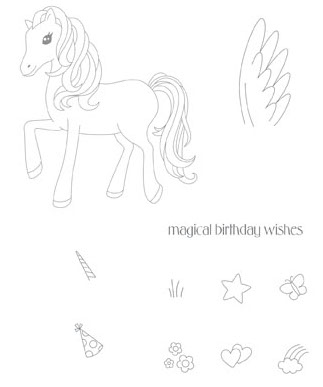 CLICK HERE TO ORDER YOUR STAMPIN UP SUPPLIES ONLINE!
WANT TO GET YOUR COPY OF THE BRAND NEW 2012-2013 STAMPIN UP CATALOG?
I have them here ready to ship out to you TODAY!
And when you purchase your new Catalog with me right now I will also be mailing you:
FREE SAMPLES of brand new products from the new Catalog
a FREE Make & Take
a FREE Bookmark made using brand new Designer Series Paper
a Scavenger Hunt – complete it and I will be mailing you some FREE ribbon!

AND my FREE Coupon Sheet good for the next Stampin Up year – it gives you a coupon for every month from July 1st 2012 through June 30th 2013 – please note that only those customers who order a Catalog from me receive my Coupon Sheet – it's exclusive to them as a thank you and offers a different discount every month, so be sure to get yours by ordering your catalog soon!
How do your order your Catalog?
Click on the 'Buy Now' Button below…the price of $6.99 INCLUDES SHIPPING via Priority Mail!