My wonderful friend loves to knit…she hand knits anything and everything and is incredibly talented and is building her business doing what she loves…
But she is in the middle of a move from Texas to Colorado and her business is on temporary hold until she arrives there and gets settled into her house.
Sooo it got me to thinking about a little bag of goodies that I could send her away to Colorado with…a kind of fun survival kit…and I decided to make her a pack of thank you cards & tags for her to mail with her hand knitted items when she gets back up & running again…
And I found the PERFECT stamps to use in the stamp set Hand Knit that you can find on pg 52 of the catalog – it is cute & themed for exactly what I needed…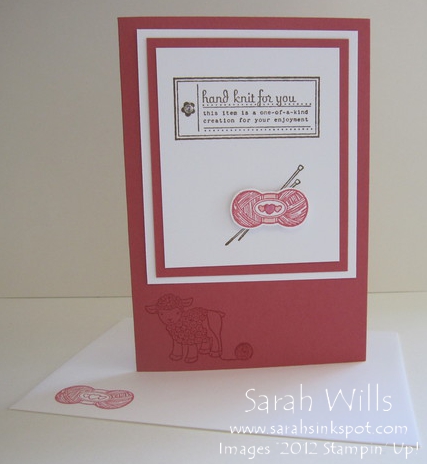 Speaking of getting back up & running WOW it has taken me AGES to get my creative mojo back…it ran away whilst we were moving and has taken it's sweet time to return, but happily I can report that it came back this week and I am feeling back on track – I will be posting LOTS of creative stuff from now on  :-)
Sooo my card base is one of those new gorgeous In Colors – Primrose Petals – and check out that cute sheep stamped in the bottom left corner – it is from Hand Knit and simply stamped using Primrose Petals ink…
I LOVE the watermark look that you get when you use the same color ink onto the same color cardstock and you can create fabulous backgrounds using this technique…just in one area like my cute sheep or all over the card base…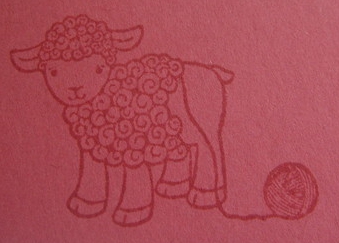 I then stamped my sentiment and knitting needles using Soft Suede ink onto Whisper White cardstock and cut & layered my mat to size.
Then on a separate sheet of white cardstock I stamped that ball of wool stamp in Primrose Petals ink and colored in the hearts using Markers – I then cut out the ball of wool using my very sharp Paper Snips and added it to my card using Dimensionals…
As you can see below, using Dimensionals really boosts your cards and gives a realistic 3-d look…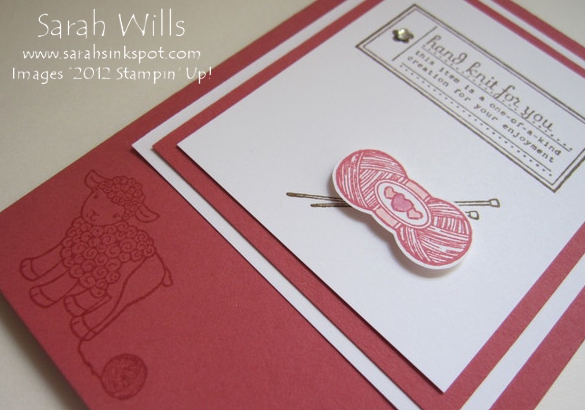 And for a cute finishing touch I added a small clear Rhinestone to the center of the flower on the sentiment…and I also stamped a ball of wool on to each envelope as well.
The tags? SUPER easy…I punched out the large tag shape from Soft Suede cardstock using my Extra Large Tag Punch (pg 182) and then stamped my 'Hand Knit by' sentiment onto Whisper White – I punched it out using my Small Tag Punch…
Now I know what you are thinking…that Small Tag Punch was retired at the end of the last catalog, yes? Correct – BUT you can still find it for sale in the Clearance Rack!!! Click HERE to get yours before they are all sold out!  Once gone, they are gone for good!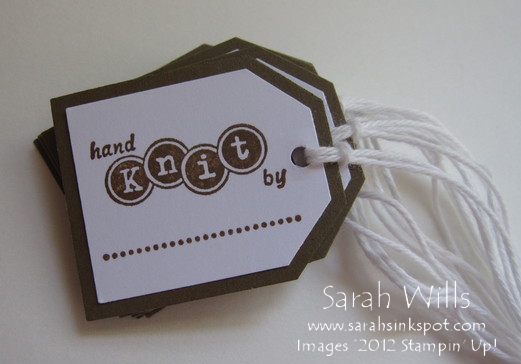 I then layered it onto my suede tag, punched a small hole and threaded through some White Bakers Twine so that my friend can tie it onto her hand knitted goodies…
And here is my completed gift – 10 cards, envelopes & tags – I packed them all up in a clear box and popped it into her bag of 'Leaving Texas' goodies…I hope she likes them…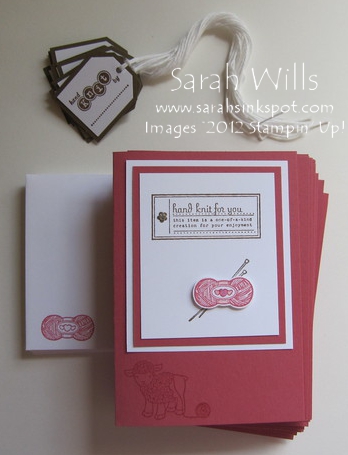 ALL stamps that I used are from the set Hand Knit – here are the images included in the stamp set – click HERE to find it in the online store…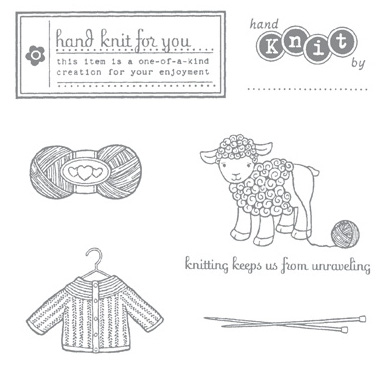 CLICK HERE TO ORDER YOUR STAMPIN UP SUPPLIES ONLINE!
For those who love to Knit in your life…