Happy July 4th y'all!!!  I hope your day is filled with fun, friends & family…and of course some barbeque & fireworks…
I got to thinking about red, white & blue – they are not colors I often work with together – and challenged myself to use them to create a Happy July 4th card.
For my card I wanted to create a banner but couldn't decide how to do it…and then I came across my brand new Bitty Banner Framelits Dies (pg 191) and the lightbulb went off…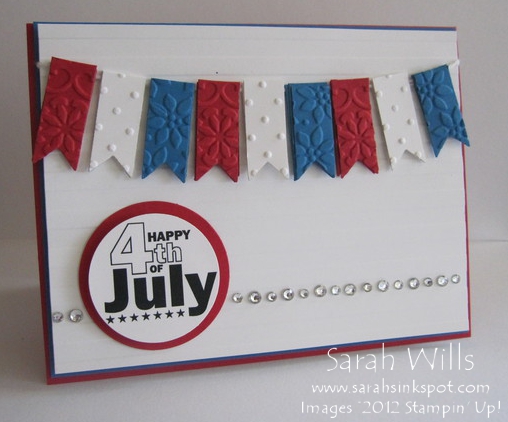 Hehehe…I just love how that banner turned out and it was easy and fun to create…
To make that Banner…I took my pack of Bitty Banners Framelits Dies, my Big Shot and my 3 colors of cardstock – Real Red, Whisper White and Pacific Point – and got to cutting out those banner shapes…
Once die cut out, I then made a score line down the center of each using my Simply Scored Scoring Tool so that they would easily fold in half – I scored each at 1 1/8″ – and then folded in half…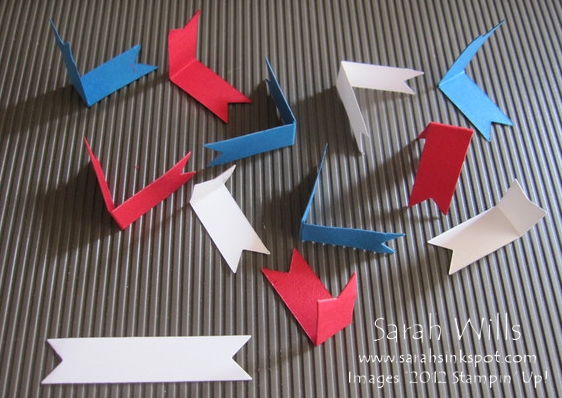 To assemble…I took a length of White Bakers Twine and my first banner piece – I put a Glue Dot onto one half, positioned my banner piece so that the score line was along the bakers twine, then folded in half and pushed down to adhere in place – simple as that!
I then continued down the twine with the other pieces until I it was filled.
The patterns…the banner was assembled but it was a little plain for me, and so I decided to jazz it up – I embossed some more cardstock using my Big Shot and 3 different embossing folders – Perfect Polka Dots, Vintage Wallpaper and Petals-a-Plenty – and then die cut the banner shapes out, cut each in half and attached to the top of each banner piece…
Check out the layer that the banner is attached to – just a piece of Whisper White cardstock that I embossed using the Stripes embossing folder (all folders I used are found on pg 189) – my girls thought it gave the look of a banner against a house – which is funny because I hadn't seen that before they said it…
Fireworks…I wanted to give my card some bling reminiscent of fireworks and so I decided to add a row of Rhinestones – I alternated between medium and small sizes and love the look it gave – I mean, you've got to have fireworks on July 4th…
The sentiment…I searched and searched in my stash for a July 4th or patriotic sentiment and couldn't find anything – I couldn't believe I don't have one!!!  And then I figured I could go and look at available My Digital Studio downloads to see if I could find something there…and BINGO – just want I was looking for in the MDS brush set July Fourth!  And priced at just $3.95 it was a steal of a deal…so I downloaded it, instantly printed out my sentiment onto Whisper White cardstock, punched it out and added it to my card base.
This is a FABULOUS example of the power of My Digital Studio – even if you don't think you will use it all the time, it is an amazing back up tool – and you don't need a color printer to use it as I have shown you above – you can simply print out your images & sentiments using black ink!
AND THE BEST BIT IS YOU CAN TRY MY DIGITAL STUDIO OUT FOR  FREE WITH A ONE MONTH FREE TRIAL – give it a whirl – you have nothing to lose and NO obligation to purchase after your free trial is up!
Ffind out more by clicking here & get your free one month trial by clicking HERE!
Bitty Banners Framelits…you can find them on pg 191 and they are a set of 3 dies, the shapes of which you can see below – you can also view them in the online store by clicking here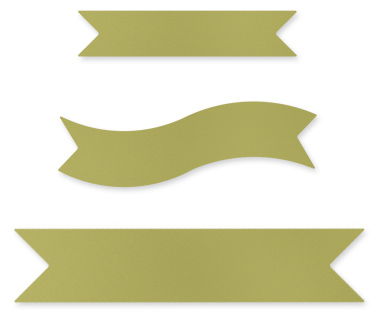 The three dies in this set co-ordinate PERFECTLY with a sentiment stamp set called Itty Bitty Banners that you can find on pg 134 or by clicking here – these two products make it fun and easy to create those trendy wavy & v-cut banners you see everywhere!

Have a wonderful day – and please email me with any questions you might have about My Digital Studio – I will be very happy to help!
Happy 4th with Bitty Banners…