Are you ready to Two-Step?  During July there is a limited time only stamp set available for sale FOR JUST $5 – it is called Reason to Smile and I am absolutely loving using it…
Click HERE to find out how to get your Reason to Smile for just $5 during July!

The reason I am loving it is because of it's versatility – it is a Two-Step stamp set meaning you can add color to your lined images using ink pads, without the need to use coloring tools such as markers & crayons…which is FABULOUS news if, like me, your watercoloring skills are in need of much practice!!!
If you are wondering what Two-Step stamping is and would like a free Tutorial showing you how to do it, great news – I have made one for you!  Please read on for details and to find it…
I also love the fact that you can create fabulous backgrounds on your cards using this stamp set which I did in my card below…
I love the elegant feel that this card has and also the fact that I only used ink pads & cardstock with a little piece of ribbon to create it…
AND I wanted to show you the versatility of this set in that you can use it YEAR ROUND so I decided to use a brown & yellow theme – this gives a Fall feel and if you changed out the sentiment, it would make a beautiful Thanksgiving card!
My yellow card base is a brand new In Color called Summer Starfruit and onto it I layered a piece of Soft Suede…and then was the FUN layer – a piece of Crumb Cake onto which I stamped my floral pattern to create a background…check out a close up of it below – click on the photo for a much larger view…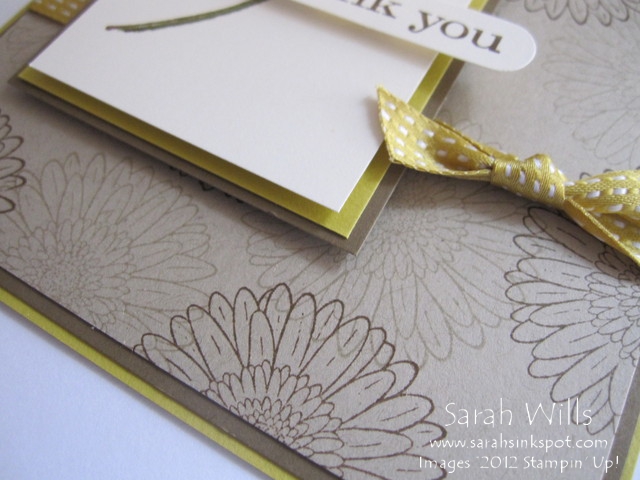 The Background…was fun to create and quick & easy too…if you are on a crafting budget or don't like to cut into those beautiful patterned papers then this is a great cost effective way to create backgrounds for your cards…
To make this background I simply took a piece of Crumb Cake cardstock sized to be 4″ x 5 1/4″ – I then inked up my flower stamp from the $5 set Reason to Smile using Crumb Cake ink and stamped it randomly all over my piece of cardstock – be sure to have a piece of scrap paper underneath so that when you stamp around the edges you do not get ink onto your work surface…
And you get a watermark look like this…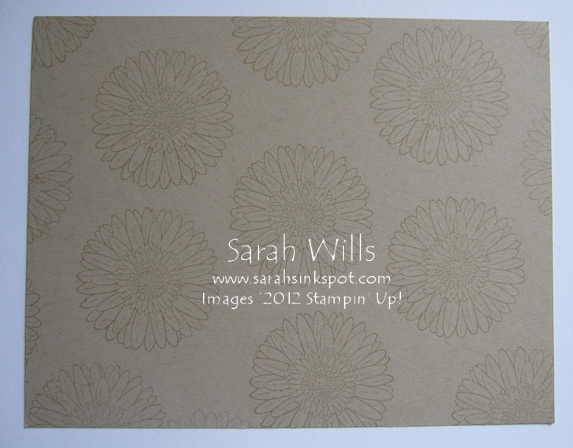 I wanted a stronger look to my background and so I then inked up the same flower stamp using Soft Suede ink and randomly stamped flowers over the top of the paler ones to give me this look – a fabulous elegant looking background created in just minutes…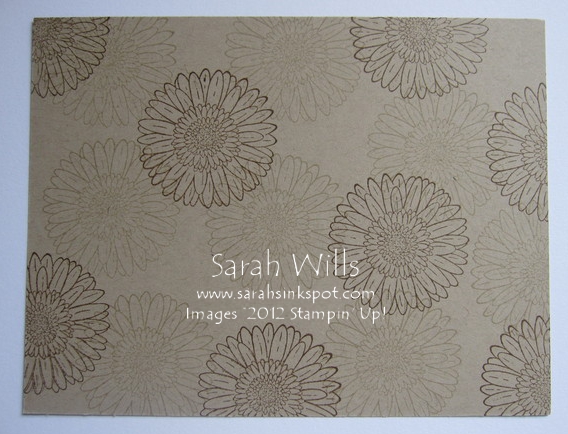 I then wrapped around a piece of the gorgeous new 3/8″ Stitched Satin Ribbon in the color Summer Starfruit, tied a knot and added this layer to my card base.
The feature Flower…was stamped using the Two-Step Technique onto Very Vanilla cardstock – not sure what Two-Step means?  It means that in a set you have the 'solid' stamps to stamp a back image with color and then another perfectly sized 'outline' stamp to stamp a front image on the top – this creates a beautiful watercolor look without having to watercolor…
I then added layers beneath my stamped flower using Dimensionals and added it to my card…my sentiment is from the set Just Believe and I punched it out using the Word Window Punch…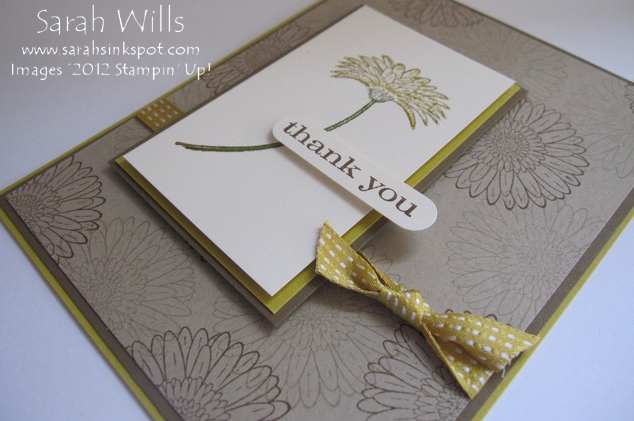 I am loving using this stamp set and I hope you will too – I can think of so many ways to use it and will be showing you some more over the next few weeks…
WANT MY FREE STEP-BY-STEP PRINTABLE TWO-STEP STAMPING TUTORIAL?  It shows you step-by-step how to use Two-Step stamp sets like Reason to Smile – click HERE to find it!
If you have any questions just email them to me and I will be very happy to help.
Here are the stamps featured in this beautiful set Reason to Smile: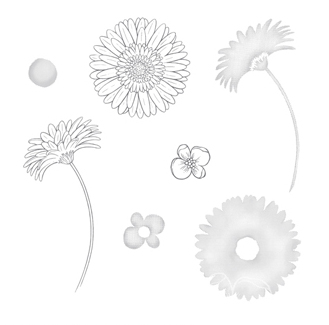 Get the Reason to Smile stamp set – up to a $20.95 value – for just $5 when you spend $50 on ANY Stampin' Up! products during July!
Promotion details:
Spend $50 on any current Stampin' Up! products to get the exclusive Reason to Smile Set for just $5
There is a limit of one (1) set per customer.
Please note: you will NOT be automatically prompted to enter the $5 Item Number for a qualifying purchase in the online ordering system– once you have spent $50 enter the item code below to get your set for just $5:
131274  Reason to Smile Wood Mount Set  $5.00
131275  Reason to Smile Clear Mount Set  $5.00
CLICK HERE TO PLACE YOUR ORDER TO GET YOUR REASON TO SMILE FOR JUST $5!
Two-Step Stamping with Reason to Smile…