THAT is what I am going to give you when you Join my Team during July!
THAT'S RIGHT – WHEN YOU JOIN MY TEAM DURING JULY FOR JUST $99 I AM GOING TO GIVE YOU A FREE SET OF 10 BRAND NEW FIRM FOAM INK PADS IN THE COLOR FAMILY OF YOUR CHOICE – up to a $49.95 value for free!!!
Will you choose Subtles, Brights, Regals or Neutrals? Don't they look pretty???  I love these new Firm Foam pads and you will too…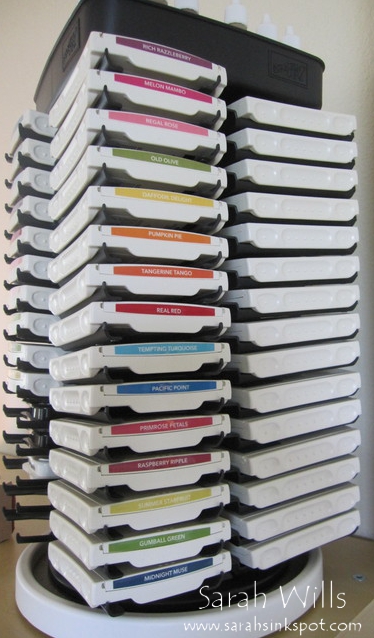 And I absolutely LOVE being a part of Stampin Up and love to share – there are so many benefits including a whole community of demonstrators – I have made so many friends in the time I joined Stampin Up and if you love the products, you have absolutely nothing to lose by giving it a whirl!
What are the basic benefits of joining?
you get 20% off of all of your purchases
you get a one time 30% off of your first order of $150+
you can join online instantly and place your first order straight away!
to join you simply purchase a Starter Kit for just $99 that you get to fully customize – easy as pie!
think of it as a fun $99 shopping spree with the perk of getting extra freebies & becoming a Demonstrator as the icing on the cake!
Who can Join my Team?
ANYONE who lives in the US!
Most of my team do not live near me but that is no barrier!
I offer tailored support to you as you need it and help you to reach your goals
I also give you the chance to earn Ink Spot Rewards…
Ink Spot Rewards are my way of saying thank you to my team members for their achievements and everyone has a chance to earn them
How do you go about Joining?
you can do this online by clicking here
you fill out your Application & Starter Kit forms – the kit will cost you $99
you get to choose $125 worth of ANY Stampin Up products for that $99
once done, you are a demonstrator and will be emailed your id number and log in information to the demonstrator website
easy as that – you can then look around and place your first order when you are ready!
AND then you email me to let me know what FREE Ink Pads you would like!
About the Starter Kit:
Costs just $99 and ships from Stampin Up to your door for free
For that $99 YOU get to choose $125 worth of ANY Stampin Up products!
Included in that price, you also get to choose a free $65 value Business Supply Pack that includes catalogs
Bottom line – YOU will get to choose a kit valued at $190 for spending just $99 AND it ships to you for FREE – how cool is that?
What is the minimum you have to sell/purchase each quarter?
$300 – and YES – your own purchases DO count towards your quarterly minimums
Stampin Up's quarters run JAN-MAR, APR-JUN, JUL-SEP, OCT-DEC
the quarter you join in is waived to give you a great chance to get up and running
JOIN NOW AND YOU DO NOT HAVE TO MAKE YOUR FIRST 'MINIMUMS' UNTIL DECEMBER 31st – almost 6 months away!!!
Will you have to sell any Stampin Up products or can you just join to get a fabulous discount?
NO – you do not have to sell anything to anybody!
Stampin' Up! does not put any pressure on any demonstrator to do anything EVER – it is a wonderful company to be a part of
you can join simply to get a fabulous discount on your favorite crafting supplies and only ever make purchases for yourself
What if you decide not to continue after December 31st?
That is absolutely fine – you simply make no more purchases and you 'drop'
you get to keep everything in your Starter Kit and there are NO penalties
If you used to be a Demonstrator but dropped, can you re-join to take advantage of this great offer?
How do you join?
To join my team online click HERE – & then click 'Join Now' to get started – once finished, you are instantly Demonstrator and will be able to place your first order!
AND the icing on the cake:
As my gift to you for Joining my Team I am going to give you a set of Ink Pads in the color family of your choice valued up to $49.95…which box will you choose? Alternatively you may choose EIGHT individual ink pads in the colors of your choice if you prefer…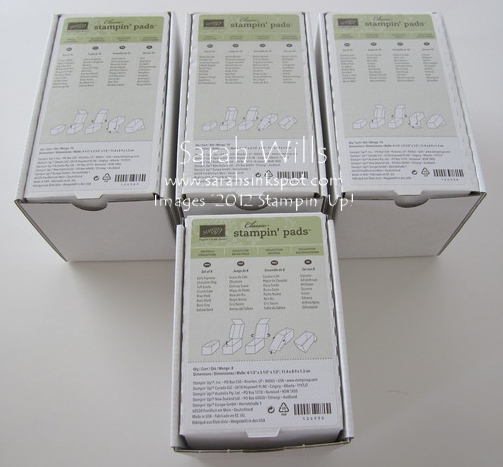 These are the BRAND NEW FIRM FOAM INK PADS and they are just stunning – I love stamping with them and just replaced my entire collection – and I guarantee you will love stamping with them too!
They even come with name labels that you attach to the ends of your ink pads making each easy to find in your collection…

And check out this new firm foam surface…the old ink pads were fabric and left mesh prints on your solid stamped images – now you get nice clear crisp images…LOVE it…see how smooth the new surface is below…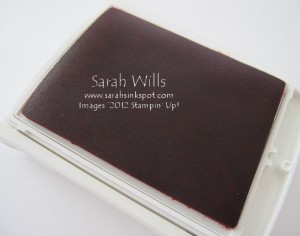 And the cherry on top:
Right now we Demonstrators are in the Holiday Mini Catalog pre-order period – meaning we get the brand new Holiday Mini goodies a full month before that catalog goes live to our customers…
Join instantly today by clicking HERE and you could order items from that mini Catalog today too!
Got Questions? I have the answers…click here to email them to me

Want a set of FREE Ink Pads in the color family of your choice???