I love whimsical Snowmen stamps…I don't know what it is about them but I just find them super cute…so of course as soon as I saw the new stamp Frosty Friends on pg 9 of the Holiday Catalog I was delighted and just knew I had to have it!
The card I made today was inspired by the fabulous Diana Gibbs – she made a cute clean & simple card using this stamp and I knew that I wanted to incorporate elements of her card into mine.
My card is still clean & simple but I added a splash of extra color, some bling with sparkly glitter and a touch of elegance using some beautiful ribbon…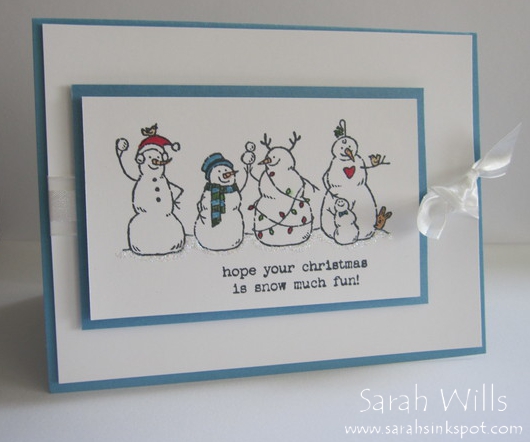 What I love about this stamp is that you can make batches of cards quickly & easily using it – perfect if you are short on time for holiday card making but still want to make yours…
And it is cost effective too – you can keep it simple and simply pair it with a sentiment if desired along with your choice of cardstock – or you can jazz it up by adding glitters and ribbons.
The Snowman Stamp…Frosty Friends is a single stamp – it features that cute line of Snowmen along with birds and a cute bunny which you can choose to color with your choice of medium – crayons, pastels, markers or inks & an aquapainter – or leave as is.
I stamped my Frosty Friends using Black Stazon Ink (pg 157) and colored them using my Stampin' Write Markers – the colors I used are Cherry Cobbler, Marina Mist, Old Olive, Pumpkin Pie and Soft Suede.
The Sentiment…I used the same sentiment that Diana used from the set Snow Much Fun (pg 15) – I just love how that sentiment works with the snowmen theme so well – and when you have your sentiments in clear mount format it makes it very quick & easy to position them perfectly on your cards.
The Bling…I added some dazzling sparkle to the line below my snowmen to create a sparkly snow effect – this is VERY easy to do when you use the Two Way Glue Pen that you can find on pg 177 – you simply draw along where you want the glitter to be (it really is just like using a pen!) and then sprinkle on your glitter…
I used my absolute favorite Dazzling Diamonds Glitter (pg 158) – it is a super fine glitter and WOW does it sparkle & dazzle…click on the photo below for a larger view…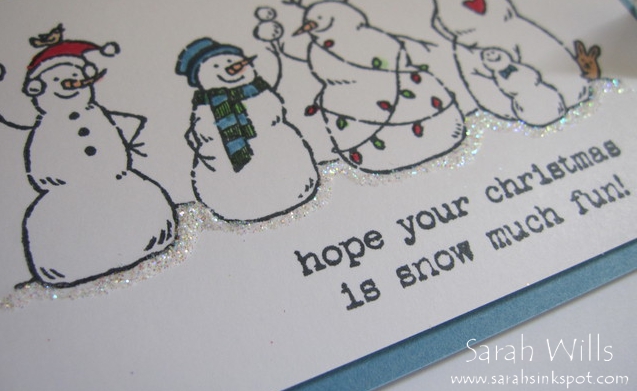 SARAH'S TIP – and if you are looking for an even easier way to add that glitter you can use Stampin' Up!'s glitter glue – you can get a very similar look with Dazzling Details (pg 158) which is basically Dazzling Diamonds Glitter in a glitter glue format…or if you are looking to go silvery, there is the brand new Dazzling Details Silver Sparkle which you can find on pg 23 of the Holiday Catalog.
My Card Colors…I used Marina Mist and Whisper White cardstocks – I just love how Marina Mist and Baja Breeze work well with white on snow themed cards…not tried it?  Give it a go – you will LOVE that color combo!
The Ribbon…I wanted a little bit of an elegant touch on my card and decided to use one of my favorite ribbons – it is my favorite for many reasons – it is glamourous, elegant, wide AND a fabulous price…
You can find it on pg 173 and it is the beautiful 5/8″ Organza Ribbon in Whisper White – you get 15 yards of it for JUST $5.95 which is an amazing price for such beautiful ribbon and very cost effective for making a batch of holiday cards.
I simply wrapped it around my layer and tied a knot on the side…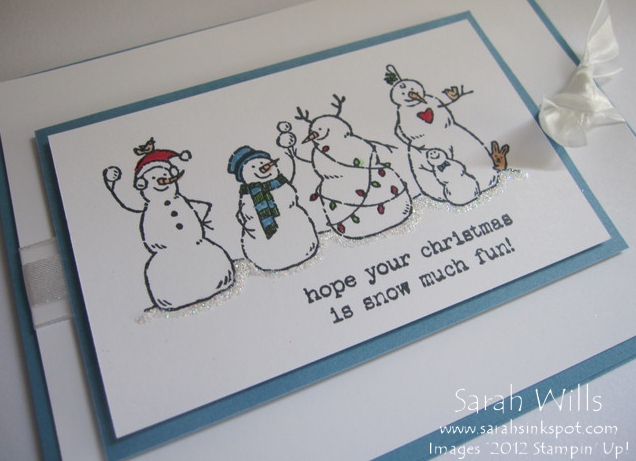 The stamp that I used today? It is called Frosty Friends and here it is – you can find it on pg 9 of the Holiday Catalog or click HERE to find it in the online store…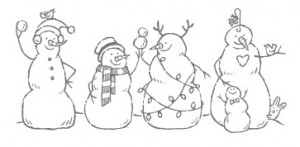 Do you always promise yourself every year that THIS is the year that you are going to make ALL of your Holiday cards and get them done by December 1st???
Me too LOL and yet I always seem to not manage it…want to join me in the challenge to make this year THE year that we finally achieve it?
I want to help us both to reach this goal:
For the next 16 weeks EVERY Monday I am going to give you some inspiration and show you a Holiday card that you can make easily in minutes – depending on how many cards you make every week – one of them…two of them…a whole batch of them – you will soon build up a bunch of Holiday Cards ready to go into the mail by December 1st!
Want to join me in my quest?
I am calling my quest Sarah's Holiday Card Challenge AND when you make your cards with me, there will be treats for you along the way!
So please come back to find out more and see what it's all about this coming Monday!
CLICK HERE TO ORDER YOUR STAMPIN' UP! GOODIES ONLINE!
Fun & Dazzling Frosty Friends…