I just love stamp sets featuring birds & owls and so of course as soon as I saw the new set Owl Occasions in the Holiday Catalog I just HAD to have it…along with most of the other items in there too LOL…
You can find the cute Owl Occasions on pg 13 – it is a set of 14 stamps available in both wood & clear mount versions and it is incredibly versatile…you know I love versatility!!!
Today I wanted to show you how your Catalogs are a source of inspiration – if you are like me, when you get a new one, you flick through it and your eyes are drawn to all of the fabulous new products – and rightly so LOL!!!
But then I take another flick through and look only at the sample items made using them on each and every page…you can get ALOT of good ideas this way – to see what I mean, take another flick through the Holiday Catalog and only look at those sample items…
And this is how I made the card below, using stamps from Owl Occasions – I just love the sample card on pg 13 and wanted to incorporate lots of those elements but in a slightly different way…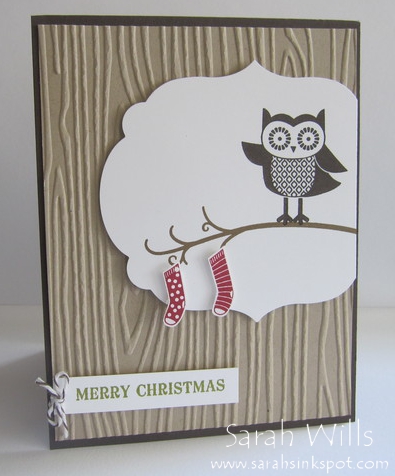 SARAH'S NOTE – ALL of my customers who have ordered with me during the last year received a FREE copy of the Holiday Catalog PLUS Paper & Ribbon Samples AND TWO FREE CARD MAKE & TAKES!  This owl card was one of them – you can see it in the side bar…
If you place an order with me during August I am going to mail you out one of these FREE packages too – the Holiday Catalog, samples AND make & takes – click HERE to place your order & get your free goodies FAST!!!
The elements that I loved from the sample card were the woodgrain effect on the background – I mean owls have to have trees, right? – and I loved the owl sitting on the branch, the stockings and the die cut shape to frame them…and I liked the sentiment in Old Olive and the bit of Bakers Twine on there too, and so decided to incorporate all of these things into my card.
For my card, I decided  I needed a base color and that is Early Espresso.
For the wood effect…I then took a piece of Crumb Cake cardstock and wanted to create a woodgrain effect – the sample card uses a stamp to make that but I wanted it to be a bit more bold and so I found the perfect solution – I textured it using the brand new Woodgrain Embossing Folder that you can find on pg 33 of the Holiday Catalog – that folder is a fabulous find and I know that it is going to be PERFECT for Fall and Winter projects…
The frame shape…to make the beautiful framed shape I die cut a piece of Whisper White cardstock using a die from Labels Collection Framelits (pg 191) and then sliced off a side of it…and now for the fun stamping…click on the photo for a bigger version…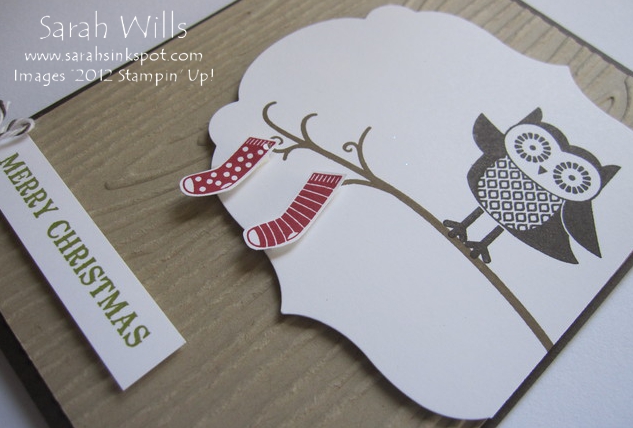 The stamps…I stamped the branch using Soft Suede ink and then my owl…I tried SO hard to make him a pretty color, I really did…I badly wanted to go outside of my comfort zone and make him look cool & funky…I tried stamping him in blue…then green…then orange…but I just couldn't do it – for me, he had to be brown LOL and so here he is in Early Espresso, to tie in with my card base!!!
I then stamped the stockings in Cherry Cobbler and cut them out using my Paper Snips – you could also punch them out if you prefer – and then the sentiment…
Now I DID manage to stamp this in a color other than black or brown LOL (very unusual for me!) and here it is in Old Olive – I cut it to size, added it to my card and then made a little bow out of Bakers Twine and added it to the side…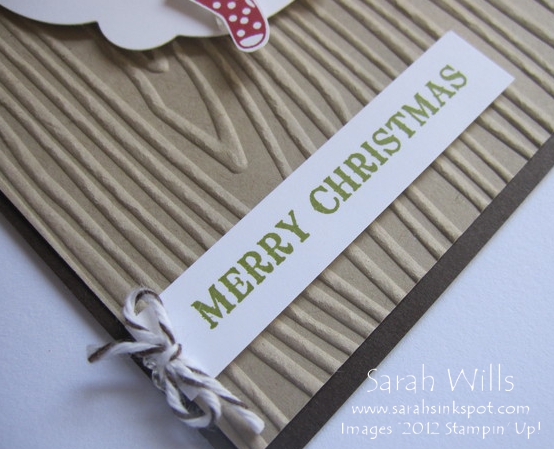 You will notice that I added my layers and embellishments using Dimensionals – LOVE these little sticky foam pads – they really enhance your cards and take them to the next level – if you haven't tried them yet, give them a whirl – you can find them in the Adhesives section of the big Catalog or by clicking HERE
So take another look through your Holiday Catalog – you might be surprised at the inspiration you get – and that is what they are there for – you can copy them or you can add your own twists to them – but be sure to check them out!
You can view this fabulous Catalog online by clicking HERE
Not got a paper copy of the fabulous Holiday Catalog and would like one?
If you do not currently have a Demonstrator through whom you order, please click HERE to email me and I will get one into the mail to you.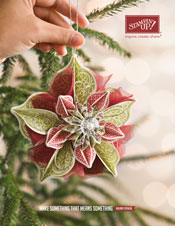 That stamp set that I used? It is called Owl Occasions and here are the images that you get in that set – you can find it on pg 13 of the Holiday Catalog or click HERE to find it in the online store…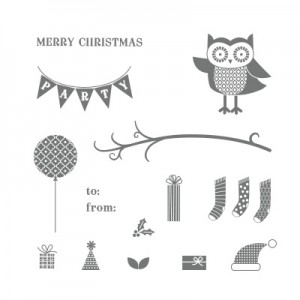 CLICK HERE TO ORDER YOUR STAMPIN UP GOODIES ONLINE!

It truely is for Owl Occasions…