Today sees the start of the Holiday Mini Catalog – YAY!!!
That's right – you can now order from it – if you don't have a paper copy in your hands you can still view it online – click HERE to check it out…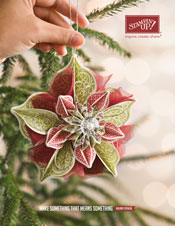 So what's in it?
LOTS OF FABULOUS BRAND NEW PRODUCTS that you are going to LOVE!
There are new products for all of your upcoming season needs…for the Fall, for Thanksgiving, for Christmas, for Jewish Celebrations, for Halloween and even Valentine's Day…
You can make fabulous cards, treats and gifts using them that will wow your family & friends…there are also two limited edition Hostess stamp sets too so be sure to check them out at the back of the catalog.
Not got a paper copy of this fabulous Holiday Catalog and would like one?
If you do not currently have a Demonstrator through whom you order, please click HERE to email me and I will get one into the mail to you.
Want to see these new items?
CLICK HERE TO FIND THE HOLIDAY CATALOG ITEMS IN THE ONLINE STORE!

HOLIDAY MINI CATALOG IS HERE!!!