If you are like me, you always promise yourself every year that THIS is the year that you are going to make ALL of your Holiday cards and get them done by early December – and yet that never quite seems to happen…

Want to join me in the challenge to make this year THE year that we finally achieve it?  I want to help us all to reach this goal…here is my card for Week 1…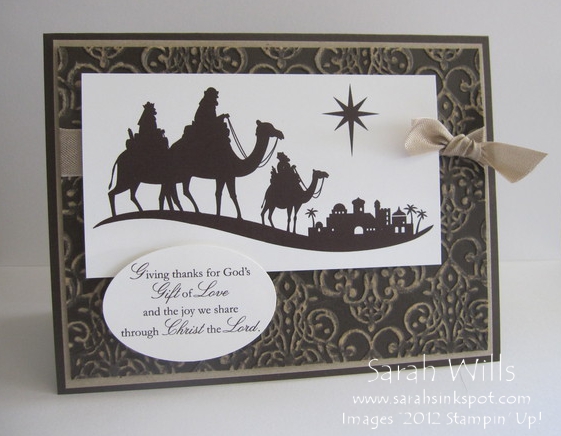 For the next 16 weeks EVERY Monday I am going to give you some inspiration and show you a Holiday card that you can make easily – depending on how many cards you make every week – one of them…two of them…a whole batch of them – you will soon build up a bunch of Holiday Cards ready to go into the mail by early December!
Want to join me in my quest?
I am calling my quest Sarah's Holiday Card Challenge AND when you make your cards with me, not only will you get ideas, but there will be treats along the way!
Sarah's Holiday Card Challenge Details:
Every week on Monday I will showcase one product that helps you to make cards quickly & easily and cost effectively too

When you make your card using that type of product, email a photograph of it to me and at the end of the week, on Sunday evening, my girls will choose their favorite card from those I have received

I will then post that favorite card to my blog every Monday at the end of my Challenge post – and guess what?  That favorite card earns it's creator a prize!

You don't have to copy my card – although you are most welcome to if you would like to – you can email me any design of card that you make provided it uses the Stampin' Up! product of the week that I am showcasing

So be sure to come back every Monday to see my new weekly Holiday Card AND to see if you are the winner!
Why join in?
you could win some goodies
it's fun!
make just 2 cards every week and by the time December comes around, you will already have 32 made and ready to mail – make 3 and you have 48 – in no time at all, they will all be done!
To kick off Sarah's Holiday Card Challenge in style:
ALL of you who email a Holiday card to me this week made with ANY Stampin' Up! Embossing Folder will get a little something in the mail from me – so make yours, email a photo to me along with your mailing address and watch your mailbox – email details are at the end of this post

Use the Embossing Folder that I used below PLUS Core-dinations card stock on your card this week and I will mail two goodies to you!

AND there is

Blog Candy

up for grabs this week too – be sure to enter today – read on for more details!

SARAH'S HOLIDAY CARD CHALLENGE WEEK 1- Using Embossing Folders

Textured Impressions Embossing Folders are hands down my favorite way to make a background – why?
they are cost effective – you buy the folder once and you can use it thousands of times
your supply of a beautiful background is never used up – patterned papers, you use up – with these folders, you can always make that background again and again
you can use different papers, inks and techniques with your embossing folders to make your backgrounds different and interesting
you can use ANY folder for ANY theme or season simply by changing the color of cardstock you emboss with it
You can find Stampin' Up's embossing folders on pg 189 of the Catalog and there are also THREE brand new ones featured in the Holiday Catalog too…
Woodgrain on pg 33
Holiday Frame on pg 7
Lacy Brocade on pg 6
I am using the beautiful Lacy Brocade Embossing Folder on my card today and paired it with the brand new Core'dinations Card Stock that you can find on pg 6 of the Holiday Catalog and I am just so delighted with how it turned out…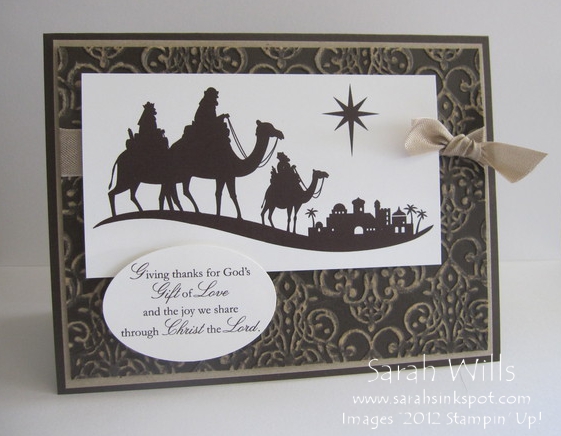 My card uses 3 simple colors – Early Espresso, Crumb Cake and Whisper White – easy on the eyes and beautifully soft & elegant – my card base is Early Espresso cardstock and onto it I layered a piece of Crumb Cake cardstock sized 5 1/4″ x 4″.
Now for the fun bit…
My Textured Background…do you like that look?  It was incredibly quick & easy to do using the fabulous new Core'dinations card stock – not sure what that card stock is?  Well, Stampin' Up!'s regular card stock is a solid color all the way through – but Core-dinations card stock has a different color in the center – here is a comparison of the two – regular on the left, Core'dinations on the right: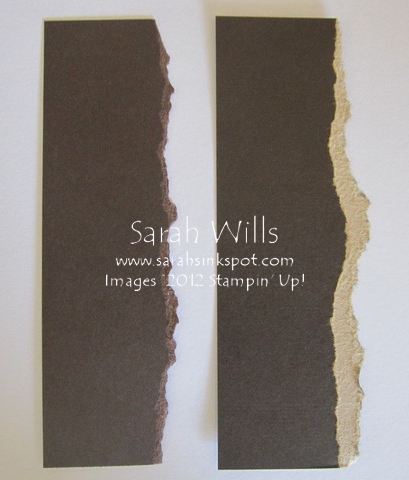 This means that you can create beautiful looks when you sand, tear & distress this card stock – and what is even better is that one side is smooth and the other is textured giving you more flexibility when using it as-is.
To create my background I took a piece of Early Espresso Core'dinations card stock and popped it into my Lacy Brocade Embossing Folder…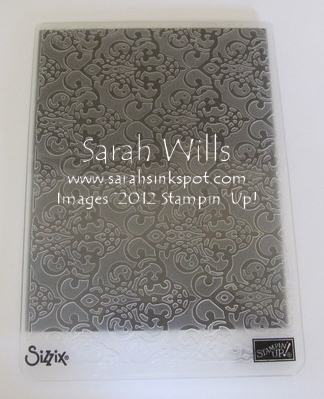 I then ran this through my Big Shot and this is how it came out: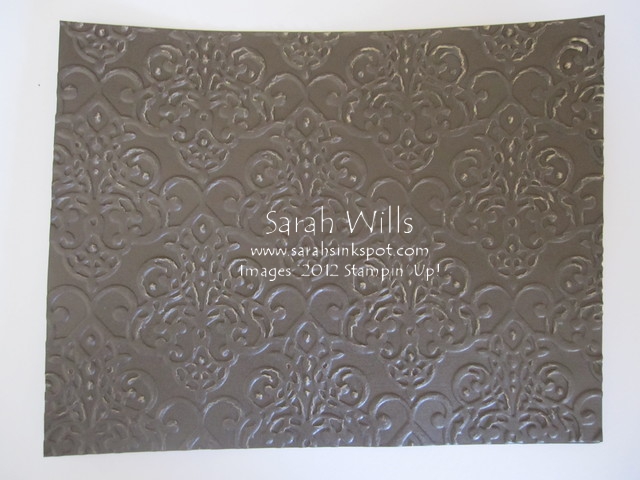 You can see that it already has a little distressed look about it where the embossing folder rubbed the surface of the card stock.
Then I simply took a small piece of sand paper and rubbed it all over which took me just moments – when finished, this is what it looked like – isn't that beautiful?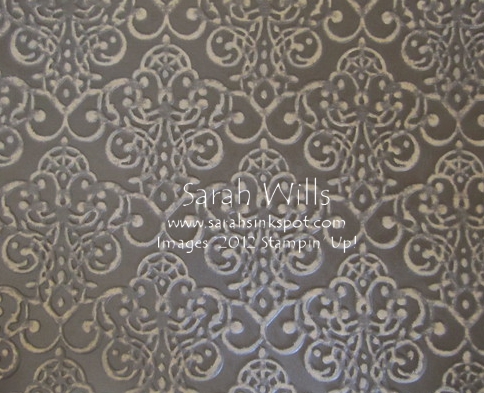 Sarah's note: to make this step even easier and to save your fingers, Stampin' Up! has a fabulous Stampin' Sanding System that you can find on pg 6 – priced at just $3.95 you get a reusable block and 4 sheets of sandpaper making it a fabulous deal – mine is on it's way as we speak!!!
The Ribbon…I wrapped around a piece of Crumb Cake Seam Binding, tied a knot at one end and added it to my card base – can you see how easily this card comes together with a great background?
The Stamped Images…I used the set Come to Bethlehem that you can find on pg 20 of the regular Catalog and is also available for My Digital Studio (which is what I used) – and stamped my main image and sentiment in Early Espresso Ink – I then cut my main image to size and added it to my card using Dimensionals and used my Extra-Large Oval Punch (pg 184) to punch out my sentiment and again added it using Dimensionals…click on my photo below for a closer view…
Where can you find the items that I used on my card? Click on the blue words below to see them in the online store…
SARAH'S BONUS – when you order any of these products from me using the links below, I will mail you a coupon for $10 off of your next purchase with me!
Holiday Catalog
127848  Early Espresso Core'dinations Card Stock – pg 6
127819  Lacy Brocade Embossing Folder – pg 6
129367 Stampin' Sanding System – pg 6
Annual Catalog
118732  Come to Bethlehem Stamp Set – pg 20
122332  Crumb Cake Seam Binding – pg 172
119859  Extra-Large Oval Punch – pg 184
104430  Dimensionals – pg 177
Did someone say Blog Candy?
Yup!!!  Leave me a comment below to let me know what you think about today's card and you will be entered into a draw – ONE lucky winner will be drawn on Friday morning and will win their choice of either a pack of Snow Festival Designer Printed Tags OR Handmade Holidays Stitched Felt that you can see on pg 12 of the Holiday Catalog – good luck!
Be sure to come back on Friday to see if you are the Blog Candy winner!

And don't forget to take part in my Holiday Card Challenge:

Email the Holiday card that you make this week using an Embossing Folder to me at sarah@sarahsinkspot.com and you will get a little gift in the mail from me – be sure to include your mailing address so that I can mail it to you!

your card can be made using

ANY

Stampin Up Embossing Folder that you hav

e



BONUS – but when you use the Lacy Brocade Embossing Folder that I used above AND Core-dinations card stock on your card this week I will mail two goodies to you!
Be sure to come back on Monday to see if your card was picked by my girls as the favorite of the week!
KEEPING COUNT WITH A CARD COUNT: I made THREE of these cards giving me a grand total of 3 Holiday Cards made – how about you?
CLICK HERE TO ORDER YOUR STAMPIN' UP! SUPPLIES ONLINE!
Let the Holiday Card Challenge begin!!!