You might have noticed that I missed a week – very big apologies for that – I had such a busy time before I left for Founders Circle that I decided to post from the hotel when I arrived…except the internet connection was a bit spotty and I didn't get a chance to do it…
But this week I am back on track and had fun making my card…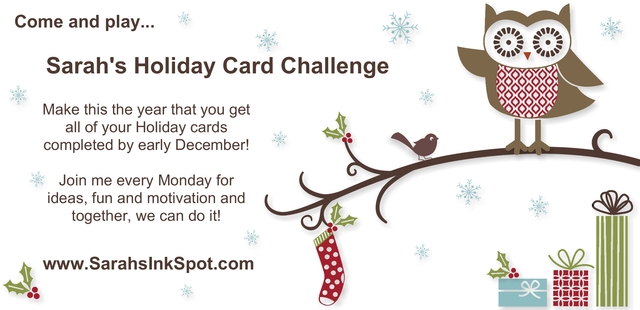 Want to know more about my Holiday Card Challenge? It's free, simple & fun to take part in and if you play along, at the end of it you will have ALL of your Holiday cards made – by early December!
Click HERE to find out all the details!
The winner of last week's Holiday Card Challenge is at the end of this post so please read on to find out who it was!
Sooo…what am I challenging you to use this week?
Stampin' Up!'s beautiful Ribbons – they add such a beautiful feature to your card and there are lots of different types to choose from – I love Seam Binding for pure elegance and it is so easy to tie – this is one of the ribbons I have used today…

My card this week is classically simple & elegant and features two different types of ribbon…
The gorgeous Always Artichoke Seam Binding and beneath it, the very versatile 7/8″ Cotton Ribbon that you can find on pg 20 of the Holiday Mini Catalog…here is my card…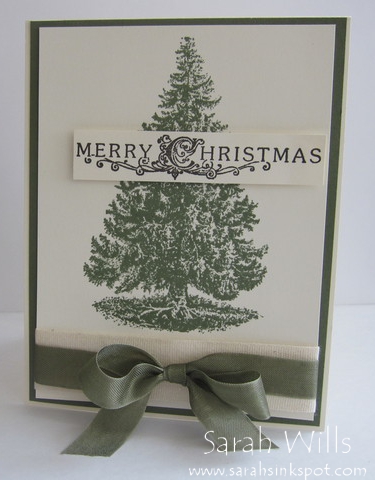 I think that this card says 'simple but elegant'…it uses just TWO main colors – Always Artichoke (which I LOVE for Christmas cards) and Very Vanilla – and I stamped the sentiment using Early Espresso for some contrast…
My card base is a standard size made of Very Vanilla with an Always Artichoke mat layered onto it, sized 4 1/8″ x 5 3/8″ which gives it a narrow border…
See that big beautiful tree? Isn't it gorgeous?  You can find both the tree and that sentiment in the set Christmas Lodge featured on pg 13 of the main Catalog) – that set features 6 stamps including a beautiful big old snowy house, the tree, some lovely sentiments and boughs…
I stamped my tree very simply using Always Artichoke Ink onto Very Vanilla cardstock – you can emboss that tree, add a star to the top or add Rhinestones to bling it up and make it sparkle – but for me, I just love it plain & simple…
The base ribbon – I wrapped around a piece of 7/8″ Cotton Ribbon and secured it to the back of my layer with scotch tape – I just love that new ribbon because you can use it as is, or you can stamp on it – isn't that fun?
The top ribbon – is beautiful soft Seam Binding in Always Artichoke – you can find Seam Binding on pg 172 of the Catalog and it comes in 8 gorgeous colors…
I tied a bow to create a dramatic look to my card – if you haven't used it, add a roll of this ribbon to your next order – it ties absolutely beautifully and easily because it is so soft & pliable to work with – you will love it…as always, click on any photo for a larger view…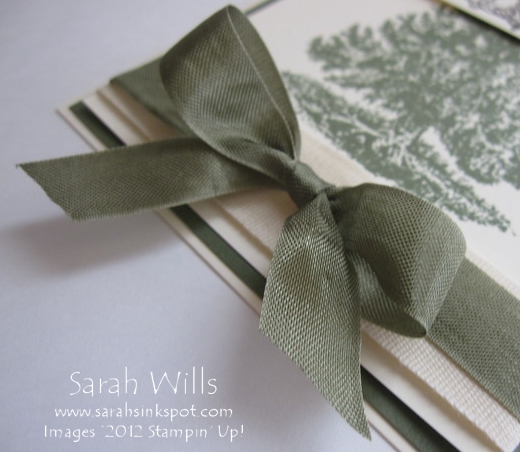 The sentiment – is from the same set, Christmas Lodge – I stamped it using Early Espresso Ink and cut it to the size I wanted it to be and then added it to my card using Dimensionals to lift it off of the base…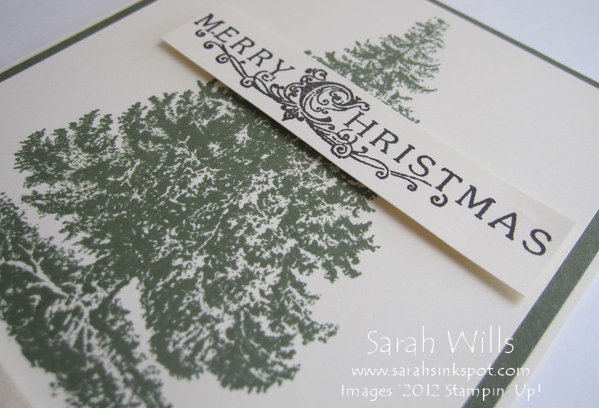 I just love how this card came out – I love using ribbons – I think I use them on almost everything I make – they are such an easy way to add a wow factor!
I hope this has inspired you to dig out your ribbons too – or maybe play with some new ones!
SARAH'S CARD COUNT: I made TWO of these cards this week giving me a grand total of 10 Holiday Cards made already – how many did you make?
Who made the winning card from last week?
Again, what a treat to get so many beautiful cards popping into my inbox!!! Whilst there was a clear winner for the girls this week, I was amazed by how many of you used more than one color of embossing powder on your cards – what a fantastic idea & look – the funny thing is, I had never thought to do that, so you have given me great inspiration this week!
The winning entry this week was clean & simple and featured red, silver and a reindeer – darling Dasher – and here it is…another winning card from Laura King!
I think that the eye catching bright color and the reindeer clinched it for my girls – and of course the shiny silver!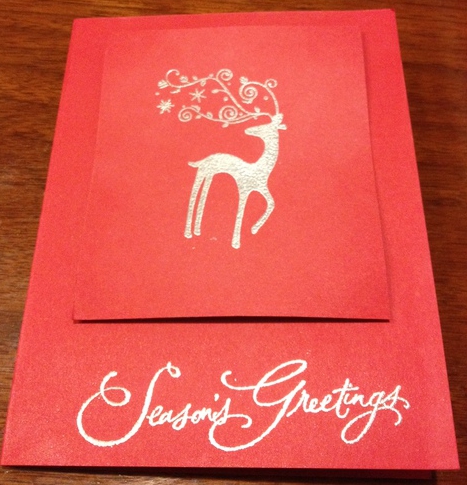 CONGRATULATIONS LAURA – your prize is on it's way to you – enjoy!
Don't forget to take part in my Holiday Card Challenge – you could be the next Winner of the Week – below is an example of a prize package that you could win if yours is chosen as a winning card…
Email the Holiday card that you make this week using ANY Stampin' Up! Ribbons to me at sarah@sarahsinkspot.com and you will get a little gift in the mail from me – be sure to include your mailing address so that I can mail it to you!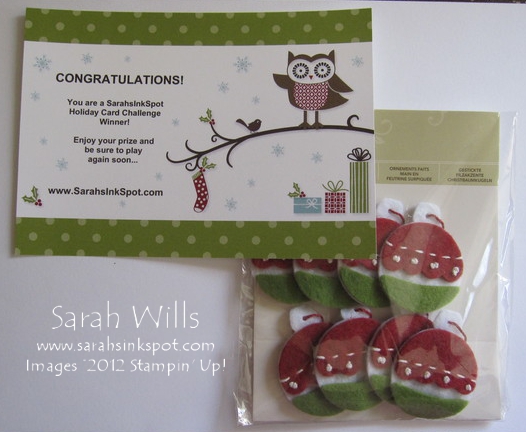 your card can be made using ANY Stampin Up Ribbons that you have – absolutely any!
BONUS – when you use two different ribbons on your card this week I will mail two goodies to you!
Be sure to come back on Monday to see if your card was picked by my girls as the favorite of the week!
FOR NEW-TO-ME CUSTOMERS – PLACE YOUR FIRST ORDER WITH ME USING THE LINK BELOW AND GET A COUPON FOR FREE SHIPPING ON YOUR NEXT ORDER!
CLICK HERE TO ORDER YOUR STAMPIN UP SUPPLIES ONLINE!
Week 4 of my Holiday Card Challenge…