Is one CUTE card!!!  So sorry again for being a day late in announcing the winner but it was a tough week to choose!!!
It was down to two beautiful cards but one of them clinched the winning spot and I know why – because of it's cuteness – the girls LOVE cute LOL!!!
And so here it is…the winning card as made by Darlene McCall…check out those birdies – and Darlene used her paper piercing all the way around the tree…isn't that a great look?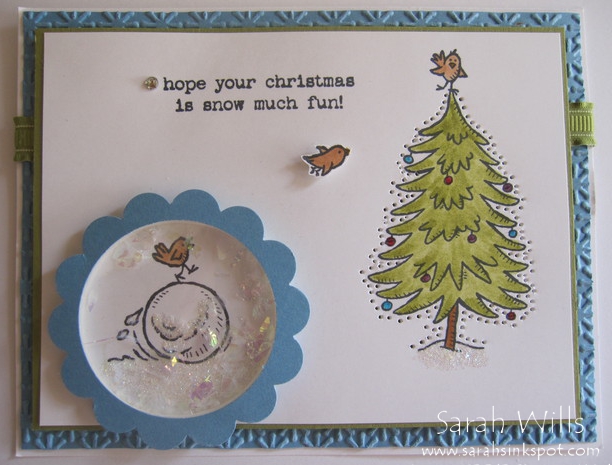 A BIG congrats Darlene!  Your prize is on it's way in the mail to you…this week it's Vintage Faceted Designer Buttons – enjoy!

Have fun making your cards this week – and don't forget to email them to me…I'd love to see your creations and you will get goodies in the mail from me PLUS you could be the next Winner of the Week!
See the post below about this week's Challenge theme of Two Layers and the card that I made…

Email the Holiday card that you make this week using Two Layers to me at sarah@sarahsinkspot.com and you will get a little gift in the mail from me – be sure to include your mailing address so that I can mail it to you!
EVERYONE who makes & emails their card to me will receive a goodie in the mail!

BONUS – when you use Two Layers AND Glitter on your card this week I will mail two goodies to you!
Be sure to come back on Monday to see if your card was picked by my girls as the favorite of the week!
WANT MORE INFO ABOUT MY HOLIDAY CARD CHALLENGE?  Find out all about it by clicking HERE
Holiday Card Challenge Winner for Week 7…