Today I decided to make a monochromatic card…I find these tough because I always want to add a splash of color and find it SO hard not to…
But today I managed to make one without being tempted to add that splash…BUT I still had a dilemma!!!
Read on to find out what that dilemma was and how you can help me resolve it along with a chance to win some celebratory Blog Candy…the winner will be announced on Friday!
Sooo here is my monochromatic card…it is made using the stamp set Everything Eleanor plus a background stamp – combined they give a beautifully elegant look…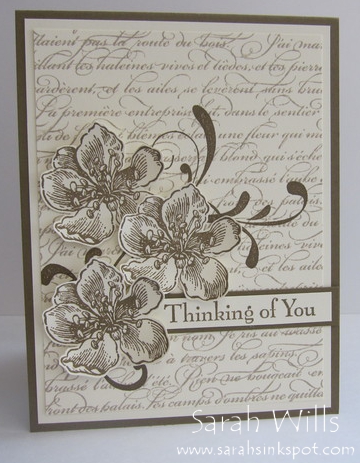 Isn't it gorgeous?  Even if I do say so myself LOL!  I am so happy with how it turned out…well, almost…just can't make up my mind about something…
My card base is Soft Suede onto which I layered a piece of Very Vanilla cardstock and onto this I added another layer…
That background? So quick, easy & cost effective to make because it uses a background stamp called En Francais (pg 129) – background stamps are sized to cover a card front and I love this one because it has such an elegant look about it.  I inked it up using Crumb Cake in and stamped it – that's it!
Why are background stamps cost effective?  Because once you purchase your stamp you have it for life and can re-use it over & over thousands of times to create the same pattern – unlike patterned paper which you can only use a few times and the pattern often varies depending on where you cut it…
And the Swirl on that background? Made using another stamp, this one is from the beautiful set Everything Eleanor which you can find on pg 112 – I stamped it using Soft Suede ink and my background was done – I added it to my base and then onto the flowers…
Those three Flowers…are also from the set Everything Eleanor…I stamped them in Soft Suede ink and cut them out using my well loved Paper Snips (I love these for close cutting work like this – not got any?  They last for years and I guarantee you will wonder what you ever did without them!!!  Find them by clicking here)
See how the petals are curled upwards?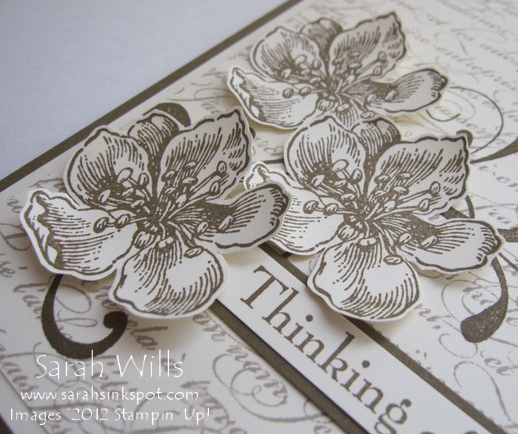 This is so simple to do but so very effective – you can do this to all flowers, both stamped & die cut – I have made a little free printable Tutorial to show you just how easy it is – find it by clicking here
The sentiment…is from the set You Are Loved (pg 24) – another set with flowers & words that are just gorgeous…
This card could be themed for almost ANY occasion – wedding, engagement, anniversary, birthday, thank you, sympathy – such a versatile design!
Now…that dilemma I was talking about…I want to know…because I just can't make up my mind…

WHICH DO YOU PREFER?

OK well first made this card with just TWO flowers…I liked it because you got to see the extra swirl and it looks more simple…and you know me…I love clean & simple looking cards…so here it is just with two: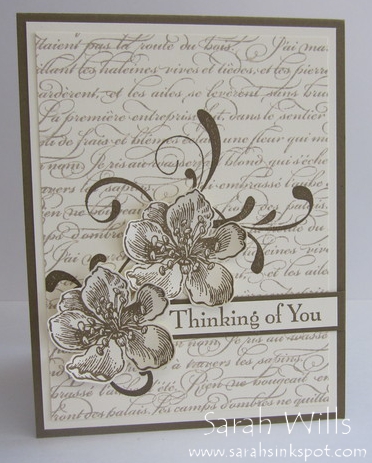 But then I couldn't decide whether or not I should add a third flower…and so I did…and that is the card at the top of this post…now I like it because it definitely adds something BUT I've lost that swirl…and I am a swirly kind of gal!!!
SO my dilemma is that I really can't make up my mind if this card should have TWO flowers or THREE flowers…
WHICH DO YOU PREFER???
Leave me a comment below to let me know if you prefer this card with TWO FLOWERS OR THREE and WHY, and you will be entered into a draw – ONE lucky winner will be drawn by random.org on Friday morning and will win a pack of PATIO PARTY DESIGNER SERIES PAPER!!!
Good luck and be sure to come back on Friday to see if you are my Blog Candy winner!

Here are the images included in the beautiful set Everything Eleanor…it is a set of 8 and comes in both wood & clear mount versions…click HERE to view it in the online store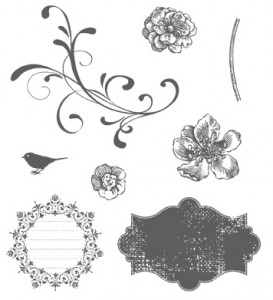 FOR NEW CUSTOMERS – PLACE YOUR FIRST ORDER WITH ME USING THE LINK BELOW AND GET A COUPON FOR FREE SHIPPING ON YOUR NEXT ORDER!

CLICK HERE TO ORDER YOUR STAMPIN UP SUPPLIES ONLINE TODAY!
Everything Eleanor in a Monochromatic theme…