Can you believe it's Monday again already?!  WOW the weeks are flying by and we had our first cold snap here in Central Texas since March and what a treat!!!
This put me in the mood to add a little snow to my card for this week's Challenge…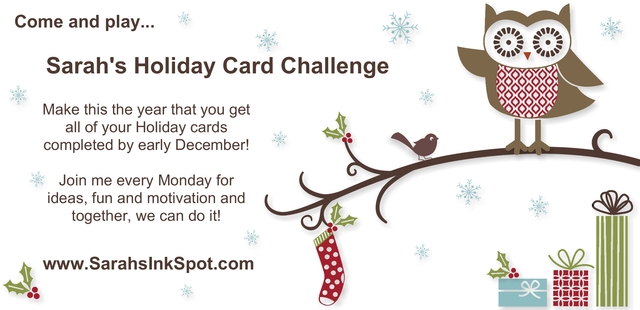 To find out details of what my Holiday Card Challenge is about please look to the end of this post – EVERY participant who takes part & emails a card to me gets a freebie in the mail and you never know, you might be the weekly winner and get a fab prize – so it's worth joining us!

Sooo…what am I challenging you to do this week?  This week is a little different – I am not challenging you to use a particular product but instead a style…this week I am challenging you to make a very simple two-layer card!

Yup, that's right – sounds easy, doesn't it? Well for me & many others, it is a tough one – restricting yourself can be much harder as we Founders Circle attendees found out when we were challenged to make two-layer simple cards for our swap…we were freaking out…yes, really LOL!!!
Here is my simple 2 layer card for this week's challenge…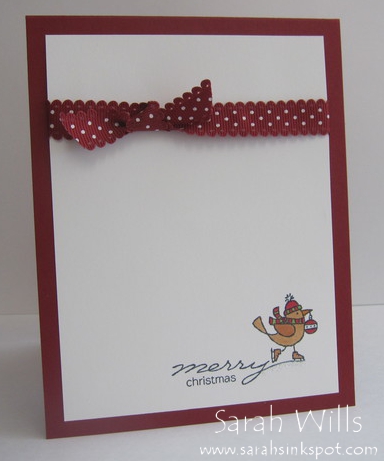 Super simple – it features lots of blank canvas which draws the eye to the stamped image and the ribbon…the ribbon is the same color as the card base to make it nice and matchy matchy – gotta love Stampin' Up! for making that easy for us!
This is SO easy that I don't really need to talk about it much…except that I will so that you can find everything easily if you would like to re-create it!
The card base is Cherry Cobbler cardstock – I then took a layer of Whisper White and wrapped around a piece of Cherry Cobbler 1/2″ Scallop Dots Ribbon (pg 172) and tied a knot in front and then adhered it to my card front.
SARAH'S TIP: do you have trouble tying great looking knots on your card?  I do and this is the easy way that I have found to do it…
Simply wrap a piece of ribbon around your card and secure both ends to the back with scotch tape…then take a smaller piece and tie your knot directly onto the straight piece – cut the ends as wished and voila – an easy way to get great looking knots (and bows) time after time!  To be doubly sure that it doesn't move, simply pop a Mini Glue Dot behind it…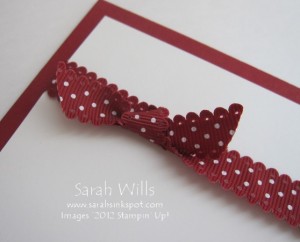 That CUTE stamped bird image? Is from the set For the Birds that you can find on pg 34 – it is utterly adorable and there are stamps in it for use year round making it incredibly versatile…I simply stamped it using Basic Black Ink and used Markers to color it in…
The Snow…I mentioned snow earlier and I wanted to add a little sparkly snow to this card and so I took my Two Way Glue Pen and drew a line of glue along that line at the end of 'Merry' under the birds ice skates and sprinkled some Dazzling Diamonds Glitter onto it (pg 158)…super quick & super easy to do…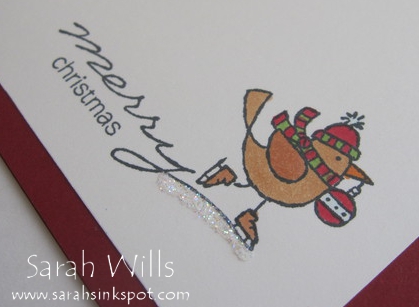 SARAH'S TIP:  If you are looking for a no-mess way to add glitter like this, simply use Dazzling Details instead (pg 158) – it's Dazzling Diamonds glitter in a glitter glue format – quick, easy & no mess so that you can even use it on the go when traveling!
And that is my very simple two-layer card…so simple in fact that I made 5 of them in just half an hour – how cool is that?!
Which brings me to my CARD COUNT: I made FIVE of these cards this week giving me a grand total of 20 Holiday Cards made…WOW and it's only early October!!!  How many have you made?
Here are the images included in the super cute set For the Birds…it is a set of 8 and comes in both wood & clear mount versions…click HERE to view it in the online store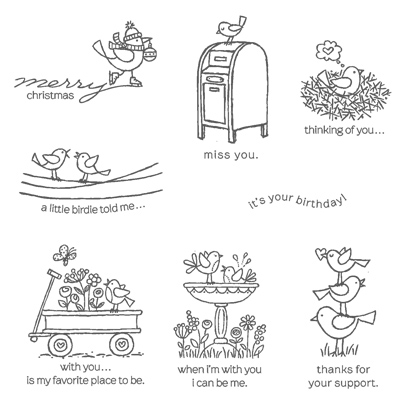 PS – I am going to be using this stamp set ALOT very soon…showing you lots of cute things you can do with it…and how perfect it is to use year round…you better get yours so that you are ready to use it when you realise how much you need it!!!
Onto WINNERS CIRCLE – my girls haven't made up their minds yet – this week was a TOUGH one LOL – and so I will post the winner tomorrow once I get them to decide when they get home today…sorry for the delay…you can't rush em sometimes LOL!!!

Have fun making your cards this week – and don't forget to email them to me…I'd love to see your creations and you will get goodies in the mail from me PLUS you could be the next Winner of the Week!
Email the Holiday card that you make this week using Two Layers to me at sarah@sarahsinkspot.com and you will get a little gift in the mail from me – be sure to include your mailing address so that I can mail it to you!
EVERYONE who makes & emails their card to me will receive a goodie in the mail!

BONUS – when you use Two Layers AND Glitter on your card this week I will mail two goodies to you!
Be sure to come back on Monday to see if your card was picked by my girls as the favorite of the week!
WANT MORE INFO ABOUT MY HOLIDAY CARD CHALLENGE?  Find out all about it by clicking HERE
FOR NEW CUSTOMERS – PLACE YOUR FIRST ORDER WITH ME USING THE LINK BELOW AND GET A COUPON FOR FREE SHIPPING ON YOUR NEXT ORDER!

CLICK HERE TO ORDER YOUR STAMPIN UP SUPPLIES ONLINE TODAY!
Week 7 of my Holiday Card Challenge featuring For the Birds…