Monday brings my Holiday Card Challenge and today I decided to play with some colors…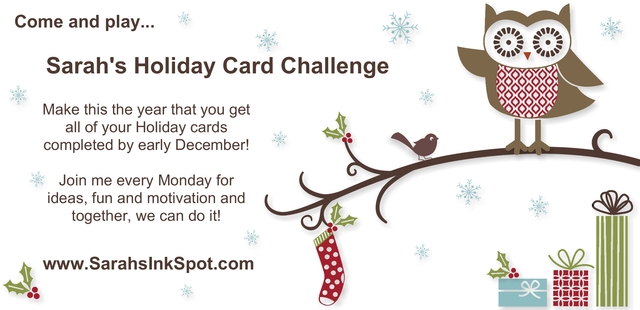 To find out details of what my Holiday Card Challenge is about please look to the end of this post – EVERY participant who takes part & emails a card to me gets a freebie in the mail and you never know, you might be the weekly winner and get a fab prize – so it's worth joining us!
AND the winner of last week's Holiday Card Challenge is at the end of this post so please read on to find out who it was!
Sooo…what am I challenging you to use this week?  This week your challenge is to use colors…any colors? Nope…this week I challenge you to use the colors red & green…but you can use one extra neutral color of white or vanilla, but the remaining colors MUST be red & green!
So Sarah…why these colors? Well, I was chopping up red & green peppers to make King Ranch Casserole last evening and when I saw them in the bowl all together they looked striking and sooo Christmassy – here is a photo of that inspiration for this week's challenge…don't they look yummy???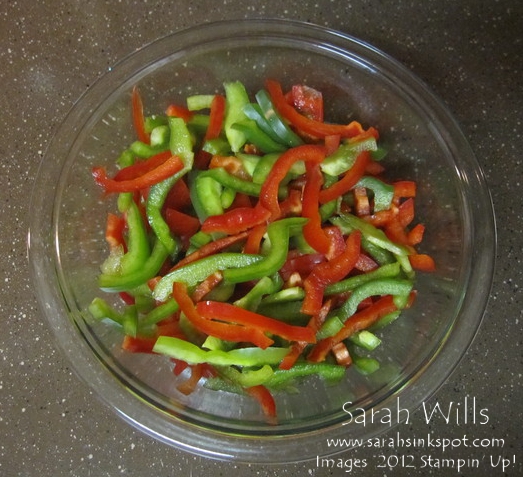 Sooo here is my Card for this week's challenge…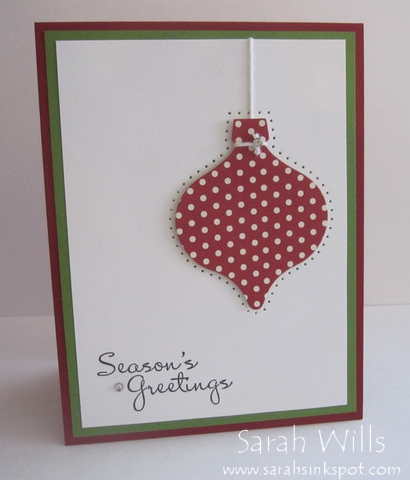 A clean & simple card in red & green...Stampin' Up! have several reds & greens to choose from, ranging from bold & bright through to elegant…I decided to go with a bit of both on my card…
My colors…for my red, I used Cherry Cobbler which is featured in the Regals collection…and for my green I used Gumball Green which is a bold 2012-2014 In Color…and my 'extra' neutral color is Whisper White.
The sentiment…I used a stamp from the fabulous set More Merry Messages – LOVE this set which you can find on pg 15 of the main catalog.
That ornament…SO quick & easy to make using a die & patterned paper – I took a piece of polka-dotted paper from Festival of Prints DSP Stack that you can find on pg 20 of the Holiday Mini Catalog and die cut that shape using a die from Holiday Ornaments Framelits – I tied around a piece of White Bakers twine, added a little Rhinestone and there is one CUTE ornament…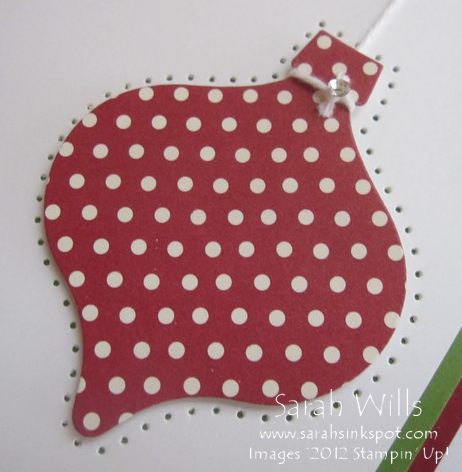 Like the paper piercing around my ornament? Paper Piercing is a very easy way to add a wow factor to your cards and what makes this card super easy is Stampin' Up!'s plastic templates – I used one from the Festive Paper Piercing Pack that you can get for FREE during October and using it, simply punched holes quickly around that ornament shape in my piece of White cardstock – click HERE to find out more!
I added my polka-dotted ornament onto my card using Dimensionals and there is one cute & easy Holiday card…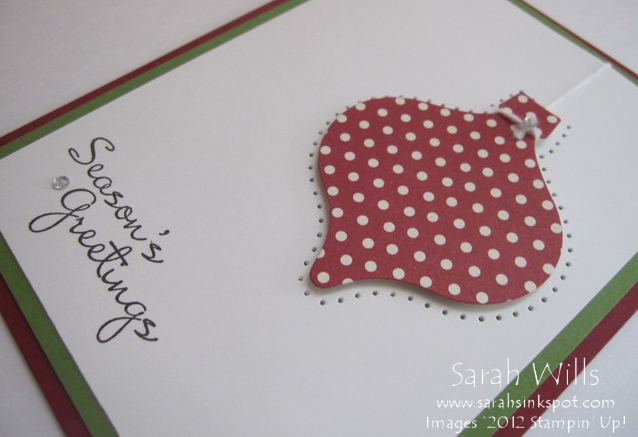 Have fun making your cards this week – and don't forget to email them to me…I'd love to see your creations and you will get goodies in the mail from me PLUS you could be the next Winner of the Week!
Email the Holiday card that you make this week using Red & Green to me at sarah@sarahsinkspot.com and you will get a little gift in the mail from me – be sure to include your mailing address!
EVERYONE who makes & emails their card featuring Red & Green to me will receive a goodie in the mail!

BONUS – when you use the Festive Piercing Pack like I did on your card this week I will mail two goodies to you!
Be sure to come back on Monday to see if your card was picked by my girls as the favorite of the week!
WANT MORE INFO ABOUT MY HOLIDAY CARD CHALLENGE?  Find out all about it by clicking HERE
Onto WINNERS CIRCLE – oh my goodness another tough week with lots of beautiful cards!!!  Your challenge was to use at least two punches on your cards and there were cards using punches in many creative ways…to create windows, layers, santa, snowmen…we loved seeing them all…
But there could only be one winner and the cute penguin did it for the small people!!!  So the winning card this week was created by Laura King and here it is…isn't it sweet?  And notice that Laura used the colors green & red on it too?  How funny is that!!!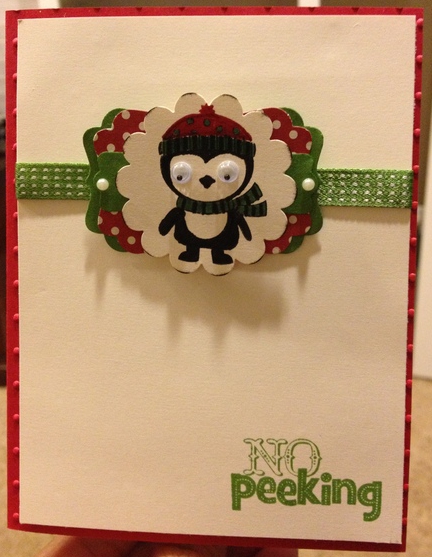 A BIG congrats Laura!  Your prize is on it's way in the mail to you…enjoy!
FOR NEW CUSTOMERS – PLACE YOUR FIRST ORDER WITH ME USING THE LINK BELOW AND GET A COUPON FOR FREE SHIPPING ON YOUR NEXT ORDER!

CLICK HERE TO ORDER YOUR STAMPIN UP SUPPLIES ONLINE TODAY!
Week 9 of my Holiday Card Challenge featuring red & green…