Today is the last day of school before the Thanksgiving break and so I made a few goodies to show our appreciation for our wonderful teachers…
I decided to fill preserving jars with chocolates and decorate the lids with fall colored leaves and used some fabulous co-ordinating products from the Holiday Catalog to do this…stamps from the set Wonderfall which I cut out using the Autumn Accents Die, both of which you can find on pg 33…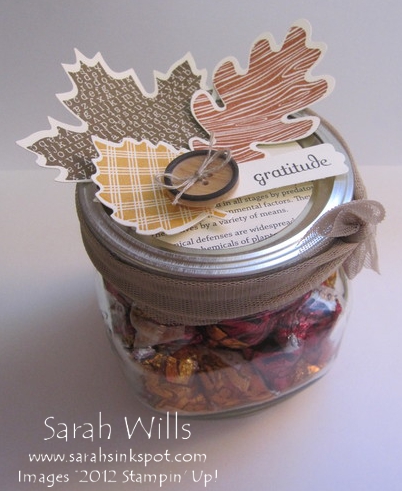 They turned out SUPER CUTE and hopefully the teachers will love em…
The jar…is a Preserving Jar that I filled with Caramel & Cherry Hershey Kisses – around the lid I tied a piece of 3 1/2″ Scalloped Tulle Ribbon (pg 4 Holiday Catalog) in Crumb Cake – I folded it over twice and made sure that the scallops were along the bottom for a cute look…
The lid…was so much fun to decorate…I punched out a piece of First Edition Specialty DSP (pg 162) using my 2 1/2″ Circle Punch (pg 185) which fits perfectly onto my lid top…
The leaves…aren't they cute?  I used the Wonderfall stamp set to stamp my leaves and the perfectly co-ordinating Autumn Accents Bigz Die to die cut them out – you can find these items on pg 33 of the Holiday Catalog and they are fun to work with…
BUT I must admit when I first saw that stamp set & die I thought 'hmmm' – because I am now used to using Framelits where it is easy to see how to cut out your stamped image…and I couldnt for the life of me figure out how it would be easy to die cut out these stamped leaves using a Bigz Die, despite the fact that they co-ordinated…
BUT there is a way and it works fantastically well! You basically die cut your leaf first and then stamp onto it – try it and see!
To make it easy for you to see how to do this, I put together a quick FREE Printable Tutorial showing you in a few easy steps how – find it by clicking HERE
So back to my leaves…I stamped them using the ink colors Soft Suede, Cajun Craze and More Mustard and love how that combination works well together…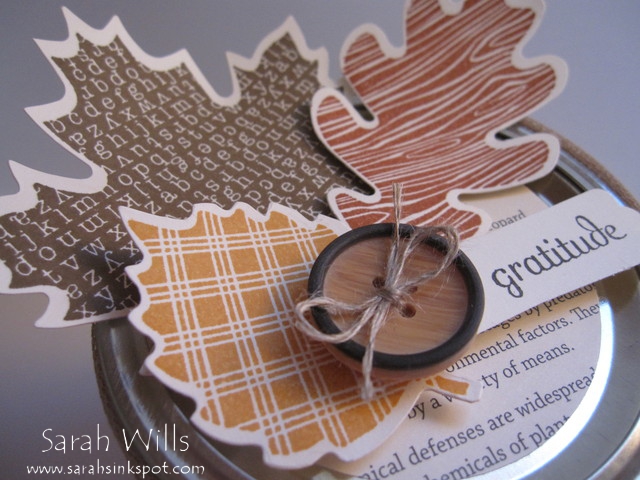 For my sentiment…I stamped the word 'gratitude' using a stamp from the set Fabulous Phrases (pg 133) and punched it out using my Modern Label Punch (pg 183).
As a finishing touch I added a wooden button from Naturals Designer Buttons (pg 176) and tied a bow onto it.
Our school also does a very nice thing for all the staff – the parents all sign up to bring in a pie or dessert so that each staff member gets to take one home…
I picked up a cake and of course couldn't leave it alone…I had to embellish it LOL!!!  And so I made a similar leaf topper as my jars and wrapped the packaging with Crumb Cake Tulle Ribbon…and it looks really cute…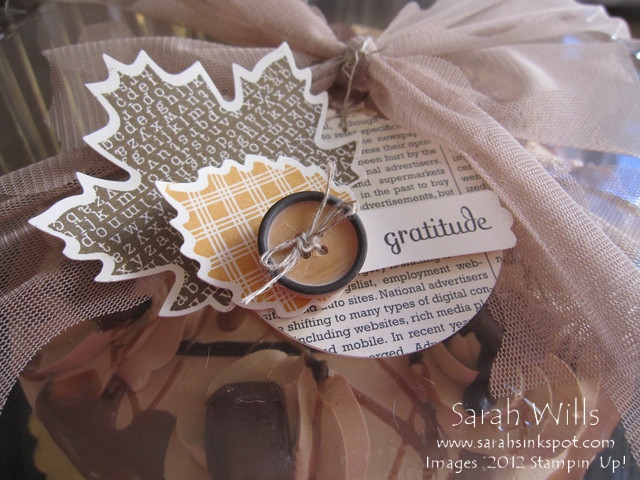 That cake was lucky it didn't get broken into last night – it kept saying 'eat me Sarah, eat me'…it was that drizzled caramel & chocolate sauce that kept tempting me…
Here is a heads up of a HUGE sale coming on Monday with items at up to a 50% discount – there are some FAB items that are going on sale along with doorbusters so be sure to check back!!!