Wishing you a very fun and wonderful New Year's Eve…if you are out celebrating or staying at home in the warm for a quiet celebration (like we are!) I wish you a wonderful evening…
I dug out some supplies today to create a card fit for the occasion – it's been a while since I've created anything due to limited access to my crafting goodies at the moment, but I dug some out and got together with my stampin' mojo and spread a little glitter & had alot of fun in the process…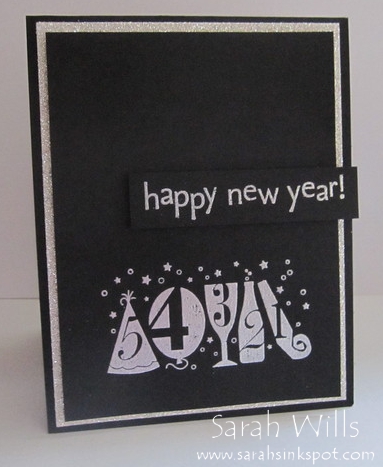 It's very glam, eh?  I LOVE the silver & black color combo and the stamps I used on that card are actually just ONE stamp…
That stamp is called New Year's and is just one of the new never-before-seen single stamps that you can purchase through January 2nd…you can find that stamp by clicking HERE – and here is that image…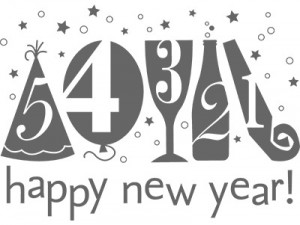 Yup – you only have THREE DAYS LEFT to get those Single Stamps – Stampin' Up! said that they would only be available through Jan 2nd which is this coming WEDNESDAY – so don't delay if you want any of them – find all 31 of them by clicking HERE and get the ones that you want before they're gone away!!!
Onto the card details…the card base is Basic Black and I wanted to add some glitter & glitz and layered on a piece of Silver Glimmer Paper…
I then took a piece of Basic Black sized 3 3/4″ x 5″ and stamped my image on using Versamark Ink and sprinkled on Silver Embossing Powder and then used my Heat Tool to set it.
Not used Embossing Powders before or need a simple refresher?  I have a Free printable tutorial showing you step by step how to Heat Emboss – click HERE to find it – it is a fun technique!
You might notice that I only did this to the top part of the image – how did I do this? I covered the sentiment using a piece of masking tape – inked up my stamp using Versamark – peeled off the tape – and stamped my image – easy peasy!
I then repeated this technique, this time covering the image above with masking tape, so that I could stamp my sentiment on another piece of black cardstock.
I heat embossed it and then trimmed it to size and added it to my card base using Dimensionals…and there you have one very quick & simple but elegant celebratory card…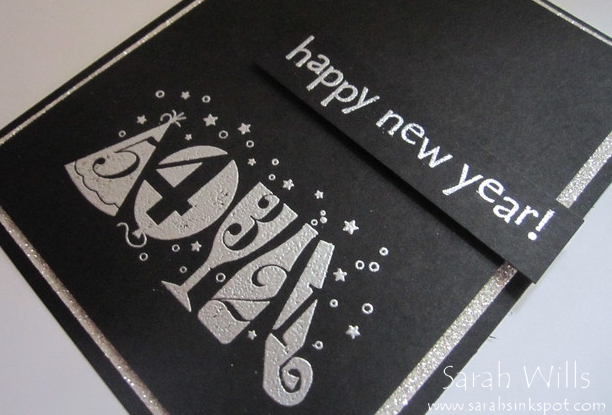 Have a wonderful New Year's Eve – and be sure to check back tomorrow when I will have news for you of my product Shares from the upcoming Spring Catalog – you will LOVE them!

CLICK HERE TO ORDER YOUR STAMPIN' UP! SUPPLIES ONLINE!