That's right paper crafting friends – you only have 4 days left to get this FABULOUS bundle of products – after Monday, the Valentine Treat Bundle is gone!
AND AN EXTRA FRIDAY TREAT…I have BLOG CANDY up for grabs so please scroll down to find out how to enter for your chance to win it!

Back to the Valentine Treat Bundle – it costs JUST $5.95 and for that you get a pack of 50 Cello Tubes AND the beautiful brand new Happy Valentine Heart single stamp that you can use to make toppers for those Cello Tubes…
CLICK HERE TO ORDER YOURS BEFORE IT'S TOO LATE!
Simply fill those tubes with candies – M&Ms work fabulously well – and you have a VERY budget friendly way to make a bunch of treats for kids, co-workers, family & friends!  And if you want to make more than 50, you can purchase another pack or two of those Cello Tubes – they cost just $2.50 for a pack of 50!!!
Check out some treats I put together this morning, to give you an idea of how you can use this bundle…and you know what?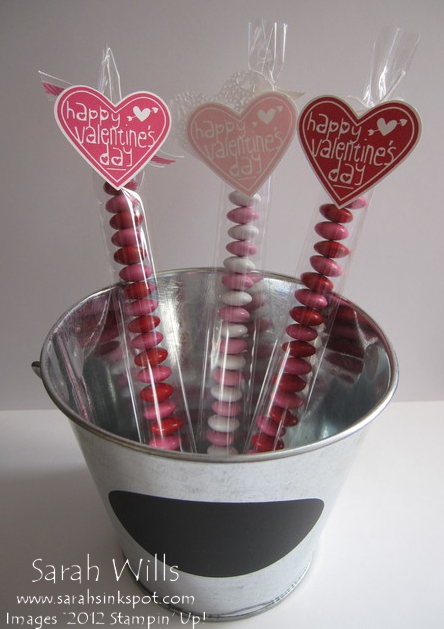 Aren't they sweet? I think anyone would be delighted to receive one of these treats…and they are fun & quick to put together!  This is all you need to make them…that stamp & cello tube bags that you get in the bundle plus ink pads and the Full Heart Punch (pg 182)…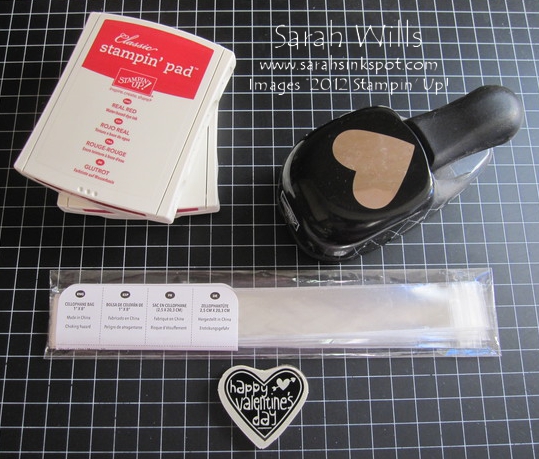 To make them…you simply fill your tubes with candies – I found Valentine themed ones at Target along with some red Jelly Beans – and you can either use the sealing tab on the top of each tube to seal them or you can do what I did, and tie the top using a piece of White Bakers Twine.
Then simply stamp your heart – the color of inks I used above from left to right are Melon Mambo, Pretty in Pink and Real Red – and add to the tube using Dimensionals or Mini Glue Dots – and use the Full Heart Punch (pg 182) that is the PERFECT size to punch it out.
You can leave it there and keep it very simple like this one…which honestly I think is my favorite out of the bunch…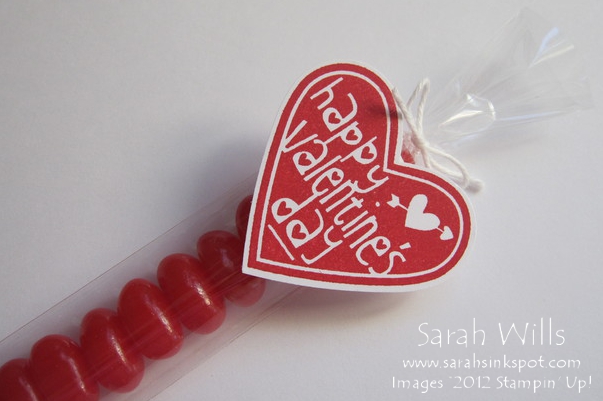 Or if you want to dress them up a bit, you can add co-ordinating ribbon & papers..
on my Melon Mambo one I tied on a piece of Melon Mambo Striped Organdy Ribbon that you can find on pg 30 of the Spring Catalog
on my pale pink one, I decided to shadow it with heart shaped paper doily – another cute & easy touch
How do you make those cute paper doily hearts? They are both easy to make and easy on the wallet since you get 2 hearts out of one doily – and a pack of 24 doilies costs you $2.95…
Take a doily and cut it in half…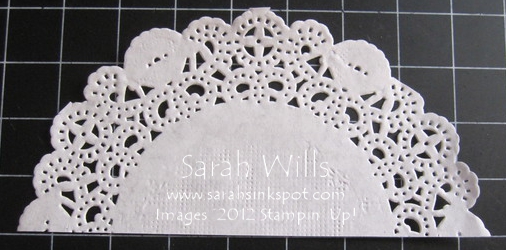 Take your Full Heart Punch and punch out the pattern where you would like it…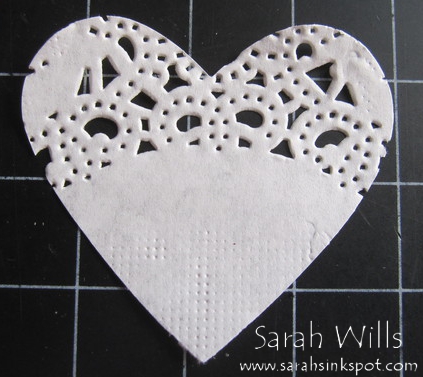 Then layer it behind your stamped heart – I like to use Dimensionals to do this…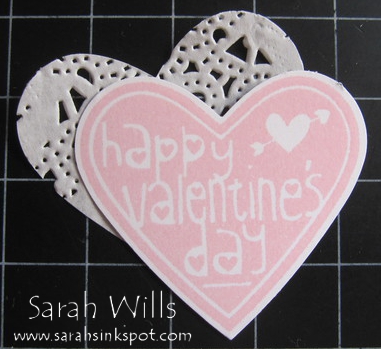 So, which one is your favorite?
Leave me a comment below to let me know which of these tubes is your fav and you will be entered into a draw – ONE lucky winner will be drawn by random.org on Monday morning and will win a pack of DESIGNER FABRIC!!!
Good luck and be sure to come back on Monday to see if you are my Blog Candy winner! Click on the photo below for a closer look…

Here are the ordering codes for the items that I used to make these treats…click on the blue words below to view/purchase each in the online store
132771  Valentine Treat Bundle – $5.95
(includes the heart shaped single stamp above & pack of 50 Cello Tubes)
119883  Full Heart Punch – $16.95
129399  Tea Lace Paper Doilies – $2.95 for a pack of 24
124262  White Bakers Twine – $2.95 for 25 yards
129293  Melon Mambo Striped Organdy Ribbon – $9.95
Want extra bags? Here they are…
124134  1″x  8″ Cellophane Tubes – $2.50 for a pack of 50
CLICK HERE TO GET YOUR VALENTINE TREAT BUNDLE!
Last days to get your Valentine Treat Bundle…