Well I just found out some FABULOUS Tuesday morning news for you…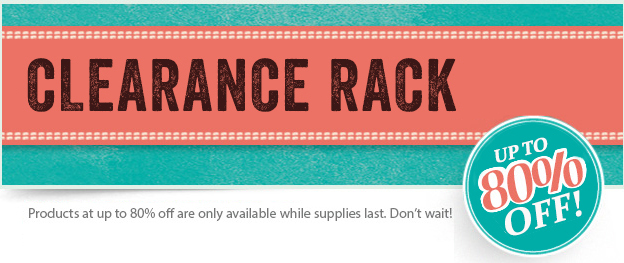 THE CLEARANCE RACK HAS JUST BEEN UPDATED with a bunch of NEW additions…including bargain priced packs of Card Stocks!!!

RUN DON'T WALK to the online store where you will find them as soon as you can because these items are literally available ONLY WHILST STOCKS LAST!
Find all of those NEW items just added by clicking HERE
Find all of the other Clearance Rack items by going to that link and looking in the left column – click 'All Clearance Items' to see everything available for purchase
The easiest way to view everything is to click on that link above – and then click on show 'all' – you will then be able to view all of the items available on one page.
How do you place your order?
Click on that link above – add items to your Shopping Bag – and when ready, simply check out and pay using any debit or credit card.
You can add any other regular merchandise to your order too…
And your order will ship directly to your door!
Good luck and happy bargain hunting!
CLICK HERE TO ORDER YOUR CLEARANCE RACK ITEMS ONLINE!
HURRY – NEW ITEMS just added to the Clearance Rack!