Do you have those cute Dress Up Framelits yet?  I am loving using them – they are versatile, cute and FUN!
You can find Dress Up Framelits on pg 187 of the Catalog or in the online store by clicking HERE – you get 3 dies in the pack – 2 dresses and 1 dress form to hang them on if you like…or not…the choice is yours!
Today I decided to use them to make a stack of 'base' cards to have on hand that I can use for different occasions – I make a bunch but don't add a sentiment – when I am ready to use one of the cards, I simply stamp a sentiment and add it to i!
This is the card that I came up with…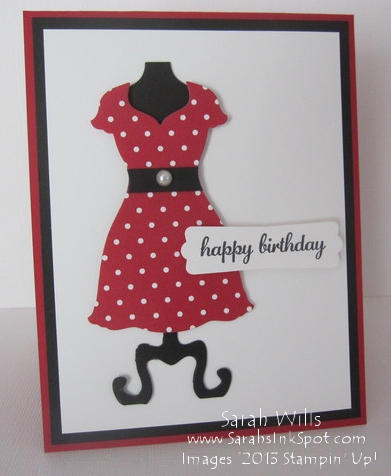 Isn't it CUTE?!  I just love the cute look of the polka dots and the red, black & white color scheme…
The card base…is simply Real Red onto which I layered a piece of Basic Black and then a layer of Whisper White – easy and striking…
The cute dress…is super easy and fun to make using a piece of polka dotted patterned paper from Brights DSP Stack (pg 152)  and a die from Dress Up Framelits along with the Big Shot.
I cut the dress form base from Basic Black cardstock, added it to my card base and then added the red & white dress on top using Dimensionals to make it pop.
Finishing touch…I added a belt by simply cutting a strip of black cardstock using the same dress die & added a Pearl Accent Jewel in the center…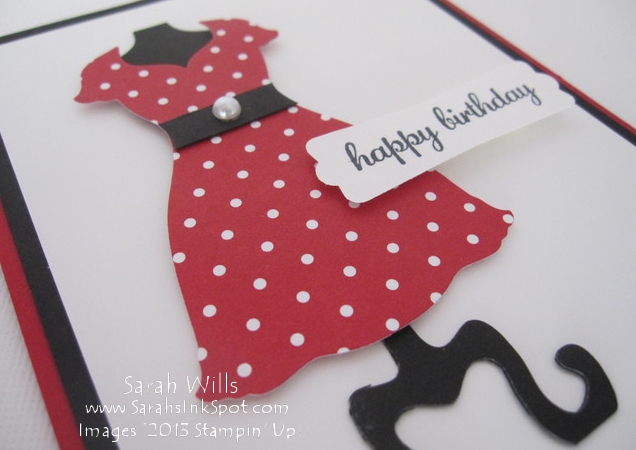 The sentiment…is from the Hostess stamp set Express Yourself (which you can get for FREE with an order of $150+!) and I punched it out using the Modern Label Punch (pg 181), adding it to the card using Dimensionals.
I love making a stack of 'generic' cards that are quick & enjoyable to make, that I can make 'assembly line' style and that I can use for many different occasions – I typically make 10 of the same card and doing this means that I always have a card to hand for any event – it makes me feel super organized LOL!!!
What do I mean by assembly line style?  With a card like this, I cut 10 of each piece at the same time – this is time saving & very productive – AND it means that these pieces are portable – especially important to me over the summer months when my girls are home as I am their summer camp counsellor LOL!!!
When we go out somewhere so that they can play (like a trip to the indoor bounce house) I have a business bag that I pop all my card pieces into (which permanently has adhesives & tools that I might need in it), and then I sit and put my cards together at a table whilst my girls play (they tell me that they are too old to want me to play with them LOL!) – in that time they have fun and I feel that I have had a productive time – everyone is a winner!
Here are the images of those three dies that you get in Dress Up Framelits:
130101  Dress Up Framelits $24.95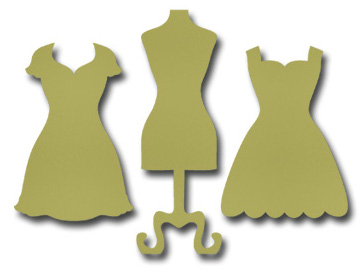 And these are the supplies that I used to make this card:
Cardstock: Real Red (102482), Basic Black (121045), Whisper White (100730)
DSP: Polka Dot paper from Brights Designer Series Paper Stack (130134)
Dies: Dress Up Framelits (130101)
Punch: Modern Label Punch (119849)
Stamps: Express Yourself Hostess set (Clear Mount 130339/Wood Mount 130336)
Embellishment: Basic Pearls Accent Jewels (119247)
Extras: Big Shot Die Cutting Machine (113439), Dimensionals (104430)
CLICK  HERE TO ORDER YOUR STAMPIN' UP! SUPPLIES ONLINE!
Dress Up in Red & White Polka Dots