And it is FABULOUS!!!  The Everyday Occasions Cardmaking Kit is designed so that you can make 20 fabulous hand crafted cards in a jiffy and you can purchase this kit FROM TODAY!
You receive a box that contains EVERYTHING you need to make twenty beautiful cards for almost any occasion all packaged in a beautiful box to store your cards in!  Just add scissors & adhesive and you are good to go!
Why go to the store when a birthday, graduation, wedding, or even a time for expressing gratitude comes up? The Everyday Occasions Cardmaking Kit puts cards for all of those events right at your fingertips. And best of all, they'll be handmade!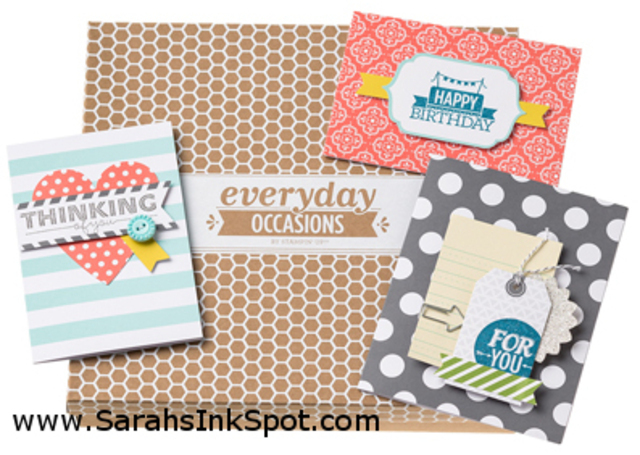 We were lucky to receive one of these kits at Founders Circle last week and let me tell you – this kit is AMAZING value for money and produces gorgeous cards – it comes complete with a color fold out brochure showing you how each card goes together – you can follow this or you can make your own designs!
Cost?  This Kit costs $29.95 for supplies to make 20 cards = making it JUST $1.50 A CARD – including the stamps & ink to make 'em – what a fabulous deal!
Order details:
134797  Everyday Occasions Cardmaking Kit – $29.95
Click HERE to find it in the online store
The Everyday Occasions kit includes:
Seven-piece Occasions Stamp Set
Clear Stamp Block
Pre-printed Cardstock for 20 cards (various sizes)
20 Envelopes
Buttons & Clips
Bakers Twine
86 die cut & patterned Tags & Shapes
18 die cut Silver Glimmer Paper Tags & Shapes
6 pre-cut mats
2 Ink Spots
Full color Tips & Tricks brochure for making the cards
All packaged in a cute giftable storage box
This Kit is PERFECT for you to make 20 cards in a jiffy to have on hand ready to go as you need em…it also makes a PERFECT gift for a new or existing stamper and I think my girls would love it too being tweens – CHRISTMAS IS COMING and this kit would make a fabulous gift!
Three of the cards are shown in the photo above – here is another of my favorites – check out the quality of this card – all cards in this kit make similarly stylish & layered cards with lots of embellies…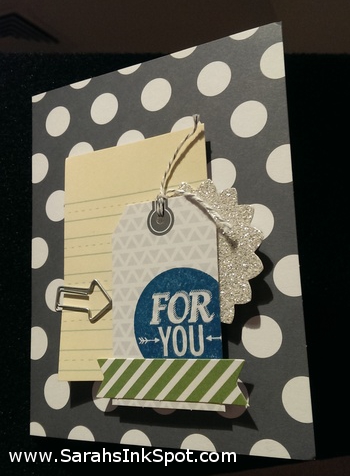 THIS KIT IS AVAILABLE IN THE ONLINE STORE FOR A LIMITED TIME ONLY – if you want one or two, go grab em as soon as you can to ensure you get one!
Got questions or need help ordering your kit?  Click HERE to email me and I will be very happy to help.
CLICK HERE TO FIND THE EVERYDAY OCCASIONS KIT IN THE ONLINE STORE!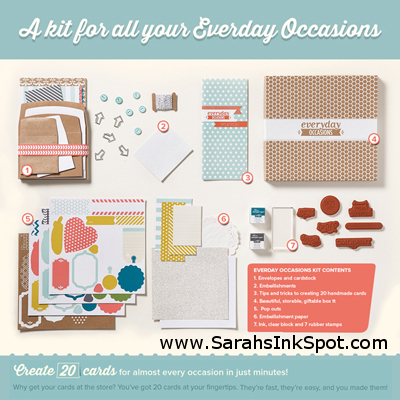 I am working on putting together the cards and hope to have this done tomorrow – when I have them done and on my display board, I will take photos and then show you what the finished cards look like – I LOVE em all – every single one!

NEW KIT NOW AVAILABLE – Everyday Occasions Cardmaking Kit!